NBA Playoffs: Steph Curry Needed Just 1 Game to set a Record
Steph Curry needed just one playpff game in 2019 to set a new postseaeson record that has his name above several Hall of Fame players.
Steph Curry has been nothing short of a cultural phenomenon since entering the NBA. He wowed fans with his play during the NCAA tournament with mid-major Davidson, and he has been the driving force behind the Warriors' dynasty.

In the first game of their opening round series against the Clippers, Steph Curry became the all-time playoff leader in one statistic he was likely to break at some point in the postseason. Curry has been one of the best shooters in NBA history, and after having corrective eye-surgery a few months ago, he has played even better than advertised.
King of the deep ball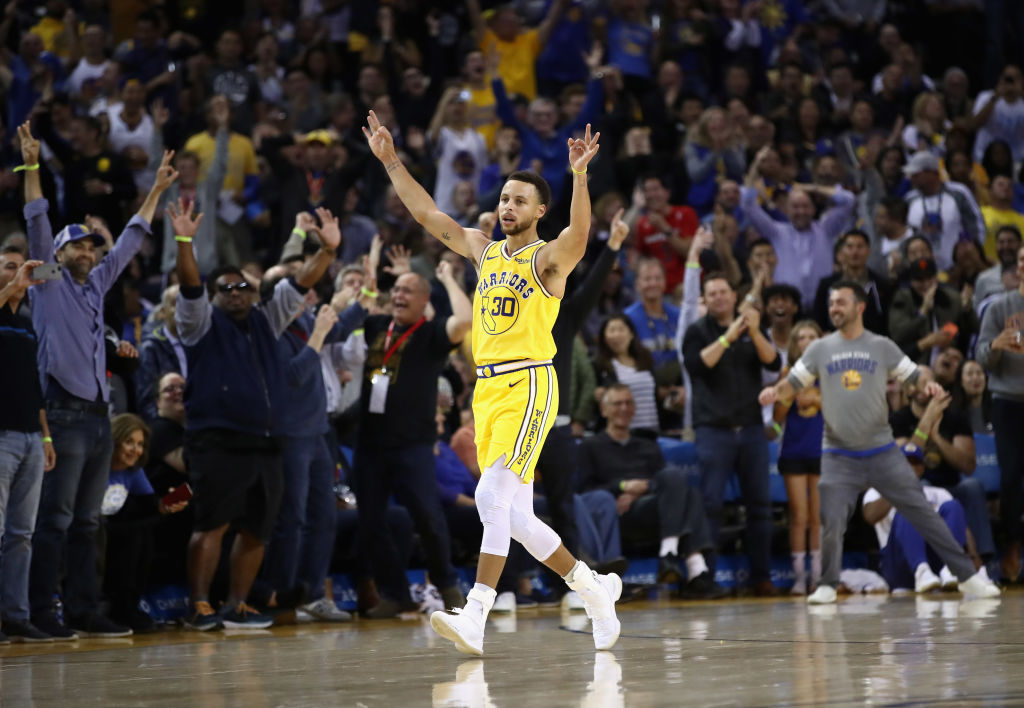 In Game 1 of a first-round series against the Los Angeles Clippers, Curry became the NBA's all-time leader in 3-pointers made in the playoffs. He surpassed Ray Allen, who was at 385, and Curry has a few more seasons to push that number even higher.

Curry started the playoffs red hot. He is shooting over 50% from behind the arc, and he made at least four 3-pointers in four of the first five games. His previous high from 3-point range during a playoff run was 42%, so to see him shooting so well is nothing short of amazing.

Other notable greats
Seeing Steph Curry move to the top of the list is even more impressive when you look at who he passed. He is in Hall of Fame air.

After Ray Allen, LeBron James sits at No. 3 with 370. Then the list continues with Manu Ginobili, Reggie Miller, Klay Thompson, and Kobe Bryant. Those players are already in the Hall of Fame or are on their way to enshrinement.

When all is said and done, Steph Curry might be hundreds of 3-pointers clear of Hall of Famers who currently sit behind him.
Ten times better than his dad
Dell Curry had a great NBA career in his own right, but Steph Curry is better than his dad. Dell Curry was formerly the NBA's all-time leader in points for a reserve, but he only made 41 career 3-pointers in the playoffs. Dad didn't have many opportunities to make his mark on this list, so it's no surprise his son passed him fairly early in his playoff career.
Who is active that can catch Curry?
Steph Curry probably has three or four more superb seasons left in the tank if he can stay healthy. He's made more than 60 3-pointers in the playoffs for the last four seasons, so if he stays at this pace, he could be near 650 threes by the 2023-24 season.

At that point the only person we believe would have a chance to catch him would be his teammate Klay Thompson, and we don't expect Thompson to get enough shots to slow down Curry's own pace.

If Thompson leaves the Warriors, it could give him the opportunity to put up more shots and move closer to the top of the list, but we don't expect him to supplant Steph Curry. Look for Curry to retain his record for several years until we get another great sharpshooter that can contend for a championship year after year.

Career playoff stats
For his career, Curry has shot 41% from behind the arc in the postseason, and he has averaged 10 attempts per game. When you look at the advanced numbers, 58% of his shots this season have come from behind the arc, much higher than his career percentage of 53.4. He's also playing efficiently as he has a Player Efficiency Rating of 25.

If the Warriors enjoys a long playoff run in 2019, Steph Curry could leapfrog players such as Kevin Garnett and Bill Russell on the all-time playoff points list.