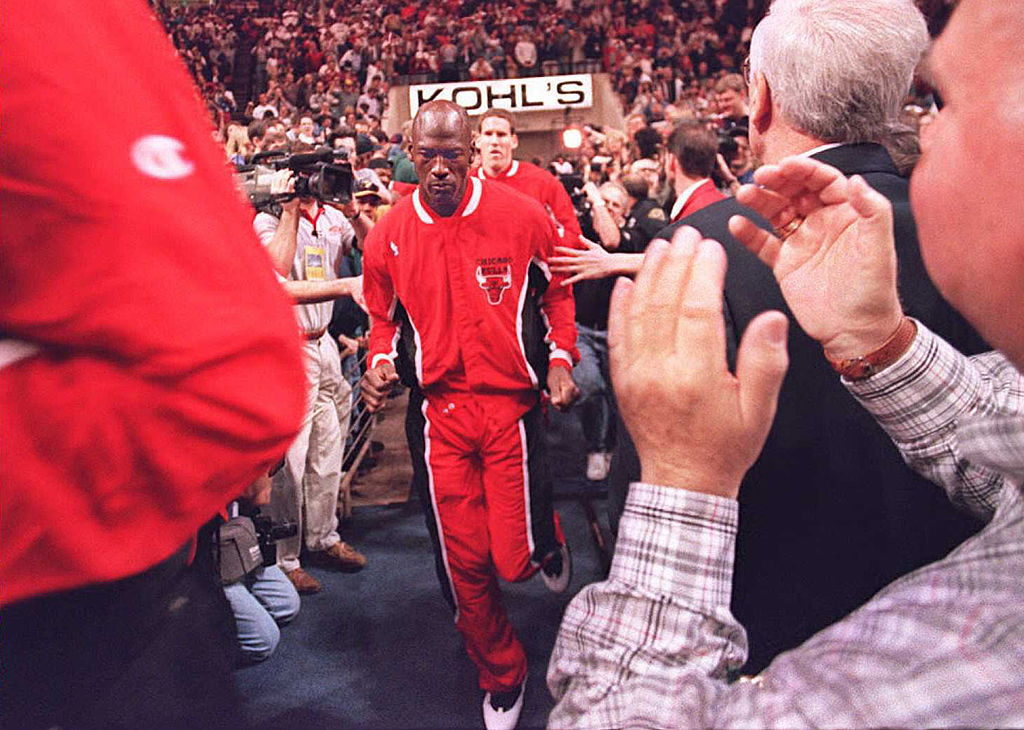 The NBA Record Michael Jordan Never Came Close to Breaking
Michael Jordan is one of the greatest players in NBA history, but he didn't come close to setting one particular NBA record.
Wilt Chamberlain and Michael Jordan are arguably two of the most dominant players in NBA history. While Wilt rose to dominance in the 1960s, becoming one of the game's greatest scores, Jordan became a global icon and paved the way for the popularity that basketball has in the world today.

Both players hold countless NBA records, but there is one record that Jordan comes up well short when compared to Chamberlain. Today we will talk about that record and discuss if anyone has a shot at ever breaking it.

Michael Jordan's career accomplishments
Many people believe Michael Jordan is the GOAT, the greatest of all time. He took the Chicago Bulls to six NBA Finals appearances, going to 6-0, with two separate three-peats.

He was also a 14-time All-Star and made 11 All-NBA teams. Jordan wasn't just a prolific scorer; he is widely viewed as one of the best perimeter defenders the game has ever seen, earning nine All-Defensive team nods during his career.

Jordan's NBA records
Michael Jordan holds several NBA records, including some that seem nearly untouchable. SomeJordan records we don't see anyone having a crack at breaking include his career points per game average, which sits at 30.1, and most NBA Finals MVP awards (six).

LeBron James passed Jordan for most career points in the playoffs, but he had an early head start because he came out of high school, and Jordan had two separate retirements.

One record Michael Jordan never came close to breaking
Whenever an NBA player reaches the 50-point mark, it is viewed as an excellent accomplishment. Jordan had several memorable moments on the basketball court, but when the lights shined the brightest, he had the opportunity to wow everyone in the stands.

When you think of games where he scored 50 or more points, two of them should stand out right away for any basketball fan. One was when he scored 63 points in the playoffs against the Celtics, and Larry Bird called him God in a basketball jersey. Another was his 55-point outing against the New York Knicks (referred to as the Double Nickel) in his first game back at Madison Square Garden after he returned from his first retirement.

Michael Jordan had 31 50-point games in his career. Impressive, but he didn't come anywhere near Wilt Chamberlain's record.

How many 50-point games Wilt Chamberlain have?
Chamberlain has the NBA record for most 50-point games in a career with 118. He was physically imposing on the basketball court, as there were few players in the league that had the size to match up with him.

For his career, he averaged points 30.1 points per game to go along with 22 rebounds per game. He also averaged more than 50 points per game in his third pro season.

Comparing the two greats
When you have basketball players from different eras, it's hard to compare them to determine who was the better player. Recent arguments along those lines have centered around Russell Westbrook and Oscar Robertson, the only two players to average triple-doubles in a season.

During Wilt Chamberlain's time in the league, the pace of the game was a lot faster than in the 1980s and 90s, and he towered over most defenders, making scoring and grabbing rebounds that much easier.

Michael Jordan had a fluidness to his game that wasn't matched by many on the court. The issue was the physicality of the league. Flowing blood and broken limbs were considered hard fouls in Jordan's era, but both players were able to take advantage of their styles of play.

Both Jordan and Chamberlain were nearly unmatched in their own way, and both are all-time NBA greats. If we had to pick just one for our team, we would go with Jordan for his ability to come through in the clutch.