New England Patriots Fans Just Shed a Collective Tear After a Heart-Wrenching Retirement Announcement
Julian Edelman had an extremely frustrating 2020 campaign highlighted by chronic knee issues. He only played in six of a possible 16 games for the Patriots, and it seems as if that will be the last memory New England fans will have of the franchise legend.
On Monday afternoon, the Patriots terminated Edelman's contract, and he's now reportedly expected to retire from the NFL. That sound you hear in the background is Patriots fans sobbing all over the New England area.
Julian Edelman is a Patriots legend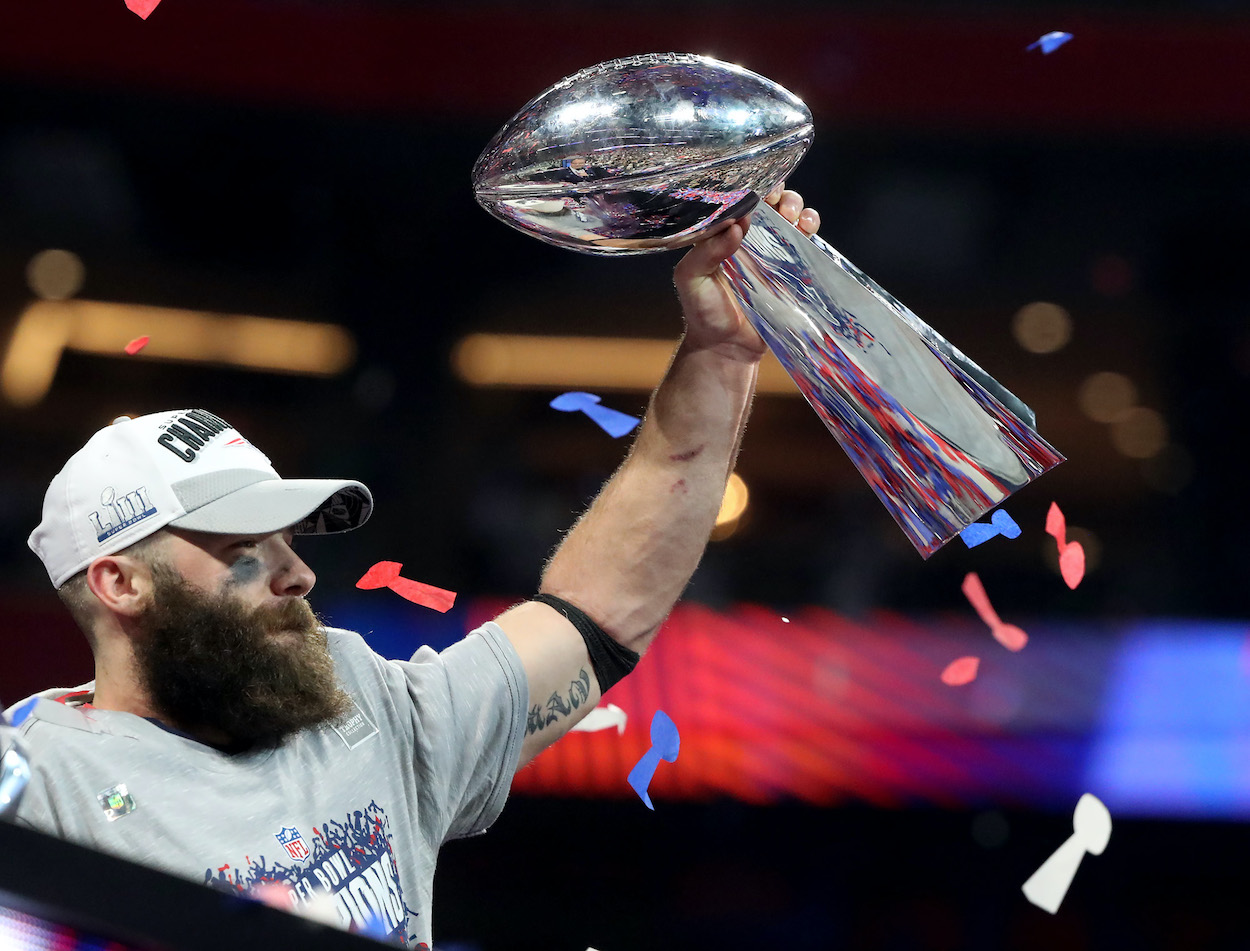 Bill Belichick and Tom Brady were undeniably the two biggest reasons for the Patriots' historic run over the last two decades. But the third name on that list might just be Julian Edelman.
Edelman ranks second all-time in Patriots franchise history in receptions (620), fourth in receiving yards (6,822), and ninth in touchdown receptions (36). The crafty slot receiver served as Brady's most trusted security blanket for 10 seasons. He rarely put up gaudy stats, but he played his best football when it mattered most.
Edelman ranks second in NFL postseason history behind only Jerry Rice with 118 receptions and 1,442 receiving yards. He was also named the MVP of Super Bowl 53 after he went off for 10 catches and 141 yards. Oh, and the Patriots might not have won Super Bowl 49 if Edelman doesn't make that ridiculous, sprawling catch on the game-tying drive late in regulation.
Edelman isn't just an all-time Patriots great. He's a possible NFL Hall of Famer, too. Just ask Brady.
"He'll be in the Patriot Hall of Fame, and he could be a Pro Football Hall of Famer at some point, too," Brady said of Edelman on sports radio WEEI in 2019. "What he's accomplished in his career is nothing short of spectacular."
Patriots terminate Edelman's contract
Edelman was still one of the best slot receivers in the NFL as recently as two years ago, but his chronic knee issues seem to have finally taken their toll. Last year, Edelman missed 10 games for the Patriots and recorded just 21 catches.
On Monday afternoon, Mike Reiss of ESPN reported the Patriots have terminated Edelman's contract because of a failed physical. Edelman could look to sign with a new team as a free agent this offseason, but it sounds as if he's played his final snap in the NFL.
Julian Edelman announces his retirement as Patriots fans shed a collective tear
After the report surfaced Monday afternoon, Edelman released an emotional goodbye video to Patriots nation via his official Twitter account. He concluded the video with two simple, yet powerful words.
"Foxboro forever."
Be warned, New England fans. There will be tears.
All stats courtesy of Pro Football Reference