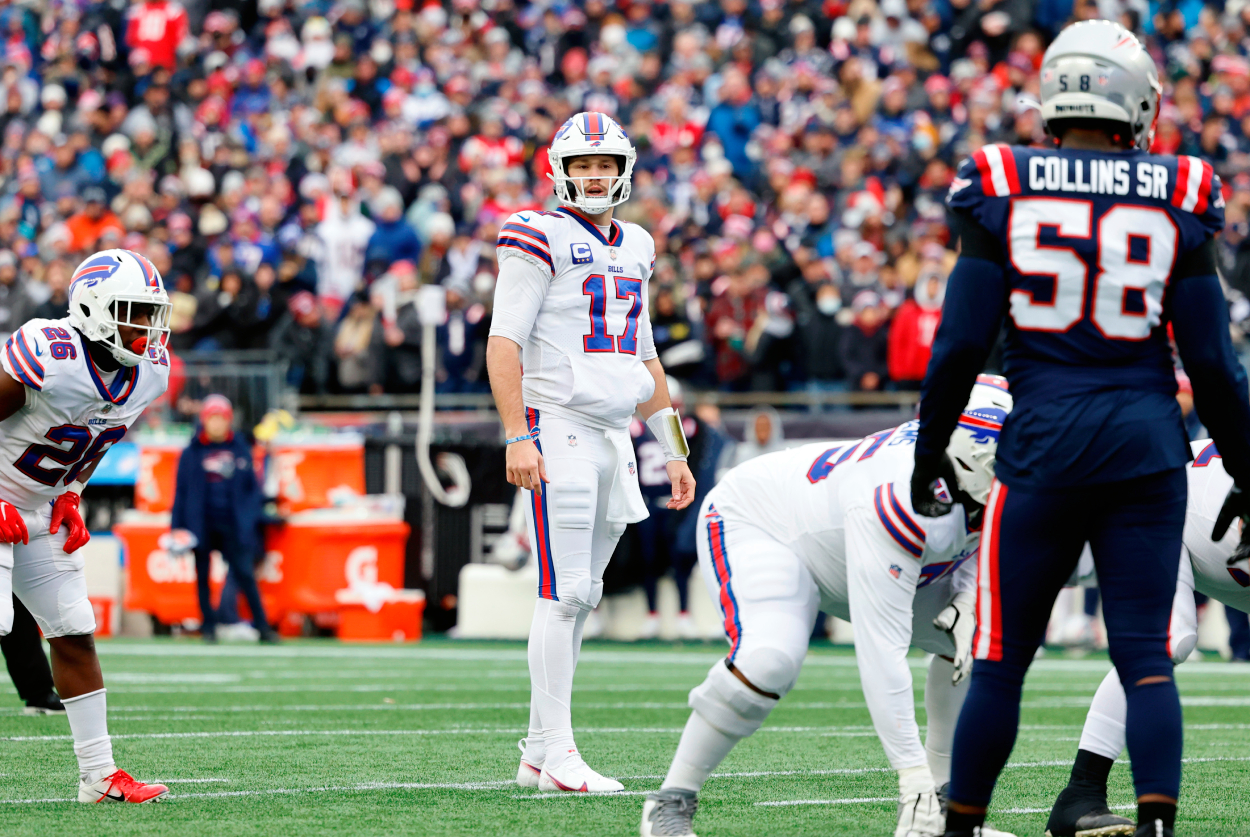 New England Patriots Fans Won't Take Well to Colin Cowherd's Buffalo Bills Praise
Josh Allen and the Buffalo Bills have pushed the New England Patriots aside in the AFC East.
As much as New England Patriots fans don't want to admit it, there's a new king in the AFC East. After ruling the division — and the NFL, for that matter — for decades, the Patriots have taken a back seat to the Buffalo Bills.
Yes, it's that same Buffalo Bills franchise that was the laughingstock of the division for years. Things have changed. Many Patriots fans have a tough time accepting second best. Colin Cowherd's recent take on the two teams certainly won't have New England fans smiling.
New England Patriots fans have been spoiled for 20-plus years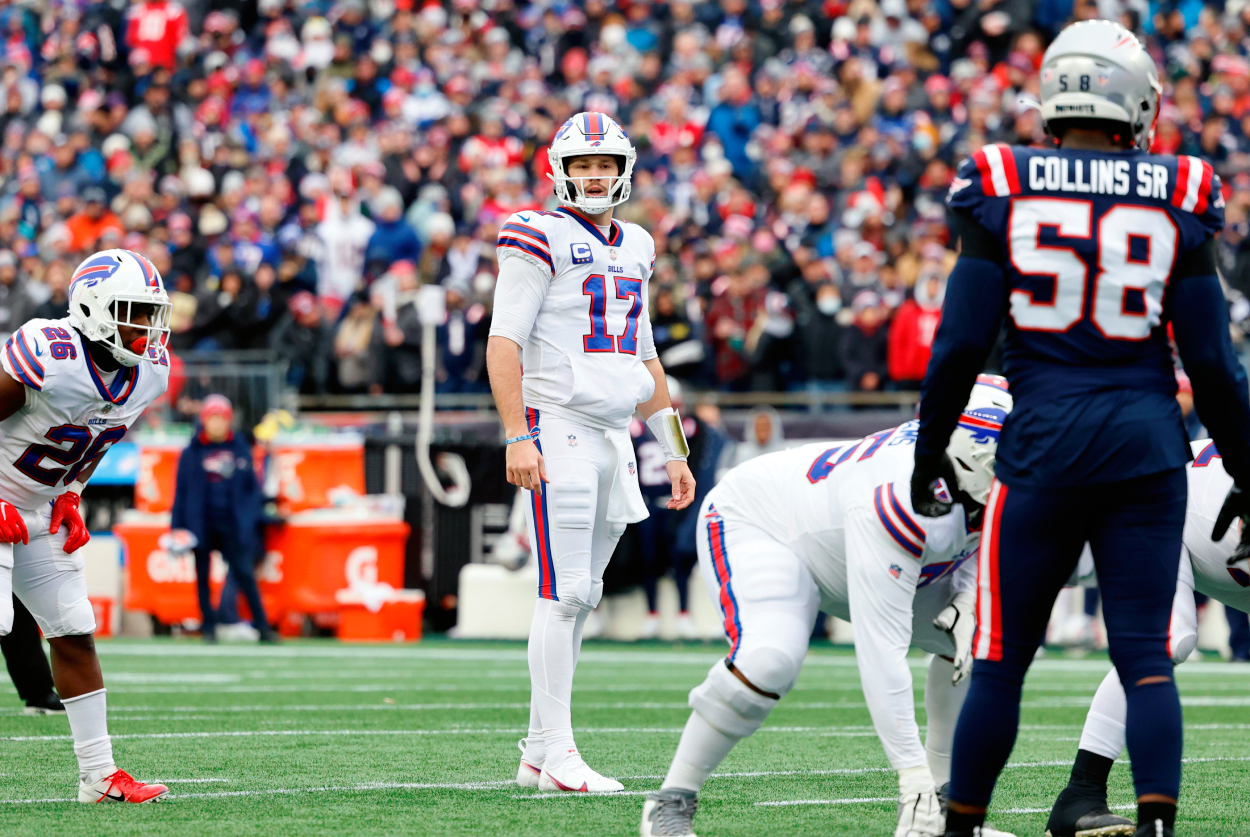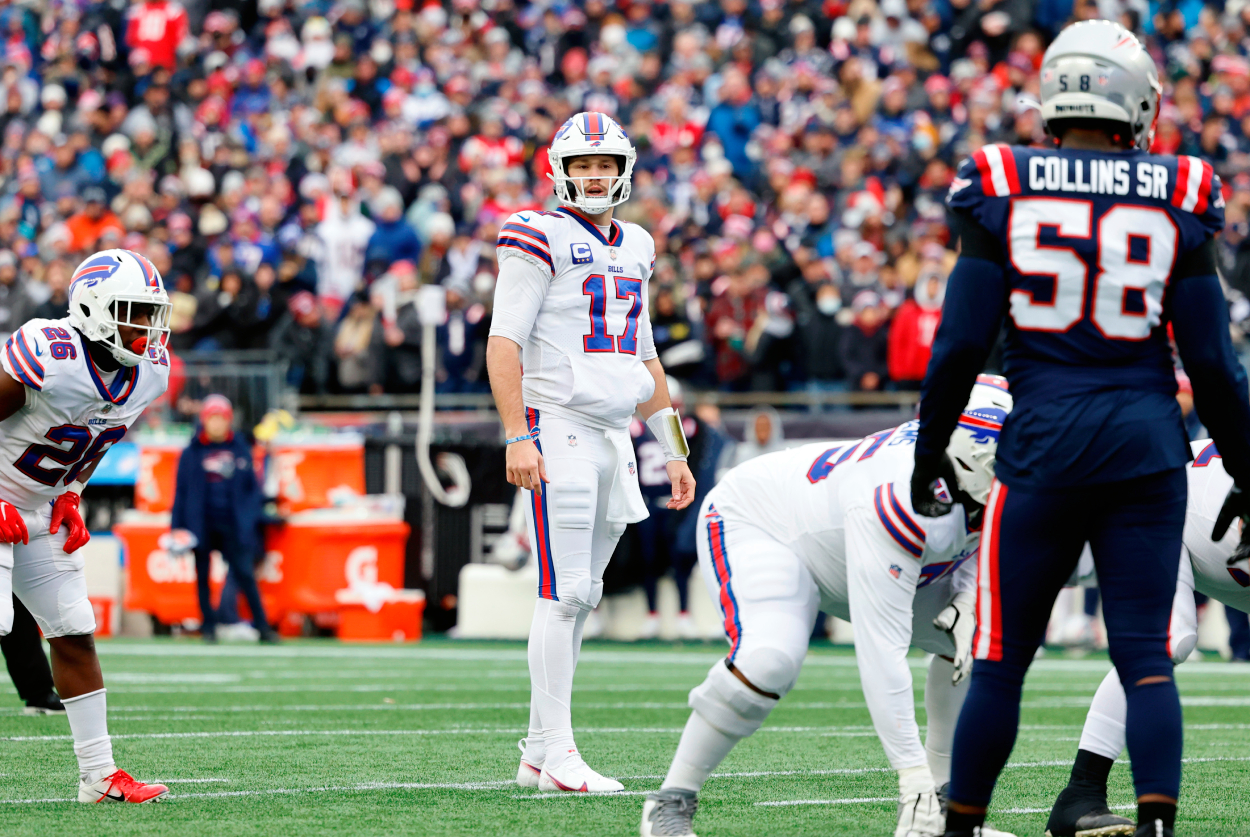 If you're a Patriots fan are between the age of 25-30, you're spoiled. You know nothing other than success. If you're a middle-aged Pats fan, you've seen both sides. You remember the late 1980s and early 1990s when they had five straight losing seasons, including going 1-15 in 1990.
Since Tom Brady took over for Drew Bledsoe in 2001, it's been nothing but glory in New England. Double-digit wins for the season have been the norm, with six Super Bowl titles and 17 division crowns.
It's not just the fans in New England who are spoiled. The local media has been as well. It's as though the fans and media can't let go of the past. When the Patriots got on a hot streak last year to get to 8-4 right before a divisional showdown in Buffalo, Lou Merloni, a co-host on Boston's WEEI radio station, said if the Pats go into Buffalo and win, New England needs to "get the duck boats ready," implying another Super Bowl was on the way.
After the Pats knocked off the Bills, 14-10, in that weather-dominated game in which rookie quarterback Mac Jones attempted just three passes (2-for-3 for 19 yards), the hype train was rolling again in New England. The Pats then promptly ended the season by losing three of their last four games, including a 33-21 decision to the Bills in Foxborough. The Pats were then dismantled by those same Bills in the playoffs, losing 47-17.
Colin Cowherd's latest take won't sit well with New England Patrots fans
While Pats fans might not want to give up their reign on the AFC East, it's bound to happen. It already has. The Bills are a much better team with a much brighter future, led by quarterback Josh Allen.
Cowherd's recent comments on the Bills and Patriots suggest it will be the Bills owning the division for the foreseeable future. It all started with Buffalo's recent signing of free agent Von Miller.
Cowherd combined the two teams and then rattled off the top 10 players in order. Eight of them were Bills, led by Allen at No. 1.
"What Buffalo is saying is we know we're better than New England," Cowherd said. "For the first time in 20 years, we're putting the foot on the throat here."
Then he rattled off his top-10 list.
"Josh Allen's the best player, " he began. "Stefon Diggs is second and Von Miller's third. I'll give the Patriots the fourth, Matt Judon, although he disappeared at the end of the year. Tre'Davious White, great corner for Buffalo, got hurt. Jordan Poyer, Micah Hyde, they have tremendous safeties. I'll give you David Andrews, who I think was undrafted, at center. Then Tremaine Edmunds and Dawson Knox, who had nine touchdown catches last year."
Cowherd didn't stop there as he also threw in a little dig at Bill Belichick
After Cowherd released his top 10 players, he said the Bills were also better 11 through 15. Then he threw in a little swipe at Patriots head coach Bill Belichick.
"There you go, eight of the top 10 players," he said. "By the way, 11 to 15 is mostly Bills, too. They got a lot of B, B-plus pass-rush guys."
Cowherd said the Miller signing means they are going for it all this year.
"This is a move basically saying we haven't been here in 20 years," Cowherd said. "We got better players than New England. We're going to be leading New England late, and we're going to take away the one thing that cost us the Super Bowl. We just needed one more pass rusher, maybe, against Kansas City.
"Those who worship at the House of Belichick, he is the best football coach I've ever seen. He should've been fired years ago as a general manager."
All statistics courtesy of Pro Football Reference.