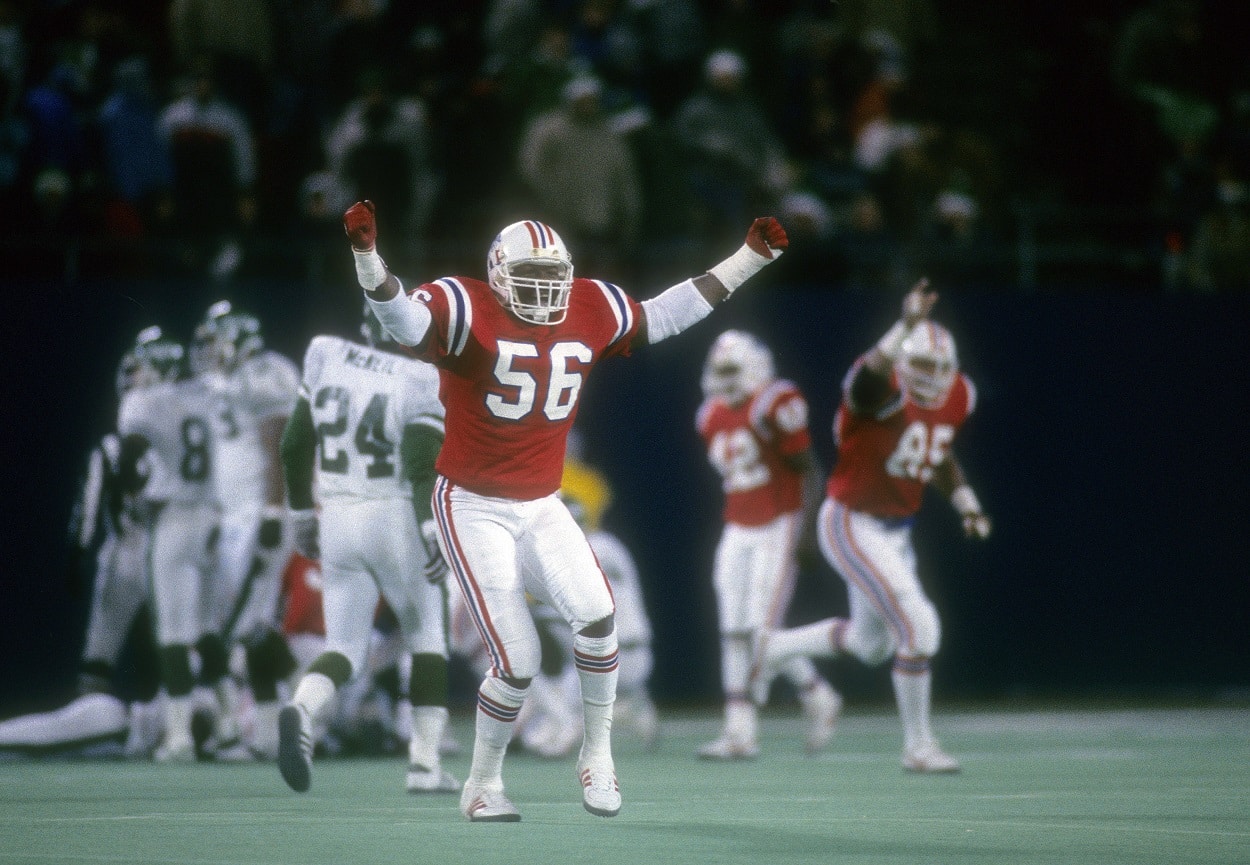 New England Patriots: The Top 10 Defensive Players in Franchise History
A look at the top 10 defensive players in New England Patriots history.
From ball-hawking corners to playmaking linebackers to dominant linemen, the New England Patriots have had plenty of stars on the defensive side of the ball over the years. But who makes the cut for the top 10?

Unfortunately for valuable contributors like Mike Vrabel, Lawyer Milloy, and Patrick Chung, they fell just short of some of the other players who've suited up for the franchise. However, that speaks volumes about just how many all-time greats have spent time in New England. 
So, looking back over the decades, here's how the list shakes out.
10. Stephon Gilmore, CB, 2017-2020
Even though he only called Foxborough home for a few years, Stephon Gilmore deserves a spot on this list based on his dominant level of play. Following in the footsteps of big-name corners like Aqib Talib, Darrelle Revis, and Malcolm Butler, the former Buffalo Bill developed into the best player at his position during his time in New England. 
After putting together a rock-solid 2017 season, Gilmore earned first-team All-Pro honors in 2018 by allowing a paltry 48.4% completion rate. Of course, once he added a Super Bowl ring, he snagged the NFL Defensive Player of the Year Award for good measure. Ultimately, despite not having the longevity of some other notable defenders, Gilmore checks in at No. 10, thanks to his superstar status.
9. Tedy Bruschi, LB, 1996-2008
Few players on either side of the ball engender as much love from Patriot Nation as linebacker-turned-TV star Tedy Bruschi. Then again, when you spend your entire NFL career playing for one franchise, it's easy to see why the California native is so beloved around New England. 
Bruschi utilized his intelligence and toughness on the field to stuff the run and make plays in the passing game. Plus, Bill Belichick relied on his beloved defensive leader to put teammates in the proper position.
Not only did Bruschi play a pivotal role in establishing the most successful dynasty in NFL history, but he displayed immense courage and determination by returning from a stroke to continue playing pro football.
8. Devin McCourty, S, 2010-Present
Intentional or not, Devin McCourty essentially took over the reins from Tedy Bruschi. And more than a decade into his own decorated career, the veteran safety compares favorably to the lovable linebacker in terms of his overall value to the franchise. Like Bruschi, McCourty doesn't have a long list of individual accolades. However, he undoubtedly belongs on the top-10 list thanks to his steady play and unparalleled leadership. 
Set to turn 35 in August, McCourty has a chance to pad his stats and potentially climb his way up these rankings. With 900 tackles, 31 interceptions, 102 passes defended, and 11 forced fumbles in 188 games, he's clearly been an impact player.
More importantly, though, he's been the glue guy for Belichick throughout the years, and it's no coincidence the Patriots secured their second trio of Lombardi Trophies with McCourty patrolling the back end of the defense.
7. Willie McGinest, OLB/DE, 1994-2005
Selected fourth overall in the 1994 draft, Willie McGinest wasted little time proving why Bill Parcells placed his faith in him. Ironically, the physically imposing outside linebacker ended up helping Parcells' protege win three Super Bowl titles in four years. 
An ultra-versatile player who could ruin quarterbacks' lives and wreak havoc against the run, McGinest recorded 78 sacks in 171 regular-season games. However, what puts him above the likes of McCourty and Bruschi is how he performed in the playoffs. The two-time Pro Bowler recorded 16 sacks in 18 postseason games—good for No. 1 in NFL history.
6. Raymond Clayborn, CB, 1977-1989
Long before Stephon Gilmore began taking opposing receivers out of the game, the Patriots employed a shutdown corner who also excelled at making plays on the ball. Raymond Claborn arrived as the 16th overall pick of the 1977 draft and spent nearly his entire NFL career in New England. During his 13-year run with the team, he snagged 36 interceptions, earned three Pro Bowl selections, and cemented his case as an all-time great. 
Just how valuable was Clayborn? According to Pro Football Reference, he ranks 10th in franchise history with an approximate value of 100. In fact, only two defenders are ahead of him in that metric, including the next player on this list.
5. Vince Wilfork, DT, 2004-2014
A big-bodied defensive tackle with a big smile and a penchant for making big plays in big moments, Vince Wilfork earned widespread respect from coaches, teammates, and opponents for his ability to anchor against the run and ruin plays from the interior. The preeminent nose tackle of his generation, the 2004 first-round pick utilized his unique blend of size, athleticism, and power to blow up blocking schemes and disrupt the passing game. 
In 11 seasons with the Patriots, Wilfork earned five Pro Bowl selections, including four straight from 2009-12. A viable candidate for the Pro Football Hall of Fame, he exemplifies what happens when you pair an elite talent with an elite coach. Ultimately, Bill Belichick figured out how to deploy the burly defensive lineman the best way possible, and Wilfork did the work to become a franchise icon.
4. Ty Law, CB, 1995-2004
Another blue-chip talent who got a chance to play for both Parcells and Belichick, Ty Law easily takes the No. 4 spot on this list. Brash and unapologetic, the uber-confident corner intercepted 36 passes in 141 regular-season games with the Patriots. However, Law truly shined in the biggest moments, with his three-pick outing against Peyton Manning in the 2003 AFC Championship Game proving to be his signature performance. 
A five-time Pro Bowler and two-time first-team All-Pro, Law was instrumental in establishing the "Patriot Way" culture—and he rightfully earned recognition for his stellar career by getting inducted into the Pro Football Hall of Fame in 2019.
3. Mike Haynes, CB, 1976-1982
Notice a theme here? Needless to say, the Patriots have had plenty of top-level talent at corner over the years. And while Ty Law and Stephon Gilmore were elite in their own right, it's fair to say Mike Haynes was the best of the bunch. 
An elite athlete with sticky coverage skills, he joined the Patriots as a highly hyped prospect. And even though he went on to star for the Los Angeles Raiders, he made sure to leave quite the legacy in Foxborough. Not only did Haynes win the 1976 NFL Defensive Rookie of the Year Award, but he earned Pro Bowl honors in five of his six seasons with the team.
The Pro Football Hall of Famer and Patriots Hall of Famer isn't just one of the best defensive players in franchise history; he's one of the best defensive players of all time.
2. Richard Seymour, DL, 2001-2008
Are there former Patriots who posted more sacks than Richard Seymour? Actually, there are quite a few. But that doesn't matter. Ask anyone who lined up across from him about how special he was, and you'll quickly realize that stats simply don't tell the whole story. 
Belichick basically built his entire defense around Seymour—a long-armed, powerful defensive lineman who could play on the edge or along the interior. In fact, the former Georgia Bulldog possessed such an uncanny combination of size, strength, and athleticism that he earned Pro Bowl honors as both a defensive end and a defensive tackle.
Ultimately, the seven-time Pro Bowler and three-time Super Bowl champion got the respect he deserved by earning a spot in Canton in 2022.
1. Andre Tippet, OLB, 1982-1993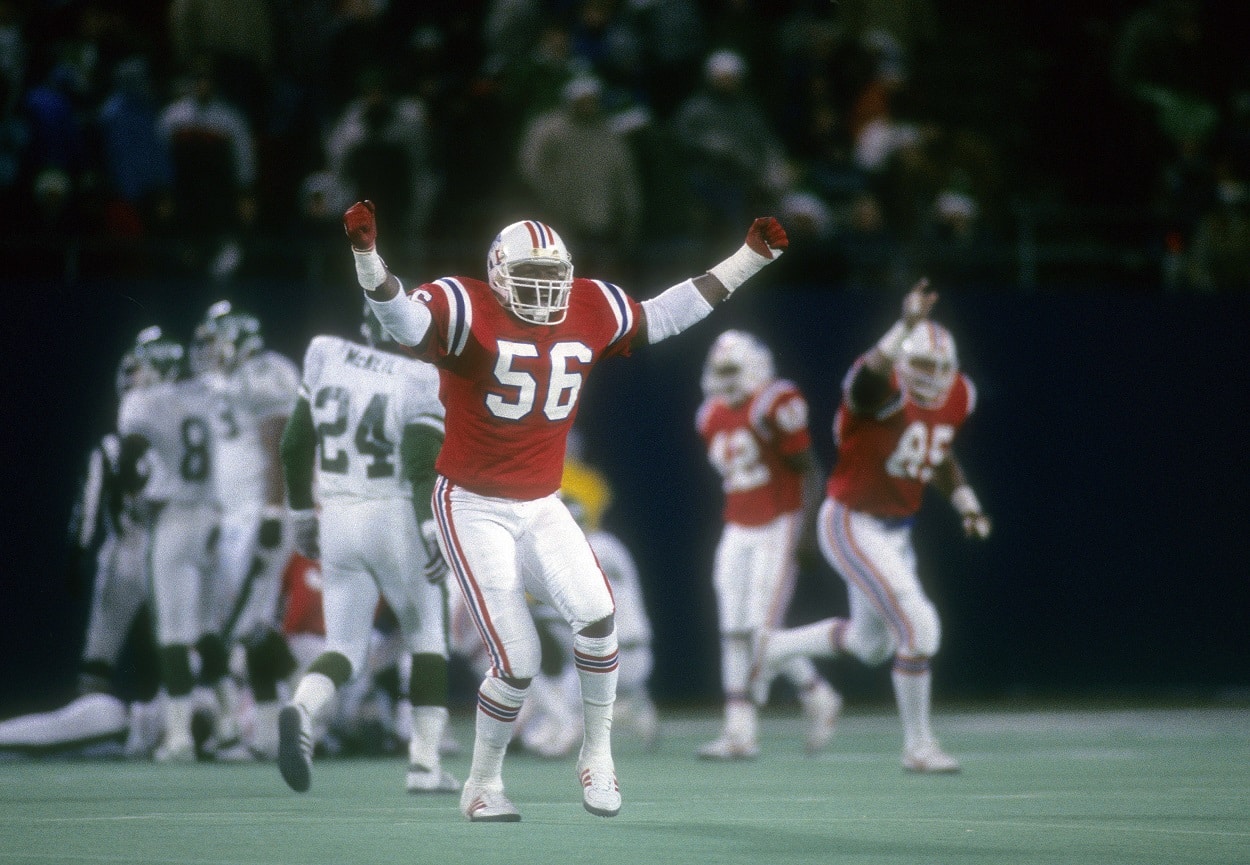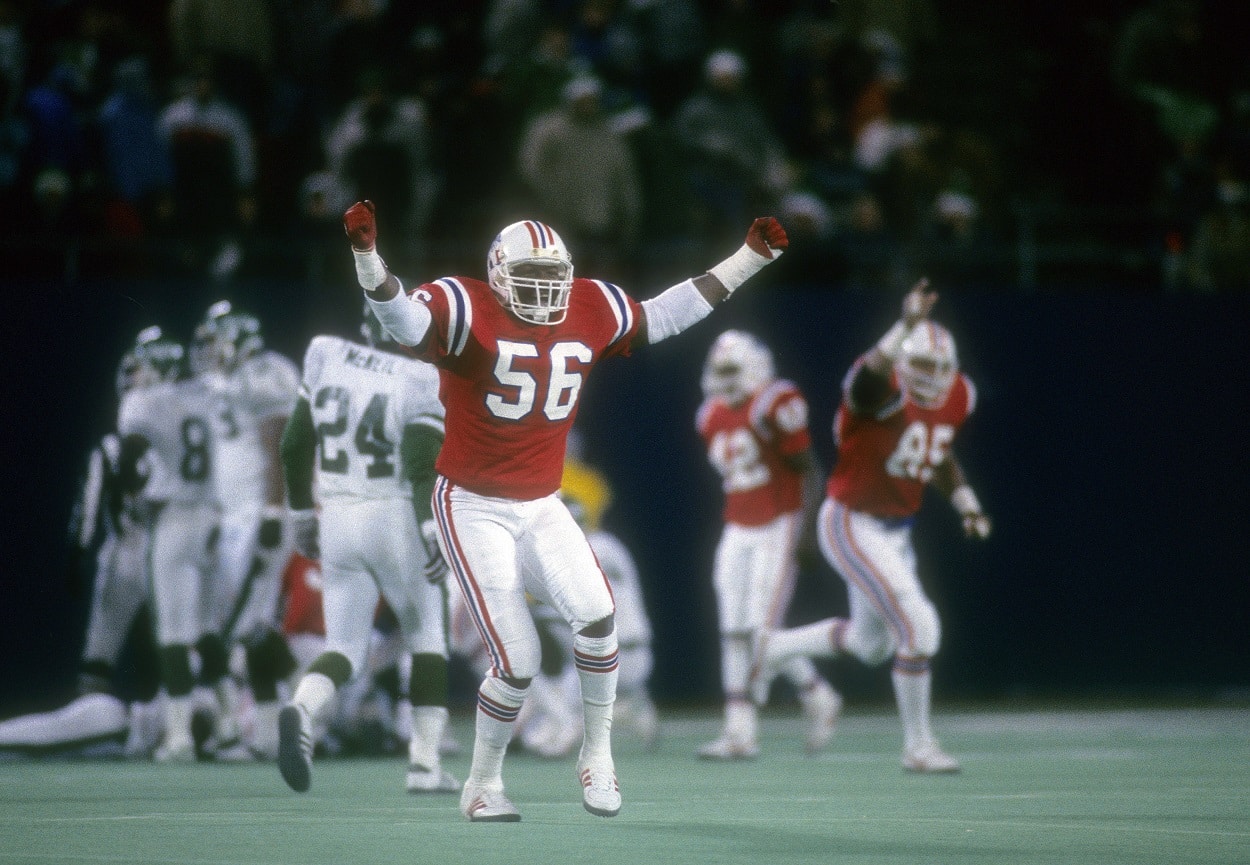 There's no debate here. The title of best defensive player in Patriots history goes to none other than Andre Tippett. Tipping the scales at 6-foot-3, 240 pounds, the menacing outside linebacker made life miserable for opposing quarterbacks for over a decade. And when you consider how much time he missed because of injuries, it's scary to think how much more damage Tippett could have inflicted. 
A lifelong Patriot who retired after the 1993 season, he recorded a franchise-record 100 sacks in 151 regular-season games. Tippett earned five straight Pro Bowl selections from 1984-88, along with multiple All-Pro honors.
One of the most talented and tenacious edge rushers to ever put on an NFL uniform, the 2008 Pro Football Hall of Fame inductee set such a high bar that it's hard to envision anyone on the current roster coming for the No. 1 spot in the future.
Stats courtesy of Pro Football Reference
Like Sportscasting on Facebook. Follow us on Twitter @sportscasting19 and subscribe to our YouTube channel.