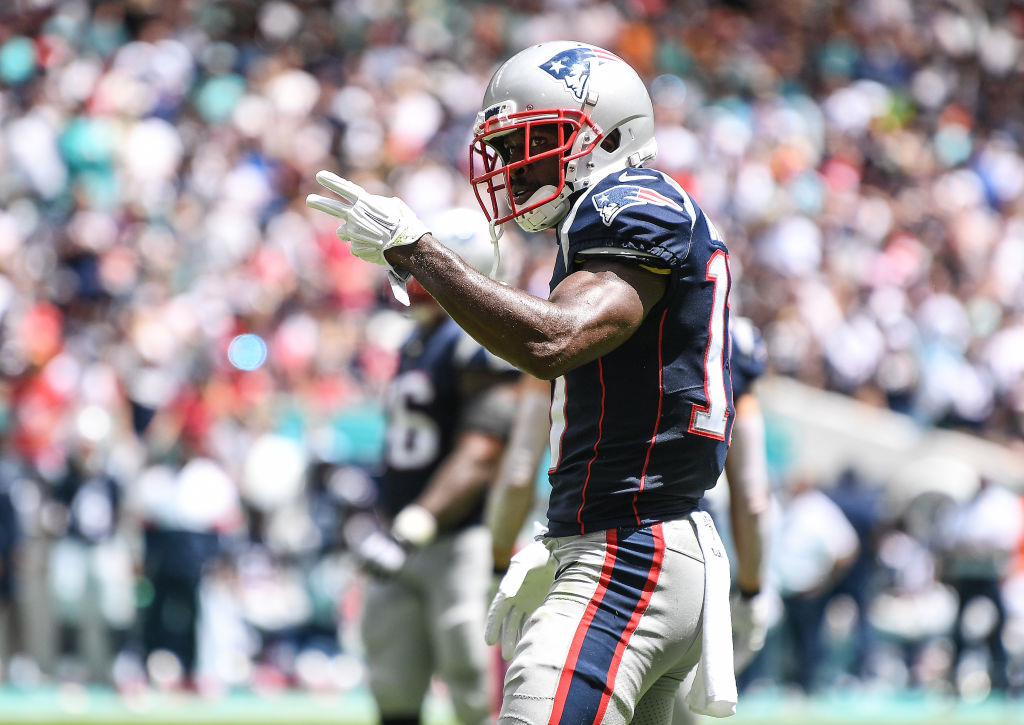 NFL: 1 Reason Why Antonio Brown Thinks the New England Patriots Should Let Him Play
Antonio Brown might have been cut by the New England Patriots, but he took to Instagram to explain why he thinks they should let him play.
No matter what happens in the NFL, Antonio Brown keeps finding ways to insert himself into the news. From his bizarre case of frostbite and helmet grievance to his terrible tweets and return to college, the wide receiver has made headlines for everything except playing football.
On Wednesday, however, Brown had some NFL-specific comments. He took to Instagram and explained one reason why he feels the New England Patriots should let him back on the field.
Antonio Brown's brief time with the Patriots
After his release by the Oakland Raiders, Brown signed a one-year contract with the New England Patriots. Despite ongoing allegations of sexual assault, the receiver made his debut for the Pats against the Miami Dolphins. He would catch four passes for 56 yards and a touchdown in his only appearance.
As new allegations of harassment started to emerge, however, the Patriots decided to cut Brown. Head coach Bill Belichick had grown visibly tired of answering questions about the receiver, and the franchise decided he simply wasn't worth the trouble. While he wasn't placed on the commissioner's exempt list and technically remains a free agent, Antonio Brown quickly became a persona non grata around the league.
Antonio Brown goes back to school
After being cut by the Patriots, Brown decided to use his newfound free time to continue his education. He re-enrolled at Central Michigan University, where he played college football, and started taking four online classes.
Based on an Instagram post of his schedule, the wide receiver signed up for a general management class, a technical writing course, a religion class called "Death and Dying," and one final course focusing on racism and social inequality. While that sounds like enough to keep anyone busy, Brown's mind is apparently still focused on the NFL.
Brown's message for the New England Patriots
On Wednesday afternoon, Antonio Brown took to Instagram Live to discuss his future with football fans. He asked his followers to contact the New England Patriots and explained one reason why the team should let him back on the field. "[If] you guys follow the Patriots, tell them to call me," Brown said on the video. "They still gotta pay me, so might as well let me earn it."
That claim is a bit inaccurate, however, as Brown has filed a grievance over the Patriots over two sums of money. The wide receiver wants to recoup his game check of $64,062, a portion of his guaranteed salary, and his $9 million signing bonus. The case may not reach an arbitrator until the spring and, even then, the Patriots might not have to pay Brown anything.
Brown's appeal plays into the classic "sunk cost fallacy," which plays into our desire to maintain a commitment, regardless of its practicality. While the Patriots did sign Brown and theoretically own him money, keeping him on the roster simply wouldn't make sense on a football or moral level. There's no reason for anyone, especially an NFL franchise, to throw good money after bad.
Brown also shot down the prospect of playing in the XFL during his Instagram session. "XFL? Never. That's not even in the question," he told a viewer.