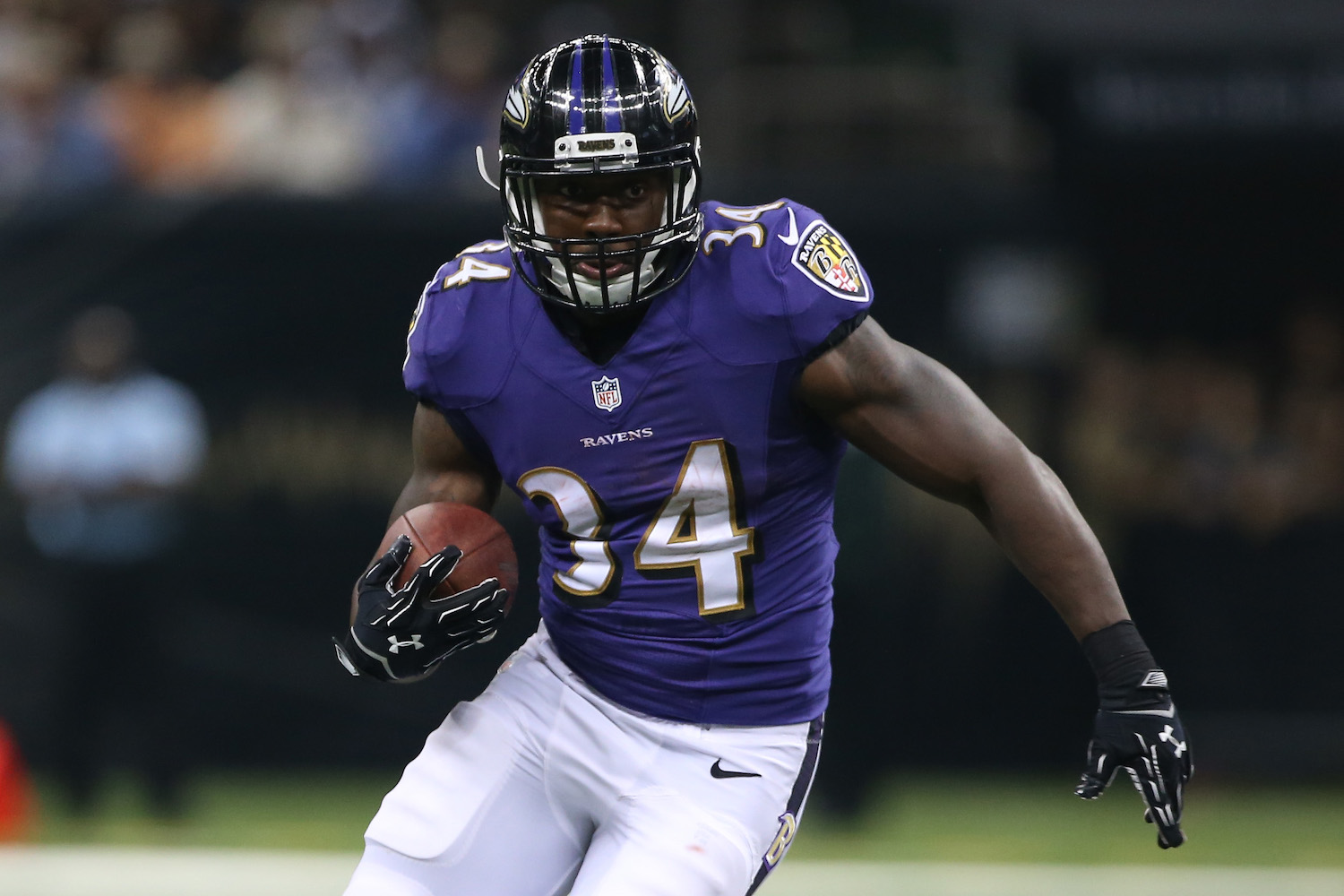 NFL and Baltimore Ravens Shocked by Tragic Death of Former RB Lorenzo Taliaferro at Just 28
Lorenzo Taliaferro was a running back for three seasons with the Baltimore Ravens through 2016. This week his tragic death at age 28 shocked the NFL family.
Just a few seasons ago, running back Lorenzo Taliaferro was scoring touchdowns for the Baltimore Ravens as the team made a run in the NFL playoffs. He last played for the Ravens in 2016 before retiring. On Wednesday, law enforcement officials were called to the scene where the 28-year-old Taliaferro needed medical attention. Unfortunately, attempts to save his life were unsuccessful, and he tragically died a short time later at a local hospital. 
Lorenzo Taliaferro becomes star at Coastal Carolina 
Despite being a football star and leading his Virginia high school team to an appearance in the state finals, Lorenzo Taliaferro was never highly recruited. He accepted a scholarship to play at Lackawanna College. 
After a couple of seasons, Taliaferro received a scholarship offer to play at Coastal Carolina. With the Chanticleers, he rushed for 1,729 rushing yards — including nine games of over 100 yards — and 27 touchdowns in 2013. It was the most yards in a single season in school history. 
He was named the Big South Offensive Player of the year. He also earned second-team All-American honors. 
Lorenzo Taliaferro plays for the Baltimore Ravens
Despite playing at a smaller school like Coastal Carolina, Lorenzo Taliaferro's 2013 numbers generated interest from the NFL. The Baltimore Ravens selected him in the fourth round of the 2014 NFL Draft. 
During his rookie season, Taliaferro played in 13 games, rushing 68 times for 292 yards and four touchdowns. That season's best game also turned out to be the best of his career when he rushed 18 times for 91 yards and a touchdown in a 23-21 road win over the Cleveland Browns. 
Injuries dogged him that season, and he ended the year on injured reserve. Unfortunately, the same thing happened the next two seasons. In 2017, after attempting to switch to fullback, the Ravens waived him. 
For his three-year career, he played in 19 games, rushed for 339 yards and scored five touchdowns.  
Tragically dies at 28 and the NFL community reacts
Like many former NFL players, Lorenzo Taliaferro left the league and returned to everyday life out of the spotlight. Sadly, his name made headlines this week when it was reported the 28-year-old had died. 
According to the York-Poquoson Sheriff's Office in Virginia, deputies were dispatched to the scene with someone in need of medical attention. Medics arrived and transported Taliaferro to a local hospital, where he later died. 
Many in the NFL responded to the shocking news, including his former team. 
"We are deeply saddened to learn of the passing of Lorenzo Taliaferro," head coach John Harbaugh said in a statement. "Lorenzo was a kind, smart, respectful, and determined young man — someone always committed to his teammates and well-liked by everyone in our organization. We extend our heartfelt condolences to Lorenzo's family. May he rest in peace."
"This one hurts. Losing a brother & a friend. Zo had 1 of the biggest hearts I've ever been around," said former Ravens teammate and fellow running back Justin Forsett, who Taliaferro backed up. "He was kind, humble, curious about life, & joy to be around. I'll be there for Major bro & let him know his dad was a good man who worked his butt off! Rest Easy Zobot! Gone 2 soon."
According to WBFF-TV in Lorenzo Taliaferro's hometown of Williamsburg, Va., a family member indicated he died of a heart attack.