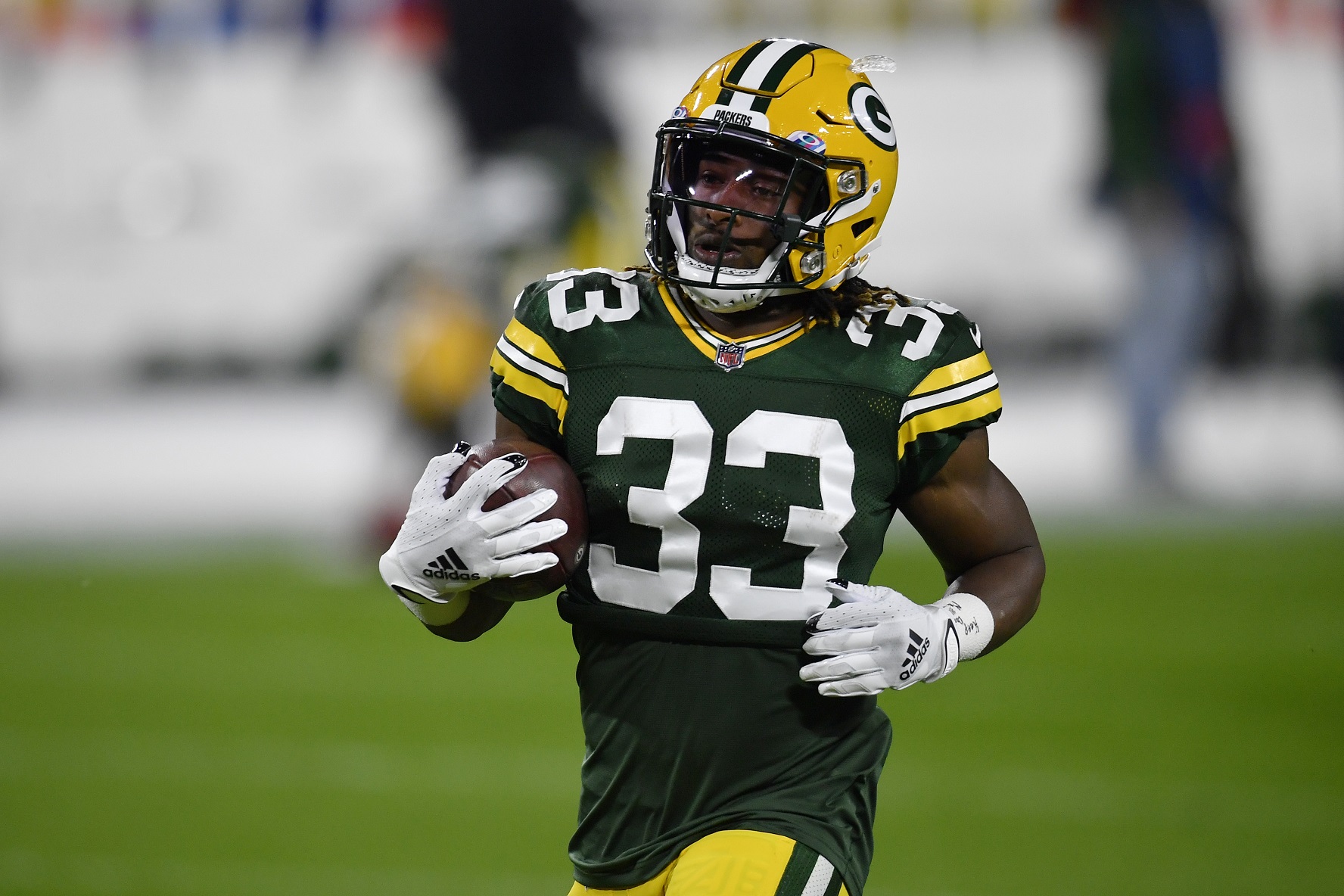 Packers Running Back Aaron Jones' Cleats Were Designed by a 12-Year-Old
A 12-year-old boy designed Green Bay Packers star Aaron Jones' cleats for the NFL Week 13 game vs. the Philadelphia Eagles.
Coming off a stellar third season, Aaron Jones finds himself in good shape three-fourths of the way through his contract year with the Green Bay Packers. One might say it would be good to be in the 26-year-old running back's shoes, and he would be OK with you taking them. That's because Jones can fall back on a special set of cleats with a heartbreaking backstory.
A 12-year-old boy designed Aaron Jones' cleats
Green Bay Packers running back Aaron Jones is participating in My Cause My Cleats, the NFL's campaign in which players raise awareness for organizations and causes of their choice by wearing customized cleats.
Jones, a fourth-year pro out of Texas El-Paso, is teaming up with a childhood cancer organization to promote Alex's Lemonade Stand Foundation during the Dec. 6 game against the Philadelphia Eagles. The Pennsylvania-based foundation raises money to fund pediatric cancer research and support families affected by the disease.
To draw attention to the cause, Jones is wearing sneakers designed by Ethan Haley, a 12-year-old boy from Rochester, New York. Ethan was diagnosed in 2018 with anaplastic ependymoma. He has undergone surgeries and more than 80 radiation treatments for multiple tumors on his brain and spinal cord, according to the Green Bay Press-Gazette.
An MRI in November 2019 showed the tumors were gone, but new inoperable tumors were found in his head three months later. Radiation treatments resumed, and Ethan now uses a wheelchair and is undergoing palliative care.
Kristen Haley entered her son in the contest to design the custom cleats. Jones picked it as the winner and surprised Ethan with a video call.
"Kids battling cancer are fighting every day, taking on a challenge that they didn't choose and grinding through it," Jones told the newspaper. "I want to honor their courage and strength and let them know that I see them working hard and staying positive."
In an email, Ethan said the multi-color was intended to highlight the many colorful moments in his cancer journey. "The colors show how I've come from darkness to light," he wrote.
Aaron Jones was a good find for the Green Bay Packers
The 2017 NFL draft included an embarrassment of riches at the running back position, beginning with first-rounders Leonard Fournette and Christian McCaffrey. Dalvin Cook and Joe Mixon followed in the second round. The rest of the draft included Alvin Kamara, Kareem Hunt, Chris Carson, and James Conner.
The Green Bay Packers picked a pair of running backs in the draft and got exceptional value by landing Jamaal Williams in the fourth round and Aaron Jones in the fifth.
Williams has 1,889 rushing yards and 118 receptions in not quite four full seasons. He could be headed for career highs in both categories this season.
Jones improved from 448 yards on the ground as a rookie to 728 in 2018 and 1,084 last fall. He also made 84 catches over his first three seasons and led the NFL in rushing touchdowns and total touchdowns in 2019. Jones posted 100-yard games in three of the last four contests last fall and then ran for a career-high 168 yards in Week 2 against the Detroit Lions.
He has 624 rushing yards this year and 2,884 for his career to go along with 117 total receptions.
The running back is in his contract year
Aaron Jones is in the final season of a four-year, $2.6 million contract with the Green Bay Packers. Nothing is ever certain, but Jones appears well-positioned to sign another long-term contract in the upcoming offseason.
While NFL teams have been increasingly reluctant to commit big money to running backs on a second contract, two members of the 2017 NFL draft class have already scored big: The Carolina Panthers have extended Christian McCaffrey, and the New Orleans Saints did likewise for Alvin Kamara.
Jones won't command the same sort of money, but he'll soon find himself with the cash to buy all the custom cleats he wants.
All stats courtesy of Pro Football Reference.