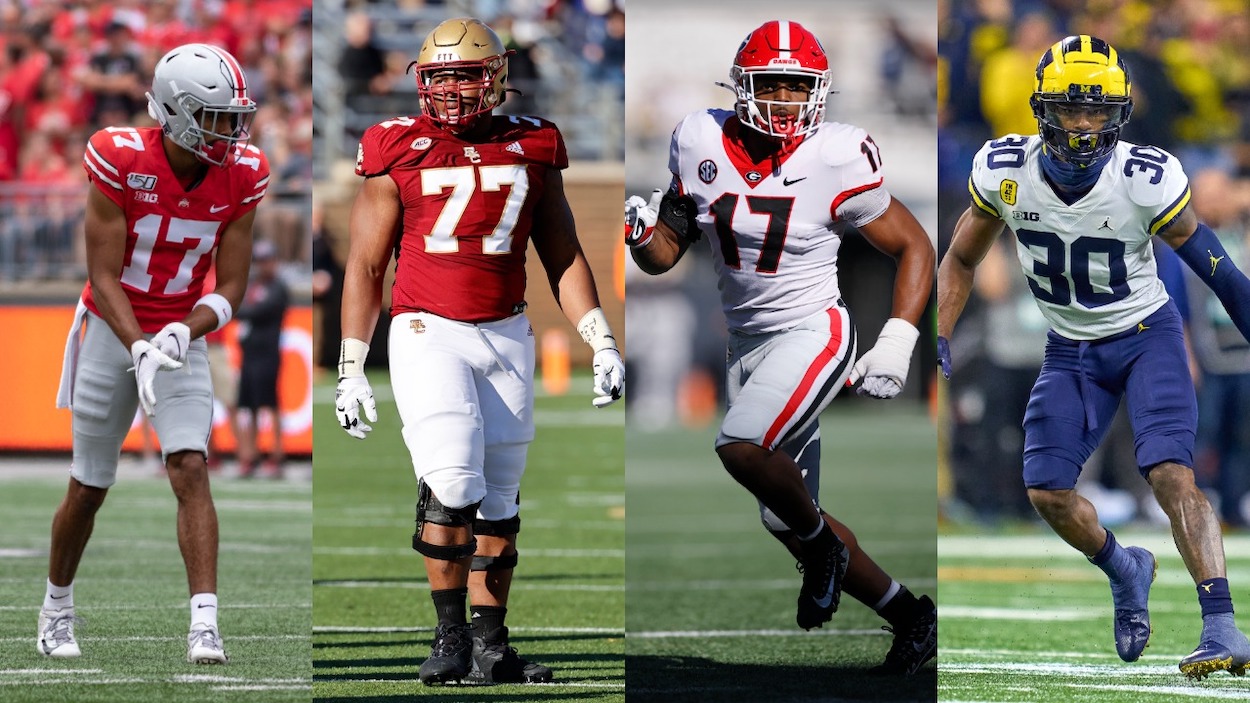 NFL Draft: 4 Players the New England Patriots Should Target With the No. 21 Overall Pick
The New England Patriots should have several tantalizing options at No. 21 in the 2022 NFL Draft. Here are 4 players they should consider.
Bill Belichick and the New England Patriots are in a nice spot at No. 21 in the 2022 NFL Draft. That's early enough to grab an impact player, especially if a few quarterbacks go ahead of them.
At 21, the Patriots should have a choice of several different positional areas of need. Here are four players at four different positions New England should look at with its first-round pick.
Zion Johnson, G, Boston College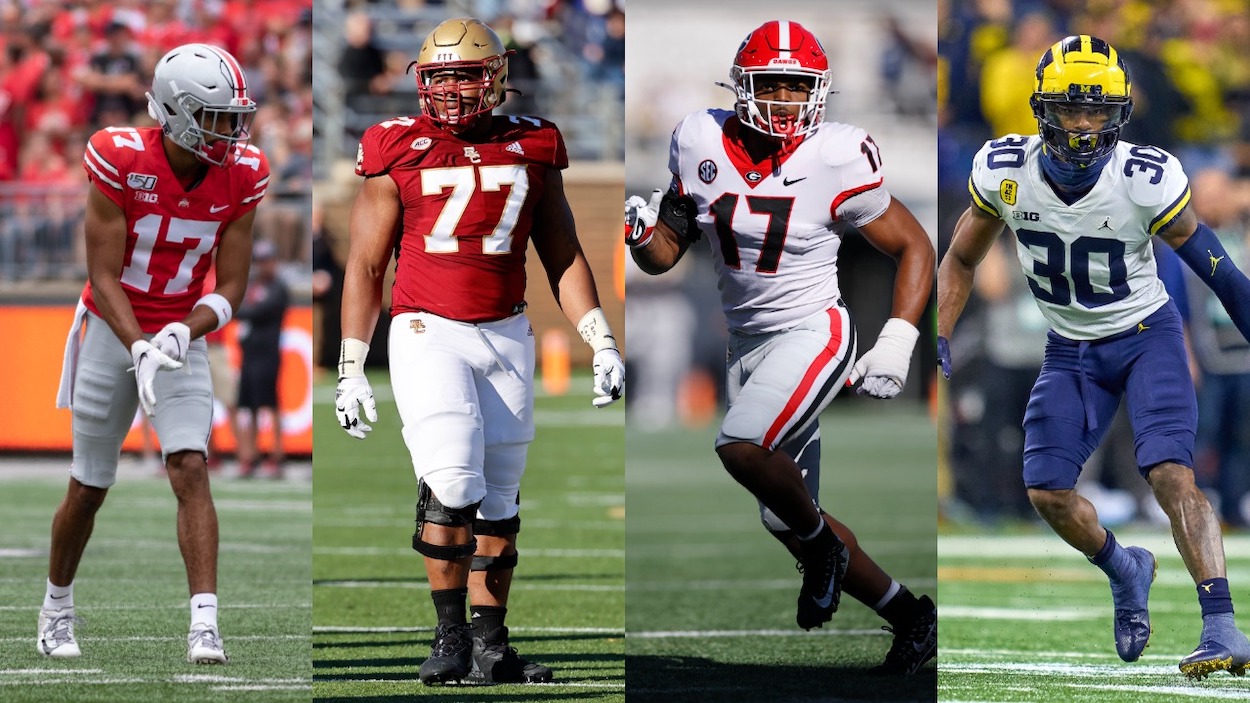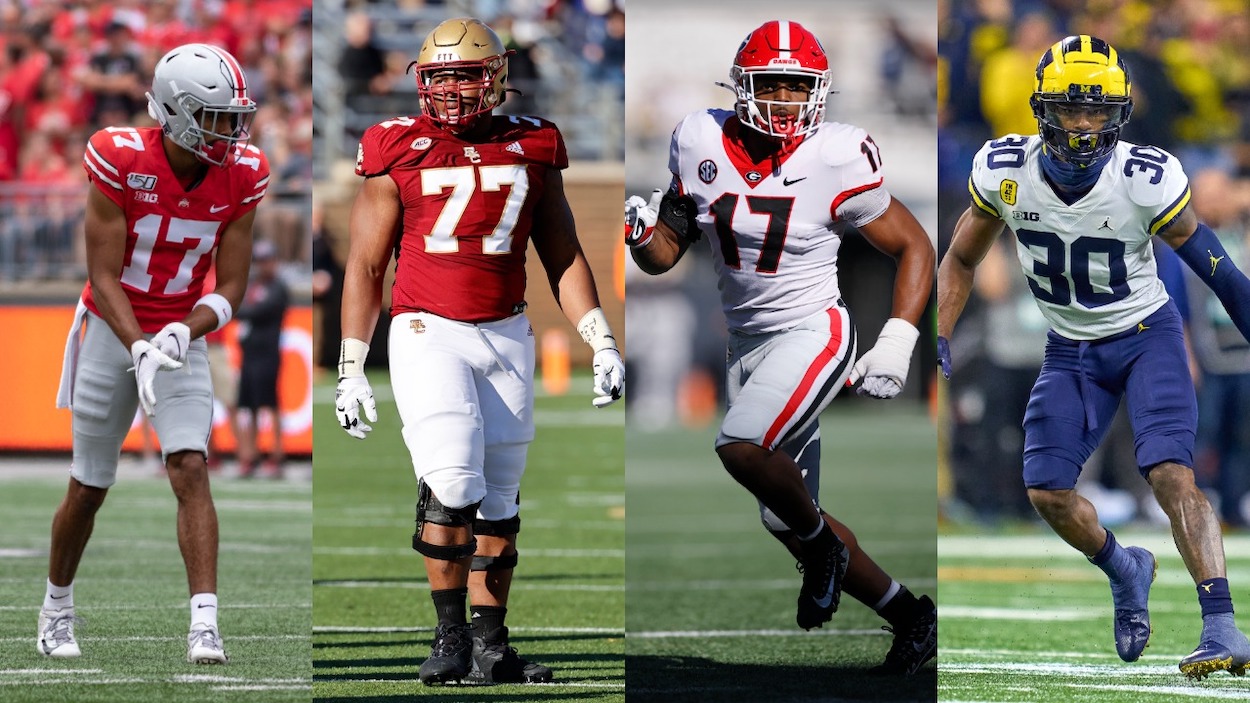 In the 2022 NFL Draft, the simplest thing for Bill Belichick and the New England Patriots to do is address the team's most significant need. The franchise lost guard/center Ted Karras to the Cincinnati Bengals in free agency and traded guard Shaq Mason to the Tampa Bay Buccaneers. The solution to fill the holes this created is to draft Boston College G Zion Johnson.
Johnson is a powerful 6-foot-3, 316-pound guard who excels at run blocking. He'll be able to start right away, and his pass blocking will improve with time. For now, though, run blocking in front of Mac Jones is more important.
Also, Johnson is an incredibly smart player and was a two-year captain for BC. Those smarts and leadership make him fit the Belichick profile perfectly.
Nakobe Dean, LB, Georgia
Another big need for the New England Patriots in the 2022 NFL Draft is at linebacker. Ja'Whaun Bentley was the team's leading tackler in 2021 and just re-signed. Dont'a Hightower, the team's long-term ILB, is a free agent and has lost several steps in the last few years.
At 6-foot, 225-pounds, Georgia LB Nakobe Dean is a little undersized, but the way he flies around and makes plays shows he can be an NFL difference-maker. At Georgia, Dean recorded 168 tackles, 13.5 for a loss, 7.5 sacks, 10 passes defended, two interceptions, and three forced fumbles in 39 games.
If Dean lands in the right system, with the right coach, he could become a dominant inside backer. Bill Belichick is that coach.
Chris Olave, WR, Ohio State 
A few weeks ahead of the NFL draft, the deep and talented wide receiver group is still in flux. Ohio State's Garrett Wilson and USC's Drake London both spent time as the top prospect, and now Alabama's Jameson Williams is moving into that spot. Arkansas' Treylon Burks is moving up boards as well. That means Ohio State's Chris Olave is the one who falls.
Just because Olave might be slipping on boards a bit doesn't make him any less of a great prospect. The former Buckeye is 6-foot-1, 188-pounds, and has blazing 4.39 40-yard dash speed. He was also the model of consistency in college, fishing a stellar four-year career with 175 catches for 2,702 yards and 35 touchdowns.
Olave needs to get stronger and more physical. But as a New England Patriots WR, he'll make highlight-reel catches that will make Mac Jones look good.
Daxton Hill, S, Michigan
The New England Patriots could take advantage of players who are falling a bit on NFL draft boards like Chris Olave or Nakobe Dean. The other option is to jump on a player that is rising in the weeks before the draft.
Michigan safety Daxton Hill is a safety in name only. The 6-foot, 192-pound defensive back can play nickel, box safety, centerfield, or almost anywhere else behind the line. An NFC scout told NFL.com, "He's so fast and so athletic that it wouldn't surprise me if a team tried to make him a full-time cornerback. I think he has that kind of potential."
Hill has the versatility that Bill Belichick could weaponize and confuse offenses, which he loves to do. Now all the Patriots have to do is jump on Hill before another team in the back half of the first round does.
All stats courtesy of Sports Reference