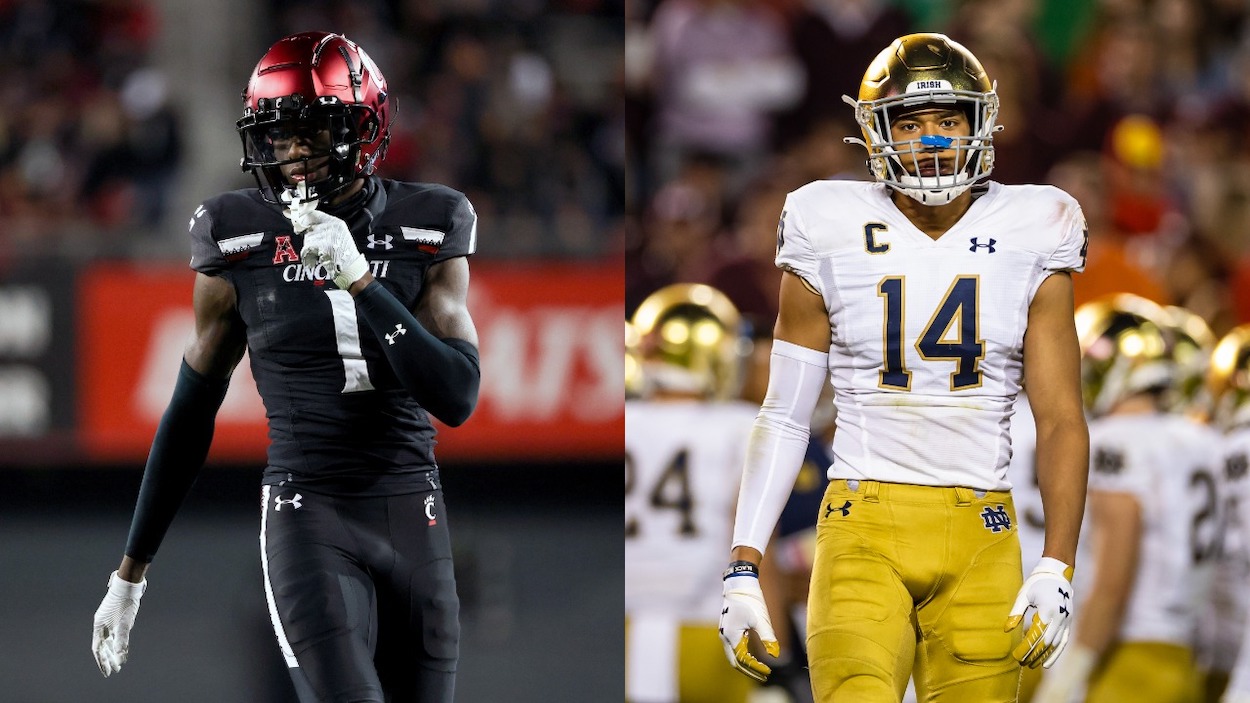 NFL Draft: Bucky Brooks Predicts a New 'Legion of Boom' for the Jets
New York Jets coach Robert Saleh coached the Legion of Boom once. If Bucky Brooks is right about the NFL draft, he could do it again in 2022.
With picks Nos. 4 and 10 in the upcoming 2022 NFL Draft, the New York Jets can go a lot of ways. They can go all-in to help Zach Wilson on offense, or they could go offense/defense. NFL Network draft analyst Bucky Brooks has another idea. He thinks the Jets could focus on one defensive position group and form a new Legion of Boom, a group head coach Robert Saleh knows well.
Robert Saleh was there for the formation of the Legion of Boom
In 2011, Houston Texans assistant linebackers coach Robert Saleh took a job as a defensive quality control assistant with the Seattle Seahawks.
That same year, the Seahawks drafted Stanford cornerback Richard Sherman and Clemson cornerback Byron Maxwell. Pete Carroll added those two players to the two safeties the team took in 2010 — Texas' Earl Thomas and Virginia Tech's Kam Chancellor — and the Legion of Boom was born.
For the next six years, the Legion of Boom helped lead the Seahawks to five playoff appearances, two Super Bowls, and one Lombardi Trophy.  
Saleh left after the Super Bowl win in 2013, but his ties with the Legion of Boom remained strong. He even brought Richard Sherman to the San Francisco 49ers when he served as defensive coordinator for Seattle's NFC West rival.
Now, as head coach of the New York Jets, could the franchise's two top 10 picks tempt Saleh to try and recreate the famed secondary in one fell swoop?
The NFL Network's Bucky Brooks thinks this is a realistic possibility.
Bucky Brooks thinks the NY Jets could go secondary at Nos. 4 and 10 in the NFL draft
NFL Network draft analyst Bucky Brook joined the Rich Eisen Show this week to discuss the draft and what the New York Jets might do with their first two picks in the 2022 NFL Draft.  
Eisen, a noted Jets fan, started the interview by asking Brooks, "I would be, as a Jets fan, so thrilled if they go and get Sauce Gardner at four and Kyle Hamilton at 10. How realistic do you think that is? I would sign for that literally right now. 
Brooks answered:
For the Jets, I think it's a realistic possibility to do it. One, you have to understand the links and the ties. Robert Saleh spent time with the Seattle Seahawks. He saw the impact the Legion of Boom had on that team. And so, what most coaches do is, when they go somewhere else is recreate their previous destination and what they had.

Bucky Brooks on the New York Jets plans in the NFL draft
The NFL analyst went on to explain that Ahmad "Sauce" Gardner, with his size (6-foot-3, 190-pounds), is similar to what Seattle had with Richard Sherman (6-foot-3, 205-pounds) and Byron Maxwell (6-foot-1, 198-pounds). The Cincinnati CB also compares well to a former Jet, Antonio Cromartie (6-foot-2, 210-pounds).
As for Notre Dame safety Kyle Hamilton, Brooks says he is a mix of Kam Chancellor's "physicality and toughness" with the ball skills of Earl Thomas.
Eisen supported the idea and noted the irony of the fact that the No. 10 pick is from Seattle and that it came to New York in a trade for safety Jamal Adams.
What Ahmad "Sauce" Gardner and Kyle Hamilton would do for the New York Jets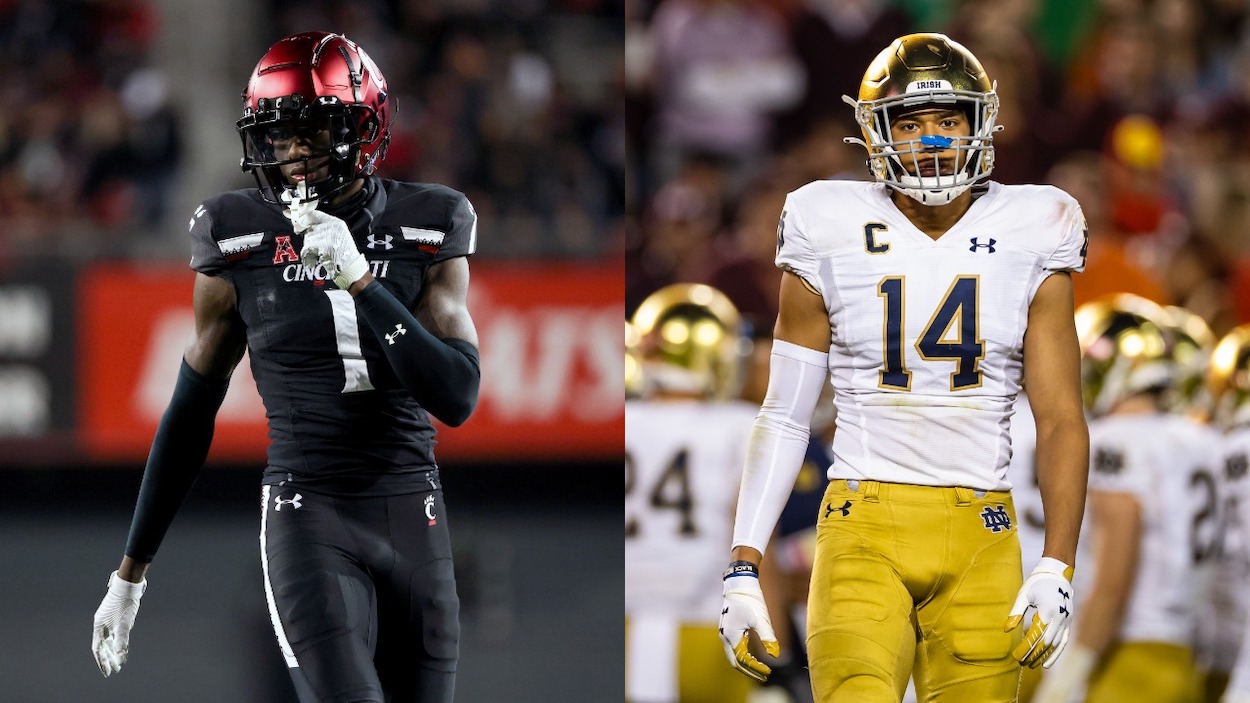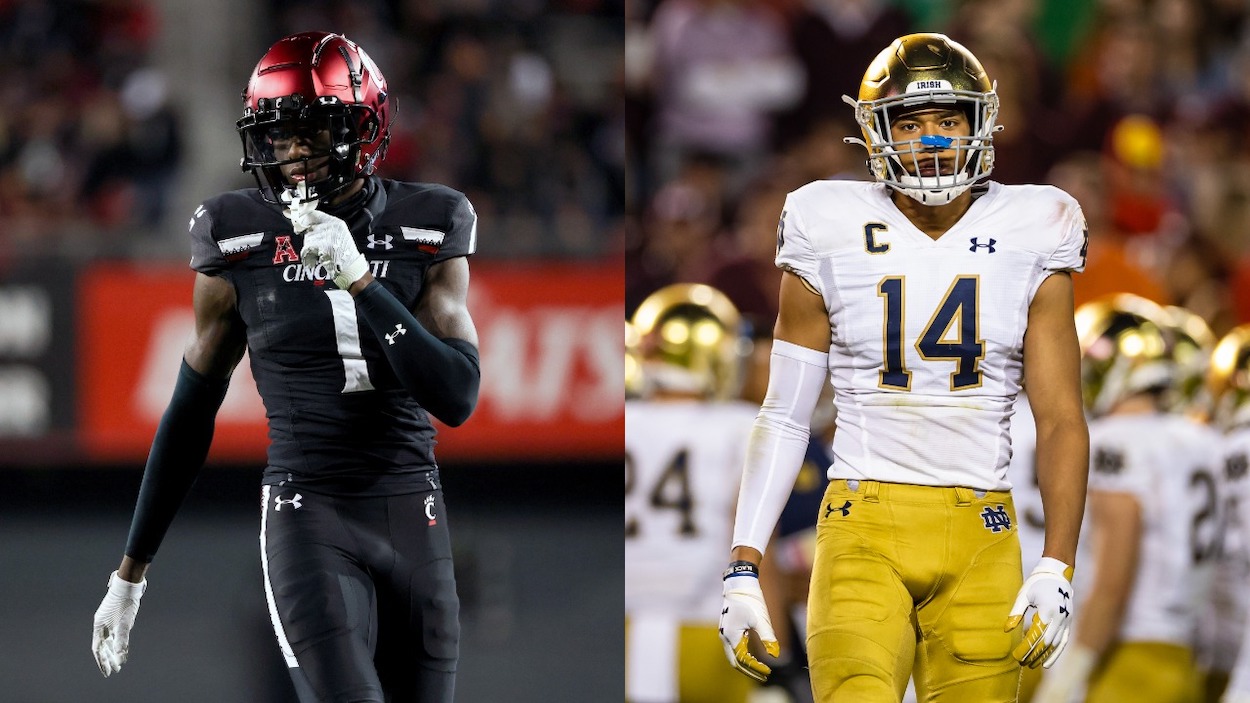 Before discussing what Ahmad "Sauce" Gardner and Kyle Hamilton would do for the New York Jets if the team took them in the NFL Draft, you have to acknowledge what they wouldn't do. They wouldn't directly help second-year quarterback Zach Wilson.
Yes, a better defense will help the entire team and, by extension, take pressure off Wilson. But Gardner and Hamilton can't block for Wilson or catch the balls he throws. That's why, as much as Robert Saleh would like to recreate the Legion of Boom, the more likely scenario is taking Gardner at No. 4 and a wide receiver at No. 10.
A new, young, talented secondary would be great for the Jets, though. New York struggled on the defensive side of the ball in 2021. The Jets ranked dead last in scoring defense and yards allowed and 31st in sacks and interceptions.
That's not a winning formula.
The Jets have talent in the front seven with Quinnen and Quincy Williams, Sheldon Rankins, and John Franklin-Meyers. With WRs running unmolested through the secondary, though, they cant make that much of a difference.
Gardner and Hamilton would help change that, which is why a new Legion of Boom in New Jersey is just what the J-E-T-S, Jets, Jets, Jets need.
All stats courtesy of Pro Football Reference