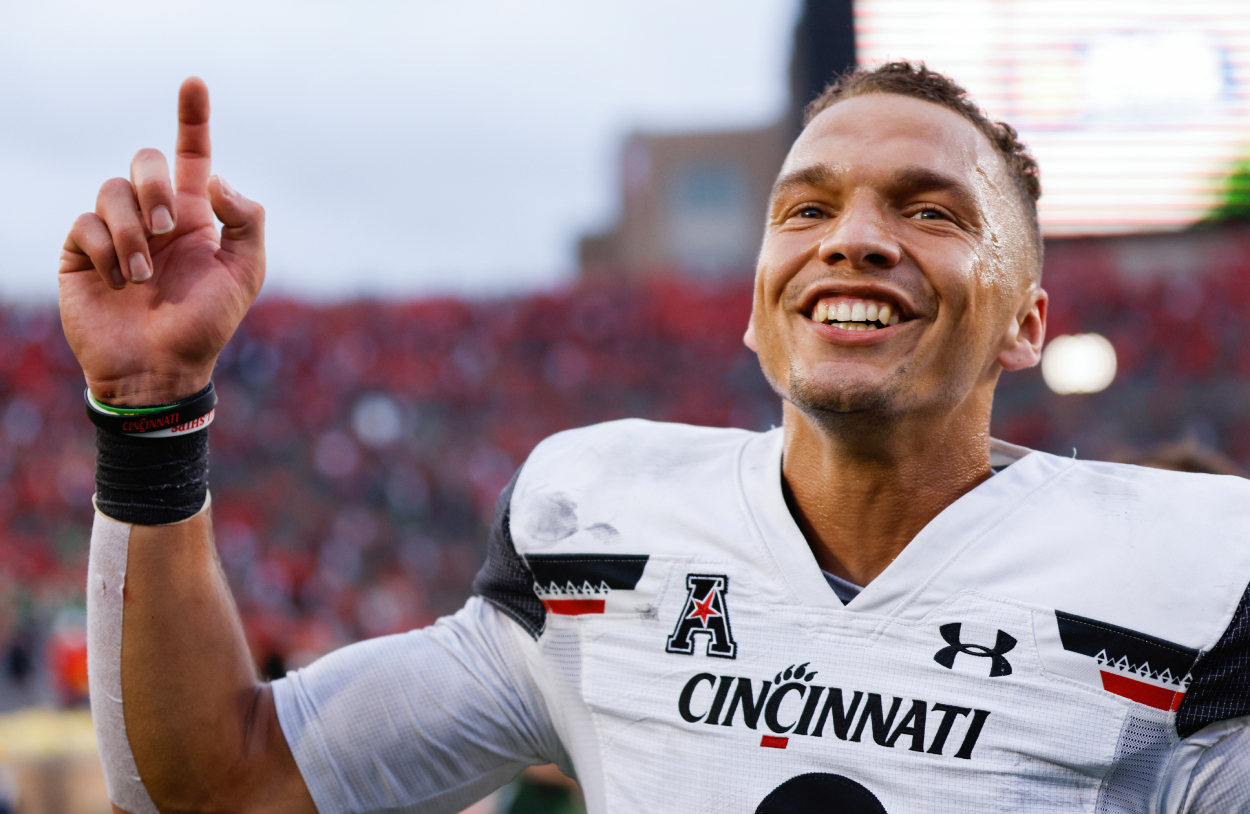 NFL Draft: Desmond Ridder's Historic College Career Started With a Porta-Potty Phone Call
Quarterback Desmond Ridder had a historic college career with the Cincinnati Bearcats, but it all started with an important phone call made in a porta-potty.
Former Cincinnati Bearcats quarterback Desmond Ridder is likely hoping his NFL career will take him to some special places. His college one certainly did. He not only led UC to back-to-back undefeated regular seasons, but he helped them become the first-ever non-power five team to make the College Football Playoff.
However, his journey to becoming arguably the greatest quarterback in Cincinnati history started in a not-so-special place.
It began in a porta-potty.
Desmond Ridder had a historic college career with the Cincinnati Bearcats
Desmond Ridder redshirted his freshman year at Cincinnati in 2017. He then entered 2018 as a backup. However, during UC's first game of the year, Ridder replaced Hayden Moore and held on to the position the rest of his career.
He was essentially a game manager at first. Ridder didn't turn the ball over, but he wasn't winning games for the Bearcats. They won because of the talented roster around him.
The QB then struggled in 2019, completing just 55.1% of his passes. But after a slow start in 2020, things started to change. Ridder threw for 1,699 yards, 13 touchdowns, and two interceptions in the last seven games of the season. His play helped lead Cincinnati to an undefeated regular-season record and a narrow Peach Bowl loss to Georgia.
In 2021, though, he had a breakout year. Ridder threw for 3,334 yards, 30 touchdowns, and eight interceptions. Cincinnati, also led by head coach Luke Fickell, went undefeated in the regular season again and made the College Football Playoff.
Ridder ended his college career as UC's all-time leader in total yards (12,418) and passing touchdowns (87). His 44 career wins were also the third-most ever by a college quarterback.
Desmond Ridder's college career started in a porta-potty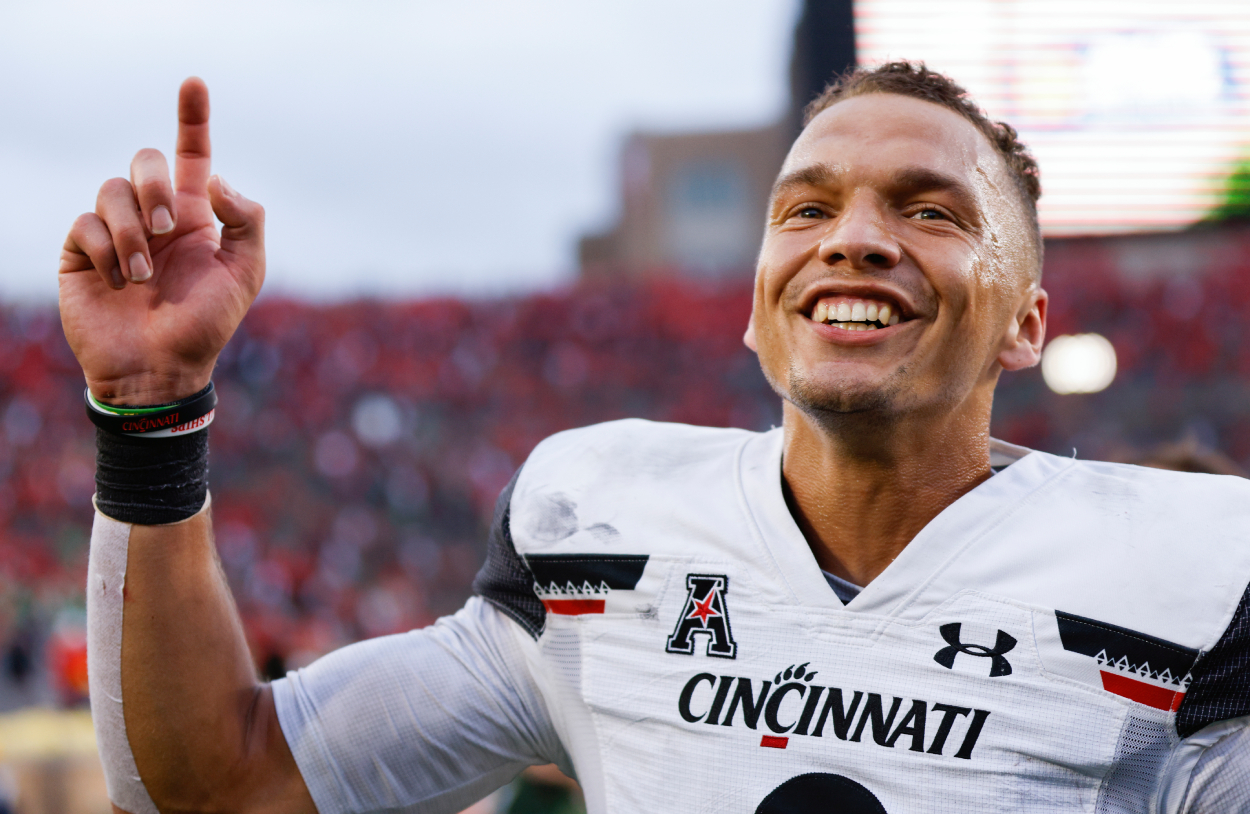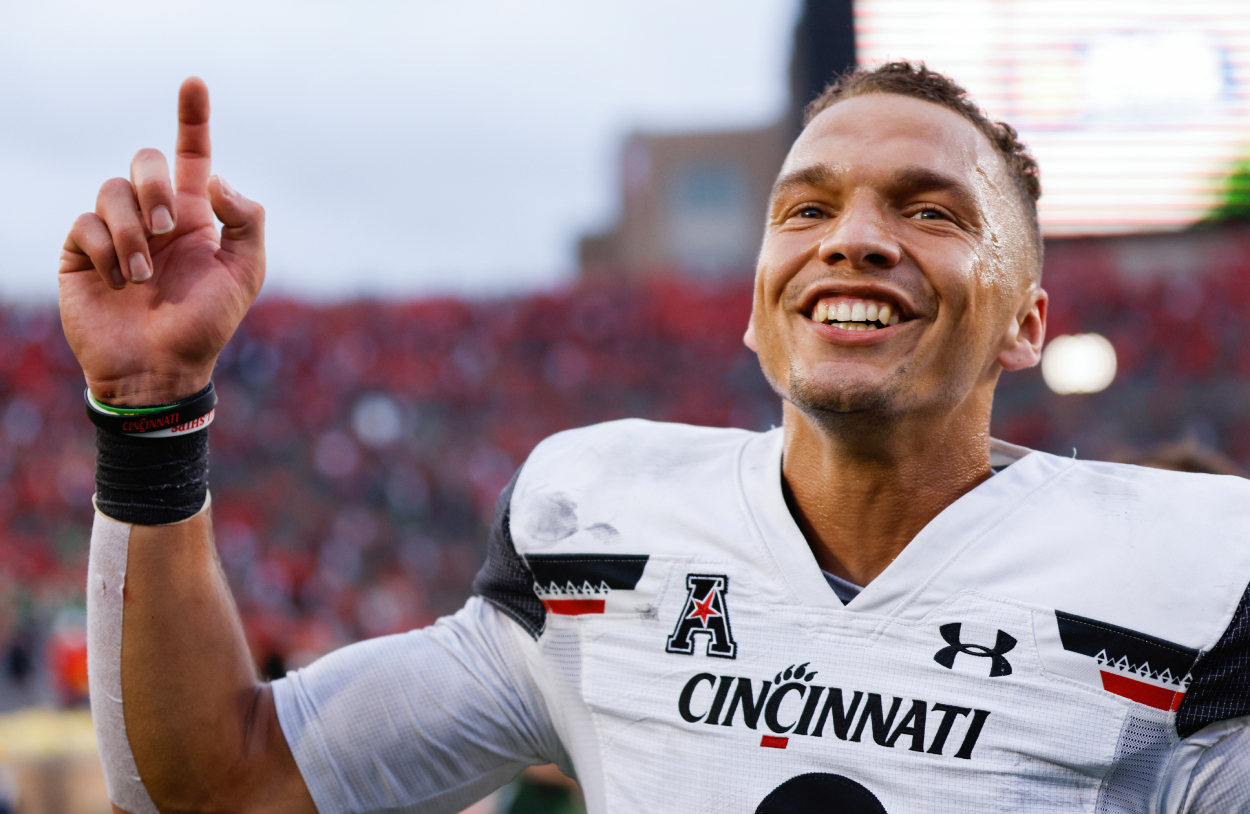 Before all his college success, Desmond Ridder was just a three-star recruit. He received only one FBS offer: Cincinnati.
The Bearcats began recruiting the young signal-caller when Tommy Tuberville was still their head coach, and his staff asked to watch Ridder throw on a random Friday. However, as noted by ESPN, it was the Friday of Kentucky Derby weekend. And Ridder, a Louisville native, planned to go to Churchill Downs for the day-before event.
So, the young QB threw for UC that morning and then went to the track later that day. While hanging out there, though, he got a call. There weren't too many quiet spots, but Ridder found one: a porta-potty.
He then jumped into the portable restroom and received his lone FBS offer from Cincinnati.
It was the beginning of his illustrious career with the Bearcats.
Can Desmond Ridder have a successful NFL career?
Given that some expect Desmond Ridder to become a first-round NFL Draft pick, his pro career will likely begin in a more dignified location than a porta-potty. But can he have success at that level?
Ridder isn't entering the draft with the hype that Trevor Lawrence or even Joe Burrow received. But neither did Tom Brady.
That's not to say Ridder will have nearly as much success as the NFL GOAT, but he entered college as an underdog. He then transformed himself from a game manager to one of the best quarterbacks in college football. He can do the same thing in the pros.
Ridder is one of the best pre-snap quarterbacks in the 2022 NFL Draft. He will do his homework on his opponents and make them pay on the field.
The six-foot-four-inch athlete is also perfect for today's pro game. No, he doesn't have a massive arm; he has some limitations as a passer. The Bearcats legend is mobile, though. He proved time and time again that he could make throws from outside of the pocket while at UC. Ridder can also do damage with his legs. He gained over 2,100 yards on the ground during his college career.
Will Desmond Ridder's NFL career take him to the mountaintop? Will he become a Super Bowl-winning quarterback? That's hard to say right now, but he has put in the work to reach some special places.
As Drake says, he literally started from the bottom.
Stats courtesy of Sports Reference