The NFL's Fight With Colin Kaepernick Is Ridiculous: Here's Why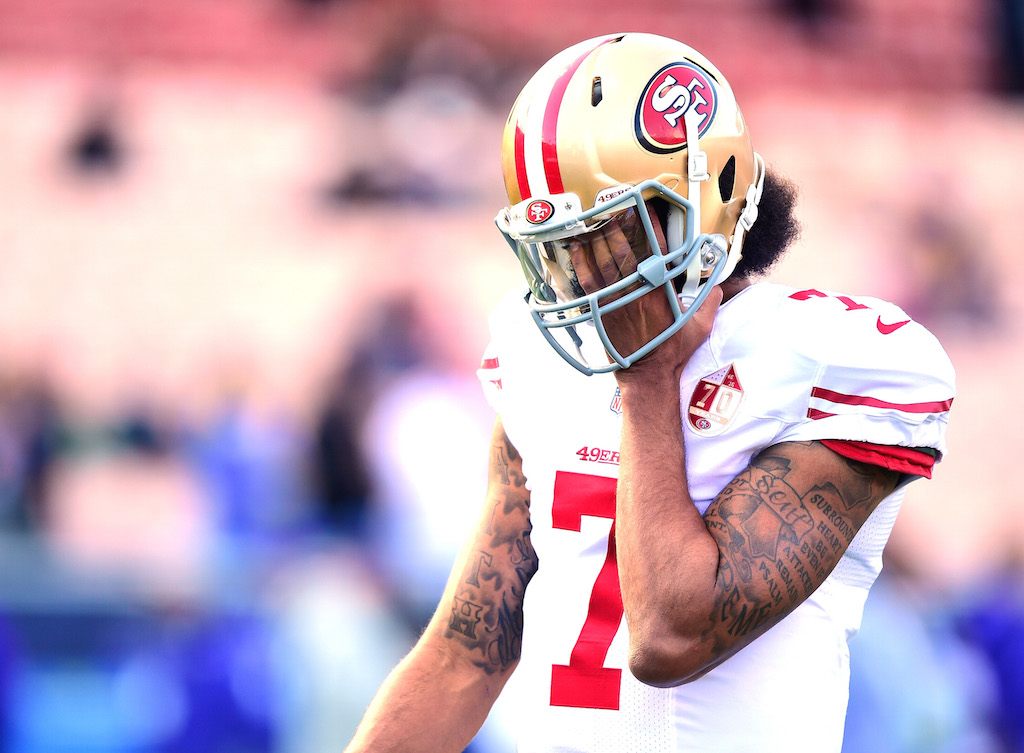 If you could walk down the many roads that make up the muddled map of Colin Kaepernick's NFL career, you would surely get lost. Michael Vick's statement on Fox Sports 1, as well as recent developments across training camps, only escalated the controversy surrounding the former 49ers starting quarterback. Many shocked NFL fans can't believe Kaepernick isn't at a training camp right now, and we're not sure we believe it either.
A general consensus: He doesn't deserve a starting position on most of the 32 NFL squads. But he certainly deserves some semblance of participation somewhere, especially considering this offseason's limited quarterback market. Here we take a look at the reasons why he's still sitting out, and which teams should reconsider Kaepernick for their rosters — if only because their current quarterback situations leave much to be desired.
Next: A quarterback comparison
Former free agent QBs who've signed deals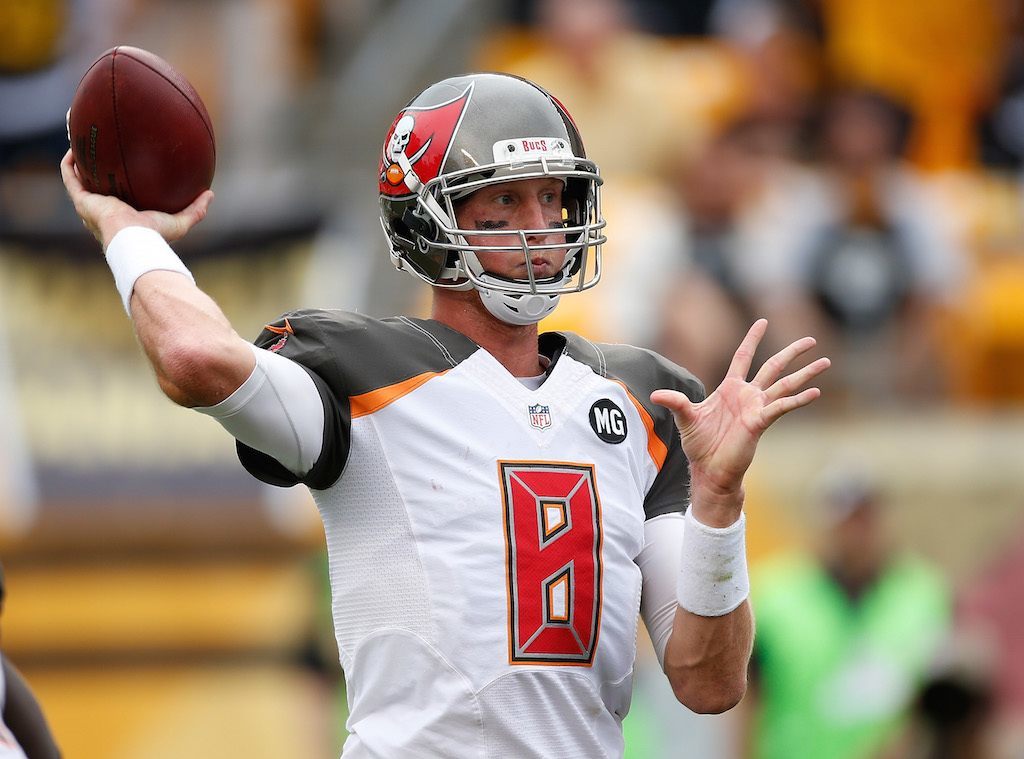 We're not saying these guys are awful (okay, some are). We're just saying that some of the quarterbacks who signed with NFL teams this offseason do not measure up to Kaepernick. He could at least be a backup, and the stats demonstrate this. He's better than many (if not almost all) of the likely backup quarterbacks in the NFL.
As the only free agent QB who's participated in a Super Bowl, Kaepernick ended the 2016 season with a total quarterback rating of 90.7. In 12 games, he completed 59.2% of his passes for 2,241 yards with 16 touchdowns. He had just four interceptions. And he did all that with arguably the worst roster of his NFL career. Additionally, he beat QBs like Eli Manning, Carson Palmer, and Philip Rivers in passer rating.
In comparison, the following quarterbacks are all participating in NFL training camps:
Mike Glennon and Mark Sanchez, Bears
David Fales, Dolphins
Landry Jones, Steelers
Kellen Moore, Cowboys
Blaine Gabbert, Cardinals
Chase Daniel, Saints
Matt Barkley and Brian Hoyer, 49ers
Matt McGloin and Nick Foles, Eagles
Case Keenum, Vikings
Josh McCown, Jets
EJ Manuel, Raiders
Aaron Murray, Rams
Ryan Fitzpatrick, Buccs
Austin Davis, Seahawks
Geno Smith and Josh Johnson, Giants
T.J. Yates, Bills
A little sad, and makes you wonder…
Next: Who's mostly to blame in this situation? 
Did he do it to himself?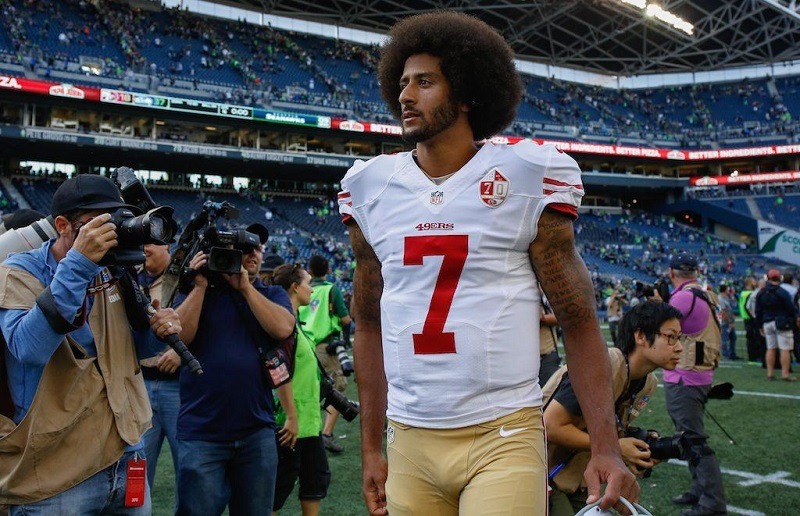 Technically Kaepernick walked away from the 49ers — not the other way around. He lost $16.9 million, which he would've received in 2017 had he stayed in San Francisco. Although 49ers General Manager John Lynch made it sound more like a mutual breakup according to NBA Sports. He said:
So I don't want to characterize it as he made a decision to leave here. We both sat down and under that current construct of his deal, it was a big number … He preferred to run the exact offense that he ran in Atlanta last year that was record-breaking in this league. And if you change it for the quarterback, you change it for everybody on that offense. So he had a great discussion that I think gave Colin clarity, so we moved on.
Despite this respectful soundbite, San Francisco clearly wants nothing to do with him. And neither do the other 31 franchises. So, why exactly do the the NFL teams and fans hate Kaepernick so much?
Next: The many ways Kaepernick receives hate
Let us count the ways…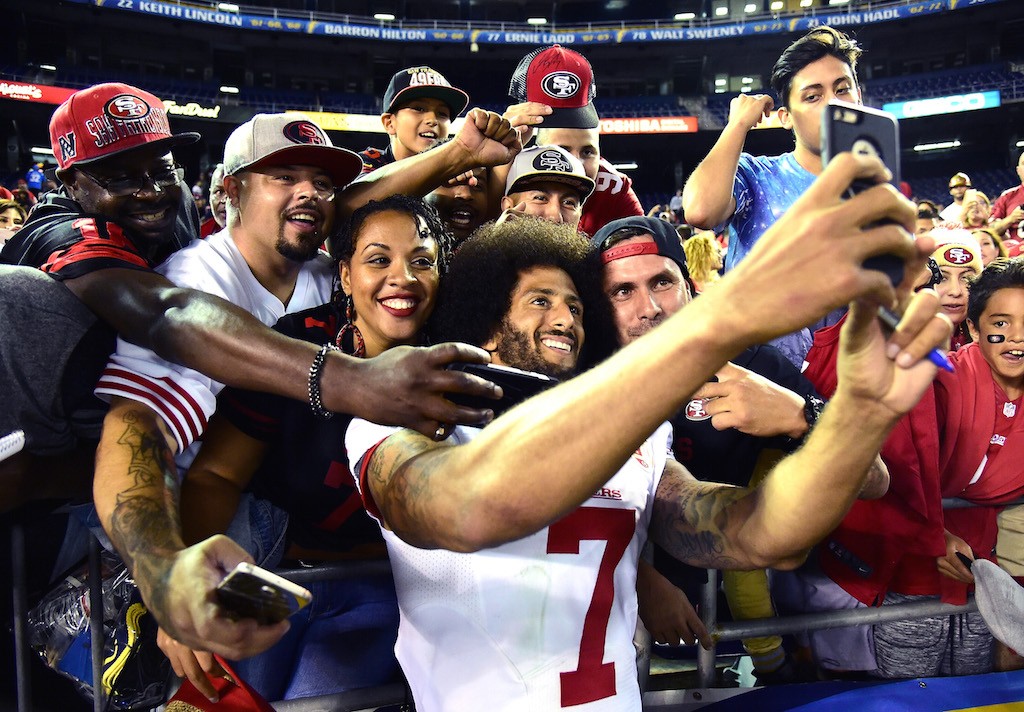 For every stat we can show to argue for Kaepernick's case, we can find another morsel of locker room chatter or news bite that explains why he's on the outside looking in. Here are some of the ways the QB faces a world of hate thus far in his career:
Lack of preparation before games
Lack of leadership and development
Poor, unprofessional communication with reporters
His "bad boy" persona (tattoos, pictures with rappers — not a clean-cut QB

)

Did not perform up the standards of his big contract (a six-year $126-million contract extension

)

Alleged altercation with teammate Aldon Smith about Mercedes-Benz and girlfriend
His alleged sexual assault charges (which were never filed

)

And finally, he kneeled for the National Anthem
It's hard to uncover all the ways Kaepernick was hated before he kneeled for the first time on August 14, 2016. This moment clearly overshadowed the rest. A poll by E-Poll Marketing Research made this clear; it found that 36% of the NFL fans queried disliked him a lot. This is a 26% jump since August 2014.
However, his teammates gave him the Len Eshmont Award, the most prestigious of the club's postseason awards. It's given to the player who best shows the "inspirational and courageous play" of Len Eshmont, who played for the 49ers in 1946. Additionally, many teammates, including Eli Harold, Antoine Bethea, and Eric Reid, supported his protest of the National Anthem.
Next: One team got his hopes up…
Who seriously considered him?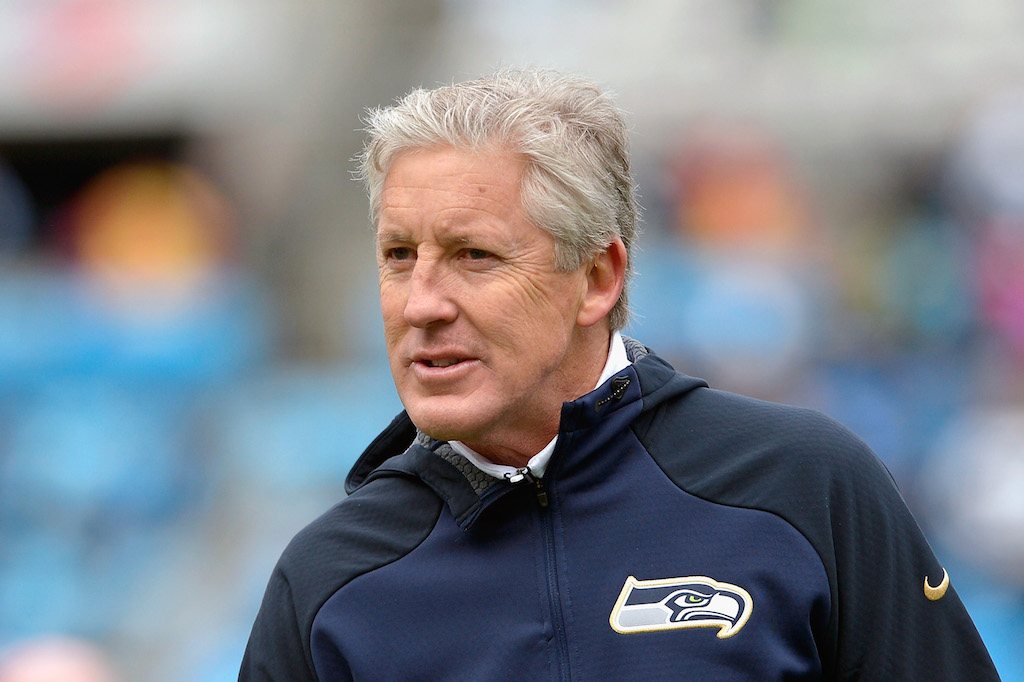 Kaepernick often slipped through the cracks during the 2017 offseason. Although a couple teams badly needed a quarterback — any quarterback — he still found himself jobless. Some teams may have really bad taste in quarterbacks, but that doesn't mean he'd do more harm than good.
During the 2017 offseason he met face-to-face with the Seattle Seahawks, with the potential to become Russell Wilson's backup quarterback. It made sense; he'd have the support of a strong defense to go along with his strength as a quarterback: mobility. Bonus: The Seahawks openly supported his protest more than any other team.
Kaepernick communicated that he planned to stand during the anthem during the upcoming season. He, along with Austin Davis, worked out for the team. And head coach Pete Carroll stated that he looked at a couple of controversial options, including Robert Griffin III. In the end, Carroll signed Davis to a veteran minimum contract of $755,000 in base with a $50,000 signing bonus (and an additional $30,000 if he makes the team). Seattle also has Trevone Boykin to backup Wilson.
Next: A recent situation could change everything for Kaepernick.
Ravens, Ravens, Ravens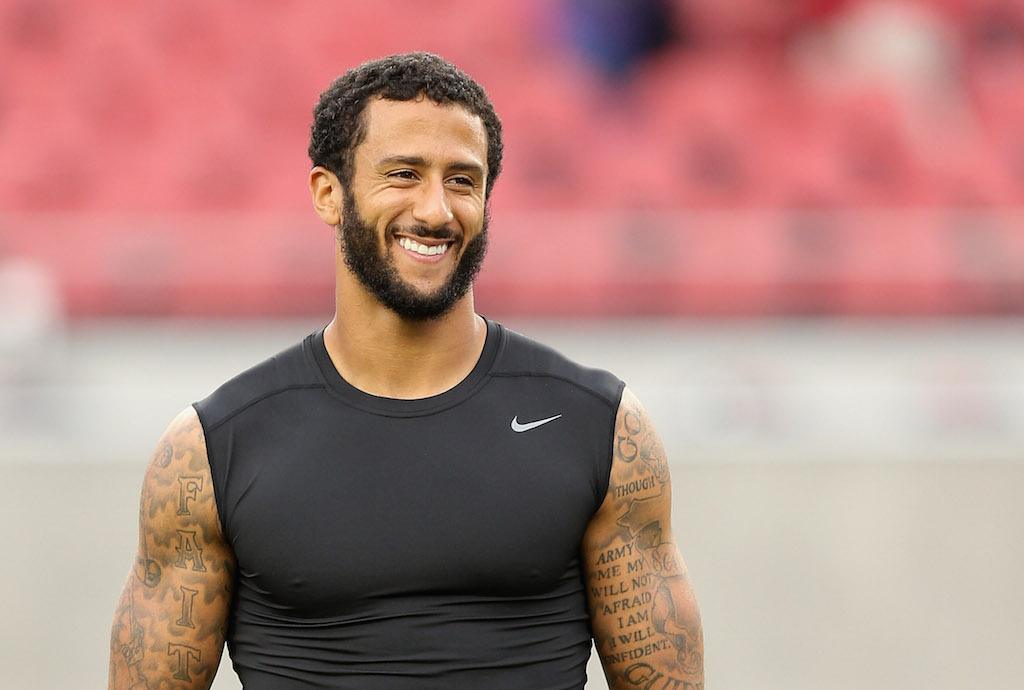 Legendary quarterback Joe Flacco saddened the city of Baltimore when he succumbed to his back injury. The Ravens backup quarterback Ryan Mallett certainly hasn't left room for optimism. He worked with the offense at training camp and reports aren't encouraging. The backup's backup is currently Dustin Vaughan; we won't entertain that prospect right now.
Who's left on the free agent market? Kaepernick, Jay Cutler, and Robert Griffin III.
Other Options for Kaepernick
The Baltimore Ravens have reportedly been shy on Kaep as an option, with fears that he'll be a distraction. That said, according to Diana Russini of ESPN, coach John Harbaugh and General Manager Ozzie Newsome are very interested. But owner Steve Bisciotti isn't so sure. So far, they haven't denied the rumors, which makes us think they're more interested than they're letting on. Newsome released a statement:
We are going through a process, and we have not made a decision. Steve Bisciotti has not told us we cannot sign Colin Kaepernick, nor has he blocked the move. Whoever is making those claims is wrong.
Bisciotti's response to a fan's question during an online forum:
I hope we do what is best for the team and balance that with what is best for our fans. Your opinions matter to us … We're very sensitive to it, and we're monitoring it, and we're trying to figure out what's the right tact. So pray for us.
To top it all off: The Dolphins had an opening at the QB position as well, following the recent injury to presumed starter, Ryan Tannehill. Of course they later chose to fill that opening with Jay Cutler, a decision that many questioned the wisdom behind.
Our recommendation for the Ravens and Dolphins: Kaepernick over all other decidedly B-rate options (Jay Cutler included), and it's not all that close.
Statistics courtesy of ESPN and Pro-Football-Reference.