NFL Franchise Tag Deadline: 5 Impending Free Agents Teams Should Let Walk
With the NFL franchise tag deadline rapidly approaching, teams have to decide whether to commit significant financial resources to keep a player around for at least one more year. In some cases, such as with Baltimore Ravens star Lamar Jackson, it shouldn't take much consideration about whether to use the tag before March 7. 
However, other players face much more uncertain futures with their respective teams. After all, just because they've been productive doesn't mean they justify a sizable salary increase.
As much as fans may want otherwise, here are five franchise-tag candidates who should be allowed to walk in free agency.
Jakobi Meyers, WR, New England Patriots
For a franchise that's made a habit of blowing draft picks on receivers, it seems almost sacrilegious to let a homegrown pass catcher leave. Yet based on Jakobi Meyers' skillset and the market for wideouts, the idea of him playing for a team other than the Patriots in 2023 seems like a foregone conclusion.
On one hand, Meyers deserves tremendous credit for developing into the team's top receiver. He entered the league as an undrafted free agent in 2019 and has at least taken away some of the sting of Bill Belichick's bizarre decision to draft N'Keal Harry over Deebo Samuel, D.K. Metcalf, and A.J. Brown. With 235 receptions for 2,758 yards and eight touchdowns in 39 career starts, the sure-handed slot man has massively outperformed expectations when he arrived in New England with little fanfare.
Yet even though Meyers has played a valuable role as a possession receiver, that doesn't mean the Patriots should extend themselves to keep him around. With just average athleticism and no standout physical traits, the 6-foot-2, 200-pound wideout simply doesn't present a major threat to opposing defenses.
With the franchise tag number for receivers at $19.743 million, Meyers simply doesn't inflict enough damage to warrant such a pricey one-year contract. New England would be better-suited spending that money on a higher-upside player at the position, or even on a true No. 1 cornerback.
Daniel Jones, QB, New York Giants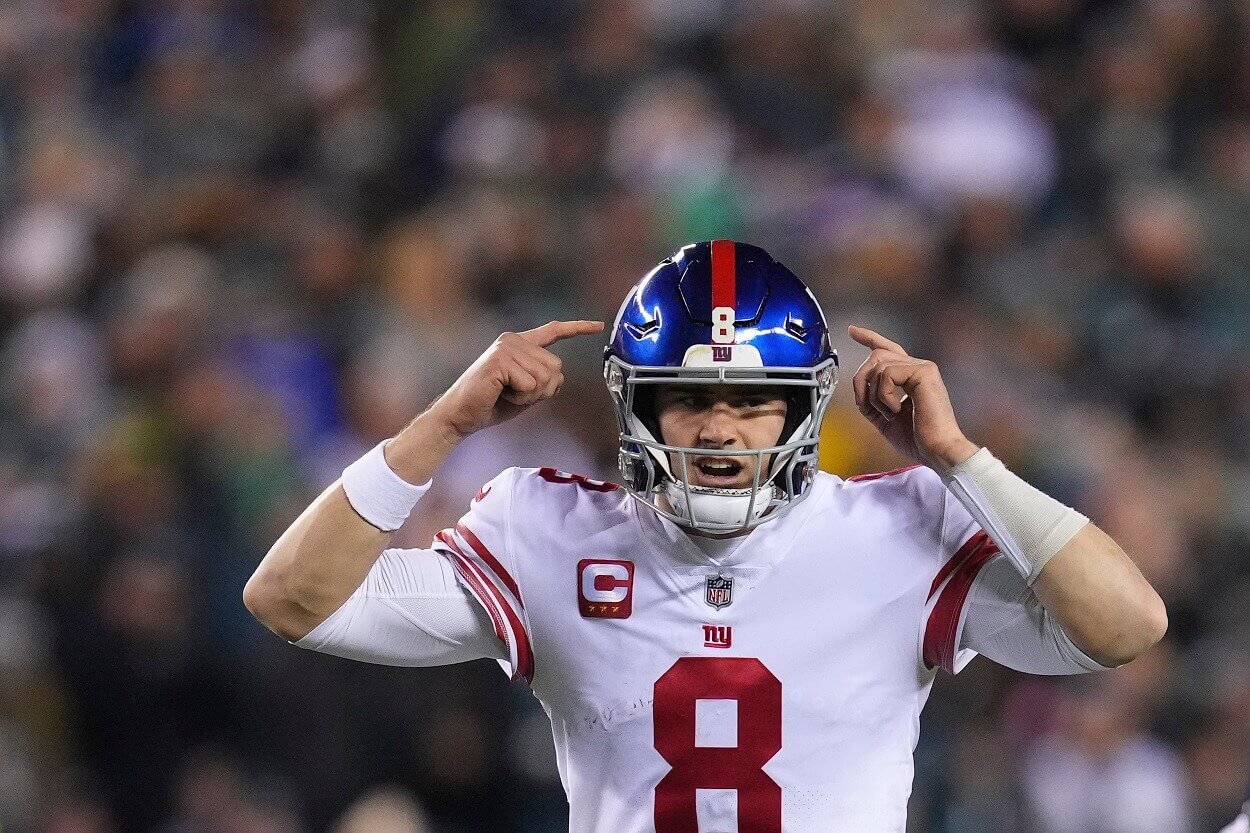 Did Daniel Jones prove he's a starting-caliber signal-caller in 2022?
Yes.
Are there still questions about his ability to live up to the "franchise quarterback" label in New York?
Absolutely.
Sure, Brian Daboll worked his magic in and helped Jones enjoy his most successful NFL campaign. But it's hard to get overly impressed about 15 touchdown passes in 16 starts. And it's even more difficult to have faith in Jones' future after an abysmal playoff performance against the Philadelphia Eagles that included a 55.6% completion rate, one interception, five sacks, and a 53.8 quarterback rating.
Four years into his career, Jones has proven he has some intriguing physical tools, particularly with the way he can run the ball. But is he worth $32.416 million on the franchise tag? Better yet, is he worth north of $40 million annually on a multi-year deal?
The answer to both questions is a resounding no.
Let's see if the Giants agree.
Josh Jacobs, RB, Las Vegas Raiders
Despite putting together a dominant season, Josh Jacobs has a few factors working against him that could lead to an exit from Las Vegas. First, he plays a position that isn't valued highly around the league. Running backs endure tremendous wear and tear, and it's often easier for teams to draft one in the middle rounds and save money on paying a veteran.
Second, the Raiders desperately need to find a solution at quarterback. Whether that means reuniting Davante Adams with Aaron Rodgers, signing Jimmy Garoppolo, or pursuing another proven player at the position, the franchise will soon invest significant resources in Derek Carr's permanent replacement.
Although the franchise tag number for running backs ($10.091 million) is relatively low compared to other positions, it's fair to wonder whether the Raiders should commit a decent chunk of cap space on someone coming off a career-high 393 touches.
Considering general manager Dave Ziegler and head coach Josh McDaniels learned the ropes from the value-driven Bill Belichick, it wouldn't be a surprise to see them let Jacobs walk so they can receive a 2024 compensatory pick.
Marcus Davenport, DE, New Orleans Saints
Moving to the other side of the ball, the Saints must figure out what to do with Marcus Davenport. Tipping the scales at 6-foot-6, 265 pounds, the talented defensive lineman has the natural tools teams look for in a top-flight pass rusher. However, Davenport has struggled to stay healthy since he arrived in New Orleans as the 14th overall pick of the 2018 NFL Draft. 
With just 32 starts across five injury-plagued seasons, the 26-year-old simply hasn't been on the field enough. And while Davenport's nine-sack campaign in 2021 suggested he was in store for a monstrous 2022 season, he mustered just half a sack in 15 games.
Mired in an ugly cap situation, the Saints can't afford to tie up nearly $20 million on a player with major durability concerns and lackluster production. A change of scenery would probably be best for all parties.
Jonathan Jones, CB, New England Patriots
Will Jonathan Jones still be a Patriot by the time the NFL franchise tag deadline passes? Based on his boss's track record, it seems like the veteran defensive back could be on his way out.
A dependable cornerback who spent his entire career in the slot before moving to the boundary in 2022, Jones doesn't have the size to handle No. 1 receivers on a consistent basis. Plus, he's dealt with injuries over the last few years, he turns 30 in September, and the Patriots have a capable replacement in All-Pro returner Marcus Jones.
Oh, and with the franchise tag number for corners coming in at a whopping $18.14 million, the idea of Bill Belichick paying an aging player who's never been a star that type of money seems completely out of character.
So, even though it may pain Patriots fans to accept, letting Jonathan Jones leave in free agency might actually be in the best interest of their beloved team's future.