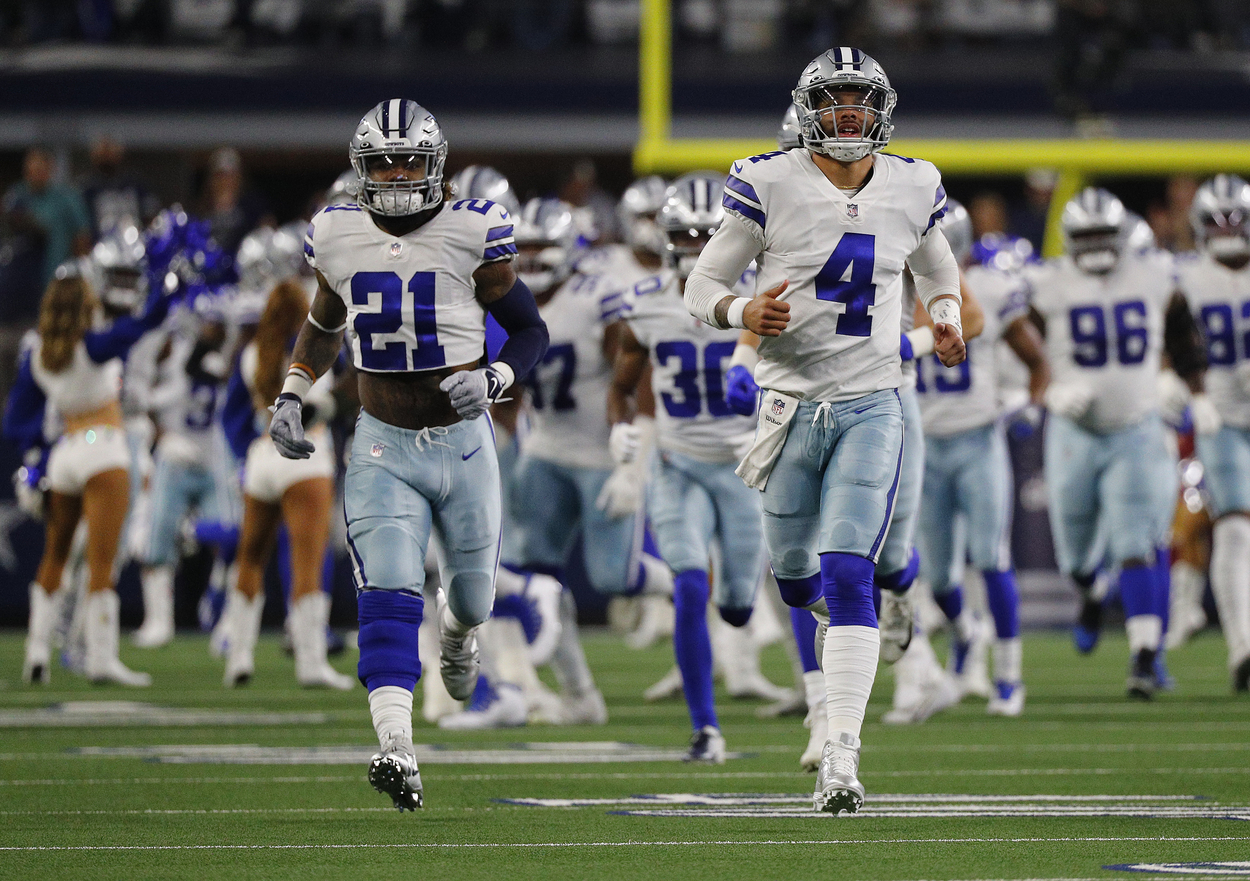 NFL Playoffs: When Did the Dallas Cowboys Last Win a Postseason Game?
Although Dallas Cowboys fans would love to celebrate a Super Bowl victory each year, the reality is that it's been several years since Dallas even won a playoff game.
When Dak Prescott and Ezekiel Elliott led the Dallas Cowboys to an NFC East title as rookies in 2016, fans of America's Team understandably believed a Super Bowl was on the horizon.
Things are never that simple. Aaron Rodgers and the Green Bay Packers ended the Cowboys' Super Bowl hopes in that year's NFC Divisional Round. However, Dallas had a young core to build around; one the franchise hoped would finally end a lengthy title drought.
If you're reading this, then the Cowboys are still waiting for the drought to end.
The Dallas Cowboys last won a playoff game in January 2019
Prescott and Elliott reached the playoffs twice in their first five seasons together. First up was the aforementioned 2016 NFC Divisional Round and the Packers' 34-31 victory at AT&T Stadium.
Two years later, the Cowboys hosted Russell Wilson and the Seattle Seahawks on Saturday, Jan. 5, 2019. Prescott threw for 226 yards, including a 10-yard touchdown to receiver Michael Gallup, and ran for another score in the Cowboys' 24-22 victory. Elliott rushed for 137 yards and a touchdown on 26 carries and turned four catches into 32 receiving yards.
Wilson ran for a touchdown and threw a fourth-quarter touchdown to running back J.D. McKissic. Seattle's Tyler Lockett led all players with 120 receiving yards that night.
Dallas has historically had bad luck in 21st-century postseason games
Although the Cowboys entered the 2021 season having played in 63 games, only 10 have occurred in the 21st century. There's bad luck, and then there's terrible luck. Then, there's whatever Cowboys fans have dealt with over the last 25 years.
Football fans won't forget Dallas' 21-20 road loss to Seattle in the 2006 NFC Wild Card Round, a game primarily remembered for Cowboys quarterback Tony Romo's failure to secure a hold on a go-ahead 19-yard field goal. 
A year later, the No. 1-seeded Cowboys hosted oft-criticized quarterback Eli Manning and the New York Giants. Manning threw two touchdowns and didn't turn the ball over in the Giants' 21-17 victory. Three weeks later, the Giants took down Tom Brady and the undefeated New England Patriots in Super Bowl 42.
The less said about Dez Bryant's non-catch in the 2014 NFC Divisional Round at Green Bay, the better.
Two years later, the Cowboys hosted the Packers and scored a go-ahead touchdown with 35 seconds left. Unfortunately for Dallas, Rodgers connected with tight end Jared Cook on a 36-yard gain in the closing seconds. After Dallas called a timeout with three seconds left, Packers kicker Mason Crosby drilled a game-winning 51-yard field goal.
As we said, this collection of events is far worse than bad luck.
The Cowboys still have one of the NFL's longest conference championship game droughts
The Cowboys last reached the NFC Championship Game in January 1995 and defeated the Packers, 38-27, en route to a Super Bowl 30 victory over the Pittsburgh Steelers.
As of publication, that remained the last time Dallas reached the NFC title game. Only five teams — the Cincinnati Bengals (1988), Cleveland Browns (1989) Washington Football Team (1991), Detroit Lions (1991), and Miami Dolphins (1992) — entered the 2021 NFL season with longer title game droughts.
In theory, one could include the Houston Texans, who have never reached the AFC title game, among those five. However, Houston played its first game in 2002, seven years after the Cowboys' most recent NFC Championship Game appearance.
The next time you complain about your own bad luck, just remember it's still not as bad as the Cowboys' misfortune. 
Like Sportscasting on Facebook. Follow us on Twitter @sportscasting19.