Ranking the 7 Quarterbacks Taken Ahead of Cowboys Star Dak Prescott in the 2016 NFL Draft
At this point, it's probably safe to say that Dak Prescott has exceeded all expectations the Dallas Cowboys had for him when they drafted the Mississippi State standout in 2016.
Over five years ago, Prescott — the eighth quarterback selected in the 2016 NFL Draft — joined America's Team and prepared to begin his professional career as Tony Romo's backup. However, Romo's back issues pushed Prescott into a starting quarterback role that he never relinquished until suffering an ankle injury in 2020. All he's done in six seasons is win Offensive Rookie of the Year, reach the playoffs twice, and sign a four-year, $160 million extension.
Of the seven quarterbacks who were selected before Prescott, who has been the best? Or, in the case of others, who hasn't been the worst? When ranking the quarterbacks in question, we looked at overall performance to where they are now in their football lives.
Based on consideration of the aforementioned prerequisites, the seven quarterbacks in question stack up as follow:
7. Christian Hackenberg (51st overall, New York Jets)
When it became apparent the Geno Smith era likely wouldn't end well, the Jets used a second-round pick on Christian Hackenberg. Ideally, he likely would have sat behind Smith and Ryan Fitzpatrick for a year before competing for a starting job in 2017.
Well, this is the Jets, so no, this is not at all what happened. Hackenberg never developed as the team hoped and didn't throw a pass in two seasons. The Jets traded him to the then-Oakland Raiders in 2018 and, after bouncing around a bit, he most recently played in the AAF. He had zero competition for the seventh and first (or final?) spot on this list, for whatever that's worth.
6. Connor Cook (100th overall, Oakland Raiders)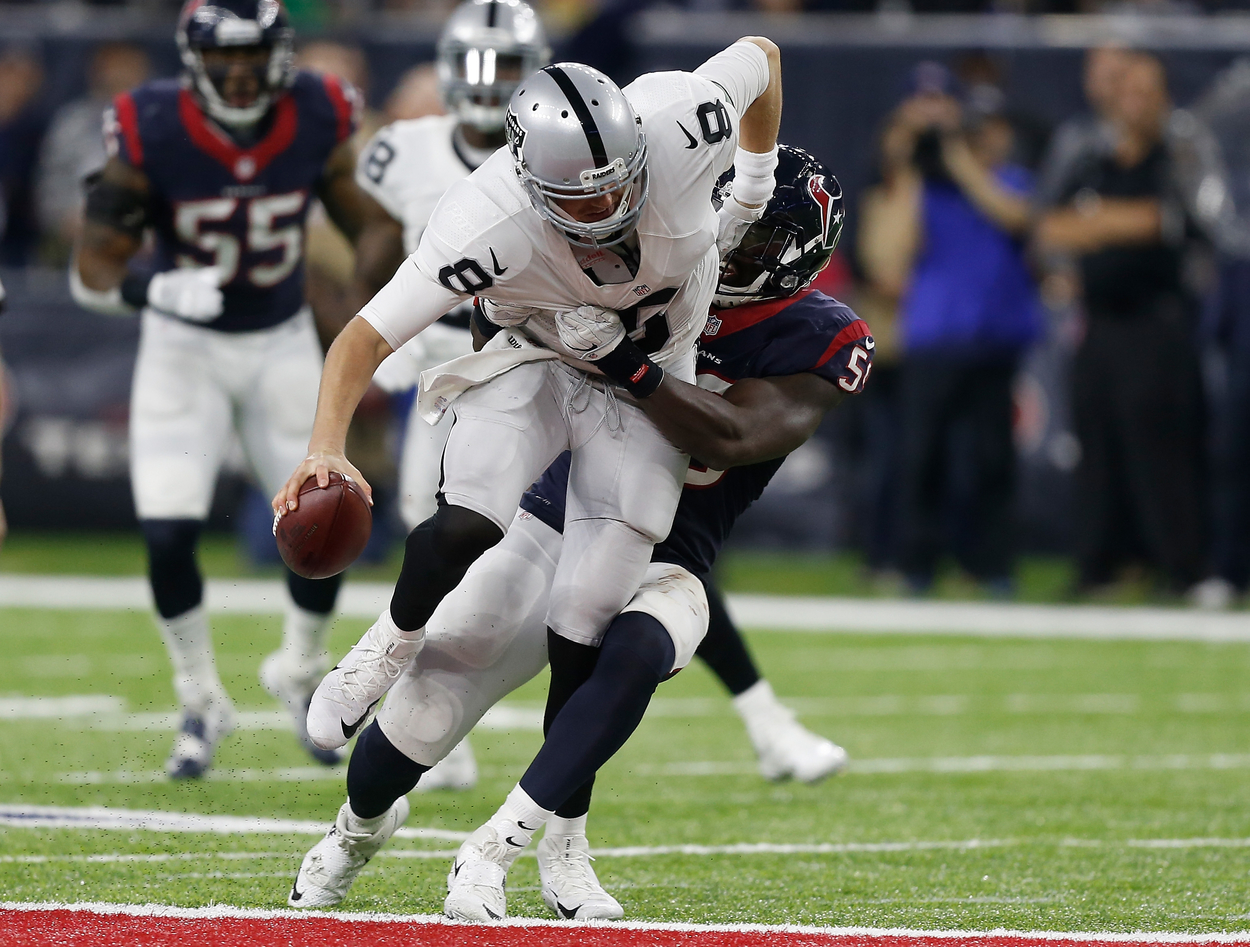 Cook, who turns 29 in January, completed 14 of 21 passes for 150 yards, a touchdown, and an interception in his only regular-season action for the Raiders on Jan. 1, 2017. However, a week later, he accomplished an incredible feat when he made his first career start in a Wild-Card Game loss to the Houston Texans. As of November 2021, no other quarterback has joined Cook in that club.
Unfortunately for Cook, his first career start also marked his last. Houston intercepted the Michigan State product three times in a 27-14 Texans victory. When we last heard from the former All-Big Ten selection, he was backing up current Carolina Panthers quarterback P.J. Walker on the XFL's Houston Roughnecks.
5. Paxton Lynch (26th overall, Denver Broncos)
The Denver Broncos began their pursuit of finding Peyton Manning's replacement by using a first-round pick Lynch, a 6-foot-7 mobile quarterback. Much like Hackenberg, Lynch never properly developed and completed 61.7% of his passes for 792 yards, four touchdowns, and four interceptions in five games across two seasons. He's currently a backup quarterback on the CFL's Saskatchewan Roughriders.
4. Cody Kessler (93rd overall, Cleveland Broncos)
In fairness to Kessler, his career was probably doomed the second his phone rang with a Cleveland area code. The USC product threw six touchdowns against two touchdowns in nine games and eight starts for the woeful Browns in 2016. However, he saw limited action in 2017 on a Browns team that finished 0-16, which should be yet another serious indictment against Hue Jackson.
Cleveland traded Kessler to the Jacksonville Jaguars in March 2018, and he struggled in four starts. Although he spent part of 2019 with the New England Patriots, he hasn't been on an NFL roster in either of the last two years.
3. Jacoby Brissett (91st overall, New England Patriots)
Now, things are finally getting good. Against his hopes and prayers, Brissett joined the Patriots and spent much of the 2016 season as a reserve behind Tom Brady. However, the North Carolina State did become the first Black starting quarterback in Patriots history on Sept. 22, 2016, and no one can take that away from him. Nor they can take away his Super Bowl 51 championship ring.
The Patriots traded Brissett to the Indianapolis Colts in August 2017, and he's historically played well when given a chance to start. As of Nov. 24, 2021, he's completed 60.2% of his passes for 7,742 yards, 36 touchdowns, and 17 interceptions in 57 games and 37 starts. Currently a backup on the Miami Dolphins, Brissett has also rushed for 13 touchdowns and, at 29 years old, has proven he can hold his own in the NFL.
2. Jared Goff (1st overall, Detroit Lions)
If Goff went 31st or 61st in the 2016 NFL Draft, we might be able to look far more favorably upon his career. Alas, the Los Angeles Rams selected him atop the draft and, although he's been fine, he's still yet to live up to the expectations that come with being a first overall pick.
As of publication, Goff — a two-time Pro Bowl selection — had completed 63.8% of his passes for 20,280 yards, 115 touchdowns, and 61 interceptions. Although he served as the Rams' starting quarterback in Super Bowl 53, he only completed 55.7% of his passes and threw a single touchdown in three playoff games that year.
1. Carson Wentz (2nd overall, Philadelphia Eagles)
At least with regards to this group, Carson Wentz is the one-eyed man among the blind quarterbacks. For all of his daults and criticisms, he had completed 62.7% of his passes for 19,295 yards, 131 touchdowns, and 53 interceptions in 79 career starts. He earned Pro Bowl honors in 2017 and, if not for a torn ACL, may have won the NFL MVP Award.
After his Eagles career ended sourly, Wentz threw 18 touchdowns against three interceptions in his first 11 games with the Indianapolis Colts. Could the next step be a Super Bowl showdown against former NFC East Divison rival Dak Prescott and the Dallas Cowboys? More importantly, who would Eagles fans root for that night?
Like Sportscasting on Facebook. Follow us on Twitter @sportscasting19.