NFL Referee Tony Corrente, Who Hip-Checked a Bears Player Monday Night Has Always Been Vindictive, According to a Former QB: 'I'd Like to Really Say Some 4-Letter Words to You'
One of the biggest talking points from this week's Pittsburgh Steelers 29-27 victory over the Chicago Bears was a late-game taunting penalty against Bears defensive end Cassius Marsh. In many fans' eyes, the penalty was unwarranted, and a bump from referee Tony Corrente seemed even more inappropriate.
Former quarterback and current sports media personality Chris Simms was one of those fans who disagreed with the penalty, but he wasn't surprised. During his time as an NFL player, he had his own run-in with Corrente, so the ref's aggressive action was something he was all too familiar with.
Chicago Bears DE Cassius Marsh got a taunting penalty and a little extra from NFL referee Tony Corrente on Monday night
Late in the fourth quarter of a three-point Monday Night Football game between the Bears and the Steelers, Chicago DE Cassius Marsh made a big play.
On a massively important 3rd-and-8 play, Marsh — who the Steelers cut at the end of training camp before the Bears signed him right before this game — sacked Ben Roethlisberger. The pass-rusher leaped in the air for a flying/spinning kick to celebrate the sack.
That wasn't the part referee Tony Corrente took issue with.
After the kick, Marsh took a few steps toward the Steeler sideline, then stopped and stared at his former coaches and teammates. After a (very) few seconds, he turned and ran back to the Bears' side.
On his way back, cameras caught what looked like Corrente purposefully throwing his hip into Marsh as he ran by, then throwing a penalty flag: 15 yards for taunting.
The flag kept the Steelers' drive alive, and they were able to get a field goal out of it. Bears QB Justin Fields orchestrated a go-ahead touchdown drive afterward. Unfortunately for Marsh and his Chicago teammates, there was still enough time for Roethlisberger to get Pittsburgh into field-goal range for a game-winning kick, which he did.
In the postgame coverage and during the next day, fans, pundits, and players alike all expressed disbelief that a call like that cost the Bears the game.  
This wasn't a surprise to Chris Simms.
Chris Simms shared a story about his own run-in with Corrente 
A former NFL QB and current analyst for Pro Football Talk and NBC, Chris Simms joined the Dan Patrick Show the next day to discuss the hot topics in the NFL.
The conversation eventually turned to the Steelers-Bears game, and Dan Patrick asked Simms to share his own experience with Tony Corrente from his playing days. After saying he did not agree with the taunting call, Simms gladly obliged.
He told Patrick that it happened in San Francisco in 2005. After a late hit, Simms, running off the field, said to Corrente, "What the hell? That was a late hit!" That's when Corrente's allegedly vindictive streak took over.
Simms explained it's standard protocol for the ref to give the quarterback a heads-up before starting the play clock when coming back from a break. He said that after the run-in with Corrente, the ref just started blowing the whistle and starting the clock with no warning. This happened three different times until Simms finally confronted Corrente:
I finally went up to him in the next commercial break, and I said, 'Why aren't you giving me a warning? Can I get a warning before we come back from break here?'… And he looked at me and said, 'Are you going to apologize for what you said earlier?' The competitor in me wanted to be like, 'Would you get the hell out of my face,' and 'I'd like to really say some four-letter words to you.' But I didn't want to be ripped off by him for the rest of the game and not have him call other penalties, so I went, 'I'm sorry about that,' and he went, 'OK, I'll give you your warnings back.' And, to me, he's always bothered me. There's a lot of talk like that around him.

Chris Simms on Tony Corrente
Simms added that Monday Night Football announcer and former QB Brian Griese also had run-ins with the referee, as did "a lot of people" in the NFL.
The NFL defended its referee's entire interaction with Marsh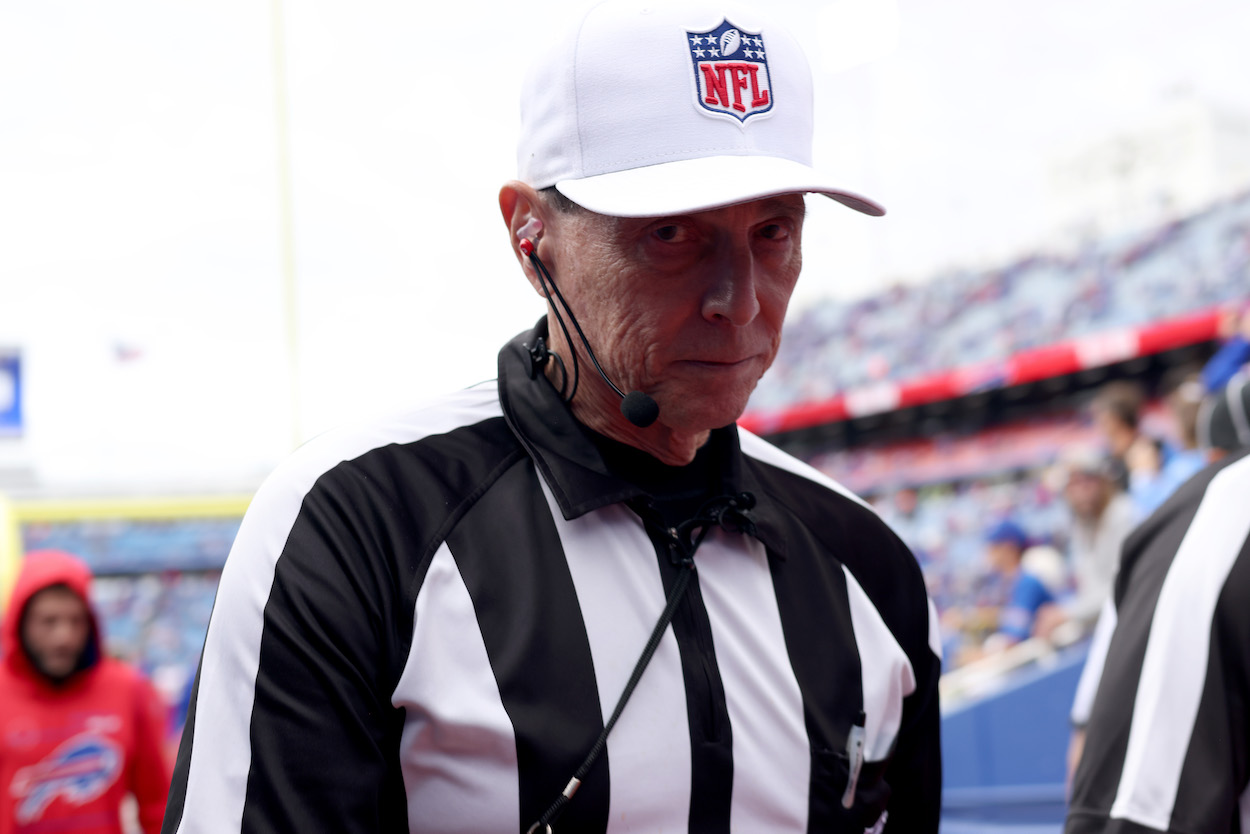 Right after the game, Cassius Marsh stepped to the podium in his postgame interview and took Tony Corrente to task.
"The one thing that I will say is that, on my way to the sideline, I got hip-checked by the ref, and it's pretty clear," Marsh said. "If I were to do that to a ref or even touch a ref, we'd get kicked out of the game and possibly suspended and fined. I just think that that was incredibly inappropriate."
When asked if that bump contributed to Corrente throwing the flag afterward, the longtime ref said, "That had nothing to do with it. It was the taunting aspect" (h/t Tom Pelissero).
The next day, the NFL came out in support of Corrente's call.
Washington Post reporter Mark Maske tweeted that an NFL source told him the penalty "was the definition of taunting." As for the hip check, Maske wrote:
The league does not give credence to Cassius Marsh's accusation that referee Tony Corrente intentionally hip-checked him as Marsh moved past the referee toward the Bears' sideline. Asked if the NFL considers that allegation legitimate, source says: 'No.'

The NFL's response to the Cassius Marsh/Tony Corrente situation
For fans who are concerned that Corrente's behavior might affect your team someday, the referee will officiate the Jacksonville Jaguars at Indianapolis Colts game in Week 10.
Like Sportscasting on Facebook. Follow us on Twitter @sportscasting19