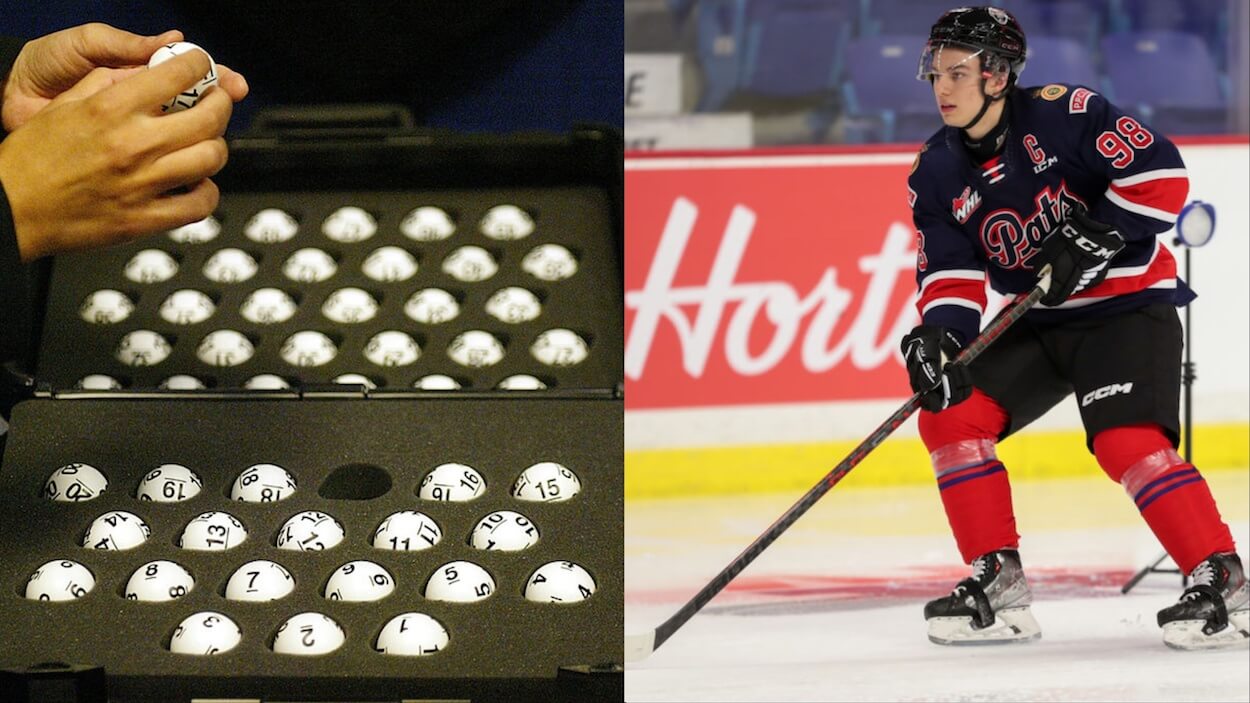 NHL Draft Lottery: Where Is Connor Bedard Most Likely to End Up?
Want to know how your favorite team can potentially land Connor Bedard? Let's break the 2023 NHL Draft Lottery down.
While predicting the future is notoriously hard to do, it seems safe to assume that Connor Bedard will be a talented NHL player. The center has piled up incredible numbers in Major Junior, and his World Junior performance suggests that he's unintimidated by the big stage. Now, it just remains to be seen where he'll be playing his professional hockey. Enter the NHL Draft Lottery.
Like some of the other major sports leagues, the ice game relies on a draft lottery to award the number one pick each summer. The NHL, however, rarely does things in a straight-forward way, and this is no exception.
With that in mind, let's take a closer look at the 2023 NHL Draft Lottery and consider how it will affect Connor Bedard's future.
How does the NHL Draft Lottery work?
On the surface, draft order seems pretty simple: the worse your record was, the better your pick. The NHL, however, adds another wrinkle to that with a lottery.
Rather than simply assigning picks in inverse record order, the NHL uses the end-of-season standings to determine lottery probabilities. The teams who performed worse on the ice have a better chance of securing the top pick, but nothing is guaranteed.
Beyond that, though, there are some further wrinkles. While the bottom 16 teams (those that didn't make the playoffs) are entered into the draft lottery, some of them can't claim the first overall pick. If a club's ball is drawn, they can only improve by 10 places; if the 15th-place team won, for example, they'd only rise to the fifth spot.
It's also worth noting that a team can only win the lottery twice within a five-year stretch. That won't affect anyone this year, but if the Montreal Canadiens end up atop the metaphorical mountain, they'll be ineligible for the next few lotteries.
When does the 2023 NHL Draft Lottery take place?
Hockey, for better or worse, is already the most niche of America's big four sports. And, as you might expect, the draft lottery isn't exactly appointment viewing.
Even the league's powers that be seem to understand that reality. The draft lottery is televised, but it's usually tacked onto some postseason action in order to catch the hockey fans who are tuning in to see their favorite team.
This year, the NHL Draft Lottery will take place at 7 pm Eastern on Monday, May 7. It's safe to assume a game will start roughly 30 minutes later.
Which teams have the best odds of winning the lottery and, in turn, landing Connor Bedard?
As mentioned above, the NHL Draft Lottery allows 11 teams to secure the first-overall pick. Teams 12 through 16, however, can still be drawn out of the pot first; that would still allow them to move up 10 spots. With all due respect to those teams, though, that improvement is insignificant compared to the chance of drafting Connor Bedard.
With that in mind, here are the odds for each team to claim the top pick:
| Team | Lottery Odds |
| --- | --- |
| Anaheim Ducks | 18.5% |
| Columbus Blue Jackets | 13.5% |
| Chicago Blackhawks | 11.5% |
| San Jose Sharks | 9.5% |
| Montreal Canadiens | 8.5% |
| Arizona Coyotes | 7.5% |
| Philadelphia Flyers | 6.5% |
| Washington Capitals | 6.0% |
| Detroit Red Wings | 5.0% |
| St. Louis Blues | 3.5% |
| Vancouver Canucks | 3.0% |
For the record, the Coyotes also hold the rights to the Ottawa Senators first round pick, assuming it's not a top-five selection. The Senators would be the 12th pick as of now, and the club has a 2.5% chance of being drawn first and moving up to the second overall spot.
Bedard certainly raises the stakes of this year's lottery
If you're affiliated with a struggling team, you'll want every advantage you can get. And while any first overall pick would probably be helpful — even if they don't live up to the hype, a top pick will usually bring some level of talent — Connor Bedard looks like he's truly special.
While you could argue that Major Junior numbers don't tell the whole story, the Regina Pats center dominated the WHL competition. He potted 28 points in 15 games during his first season in Saskatchewan and improved to 100 points in 62 games the following campaign. As if that wasn't impressive enough, though, the teenager took another leap forward. He tallied 143 points in 57 appearances during 2022-23, added another 20 points in seven postseason games, and turned in a fantastic World Junior Championship performance as Canada claimed a gold medal.
There's some debate over his NHL ceiling — some think Bedard will be a legitimate game-breaker, while others see his size as something of a limiting factor, rendering him more of a Patrick Kane than a Sidney Crosby — it seems safe to assume that the teenager is going to be a difference maker at the professional level.
Like it or not, that puts a lot of weight on the ping pong balls of the 2023 NHL Draft Lottery. May the odds be in your (team's) favor.