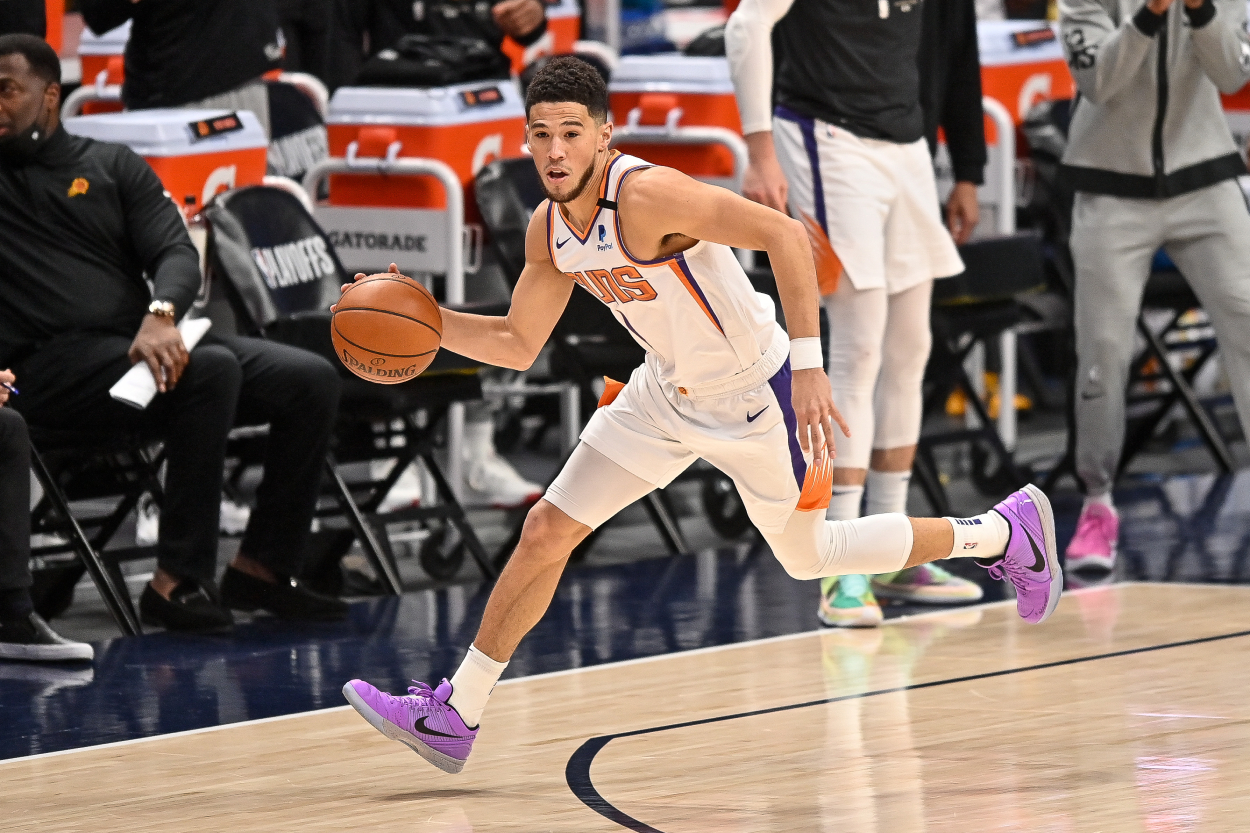 Nick McKellar Continues to Build His Phoenix Suns Legacy After a Fight, 4 Fingers and 3 Words
Nick McKellar never thought he would reach celebrity status after getting into a fight at an NBA game.
Nick McKellar won a tough one on the road. He's the guy in the viral video who took care of a couple of Denver Nuggets fans inside Denver's Ball Arena, and he's soaking in his much-more-than 15 minutes of fame. McKellar's a Phoenix Suns fan living in Denver and put himself on the map after calmly beating up a Nuggets fan and rubbing salt in the wound with his now-famous "Suns in four" line.
Nick McKellar, known as the 'Suns in 4' guy, is developing quite the following
McKellar has become an instant celebrity with the help of four fingers and three words. While he might not always be recognized by his birth name, just say the "Suns in four" guy, and most NBA fans know it's McKellar they're talking about. His fame grew in Section 106 behind the visitors' bench.
"I'm having fun," McKellar said on the Pardon My Take podcast as he was describing the events of the night. "I'm making the whole atmosphere just a fun environment for everybody – Nuggets fans, Phoenix fans, anybody. Suns are up 15, and I'm doing a little chirping at the crowd, but it's all light-hearted.
"These two guys are walking up from the lower section and they took offense to this. They didn't like what I was saying. Homie with four watches is coming up to me and flaunting his fake jewelry. I gave him s— about it. He pull out a wad of cash like it's going to change my opinion.
"I turn my head for a second and I hear, 'watch out' and there's beer being poured on my head, my jersey's being tugged. Once someone puts their hand on my body and I feel threatened, instincts kick in. I start to defend myself. I start pushing them back, telling them to leave. Obviously, you see the video of Edgar, is what people like to call him. Eager Edgar throws a sloppy-ass sucker punch and the rest is history. I had the crowd initially on my side and that made everything just so much more perfect."
McKellar took care of business with a few uppercuts to Edgar's face before the fight was broken up and McKellar flashed his four fingers, calmly uttering, "Suns in four."
'Suns in 4' guy has become a marketing machine
Who would have thought three simple words would travel so far? McKellar was in enemy territory wearing a Suns jersey. He wound up with Nuggets fans cheering him on when two fans in Nuggets jerseys confronted him and then things took off. McKellar says he not a fighter. He insists he'd rather give you a hug than an uppercut. He was escorted out of the building but not banned. McKellar has since become a celebrity, especially since the Suns did win in four games.
"When I got escorted out by the cops, I had four other Nuggets fans come up to me and talk to the cops," he said. "I had a lawyer give me his card. I had other people saying it was all in self-defense. The most important part is that I and the people that I love are safe."
The fight was captured on video and went viral. Since then, t-shirts with four fingers and "Suns in four" scrawled on them have been selling quickly. McKellar even has his own action figure out there.
McKellar has been spending time conducting interviews and soaking in his new-found fame.
"It's been a rollercoaster of emotions," he said. "It's been pretty wild. I'm still trying to process everything. The last thing I thought would be going viral in a video."
Devin Booker reached out to Nick McKellar after the incident, and the 'Suns in 4' guy fame has taken off
McKellar was in Phoenix for Game 1 of the Western Conference Finals against the Los Angeles Clippers on Sunday, courtesy of Suns guard Devin Booker. According to ArizonaSports.com, Booker also sent along a signed jersey with the tickets to the game. He even mentioned McKellar during a media session.
"He's highly spirited for this team," Booker said. "If you watch the full video, you might think he's a pretty wholesome guy that had no wrong intention but was forced into that situation."
McKellar attended Game 1 in Phoenix and might have been the most popular guy in the crowd. There are hundreds of videos and photos on Twitter showing fans lining up to take a photo with him. He even got a rounding ovation when he was spotted at the game.
McKellar is hoping his "Suns in four" line holds true against the Clippers. His appearance on Pardon My Take took place before Game 7 of the Utah Jazz and the Clippers. He was rooting for the Clippers so the Suns would have homecourt advantage. The Clippers pulled off the upset with a dramatic rally.
"If it does go to Clippers versus Suns, I think we have a real chance of Suns in four again," he said.