Nicolas Batum Watched His Father Die on the Basketball Court and Used It as Motivation for a $155 Million NBA Career
NBA veteran Nicolas Batum vividly remembers watching his father die on the basketball court at two years old and used it as motivation for a pro career of his own.
Over the course of his 13-year career in the NBA with the Portland Trail Blazers, Charlotte Hornets, and Los Angeles Clippers, Nicolas Batum has made more than $155 million. Sure, the Frenchman has never been an NBA All-Star and faced a lot of criticism for the big contract he received from Michael Jordan in Charlotte, but, overall, he's been a solid player. After all, you don't stay in the association for this long if you're not.
But what makes Batum's NBA career so fascinating is that he nearly didn't even get the chance to have one. You see, back when he was just two years old, he sat in the stands and watched his father, who played professionally in France, collapse on the court and die in a scene very similar to that of Hank Gathers. While certainly not an easy thing to deal with, Batum used his father's untimely passing to motivate himself to become the best basketball player he could be as he wanted to continue his dad's legacy.
And he certainly did just that as he became one of the top players in Europe before deciding to take his talents to the NBA, a dream that was nearly derailed when teams became frightened that Batum would suffer the same tragic fate as his father.
Nicolas Batum vividly remembers watching his father die on the basketball court at just two years old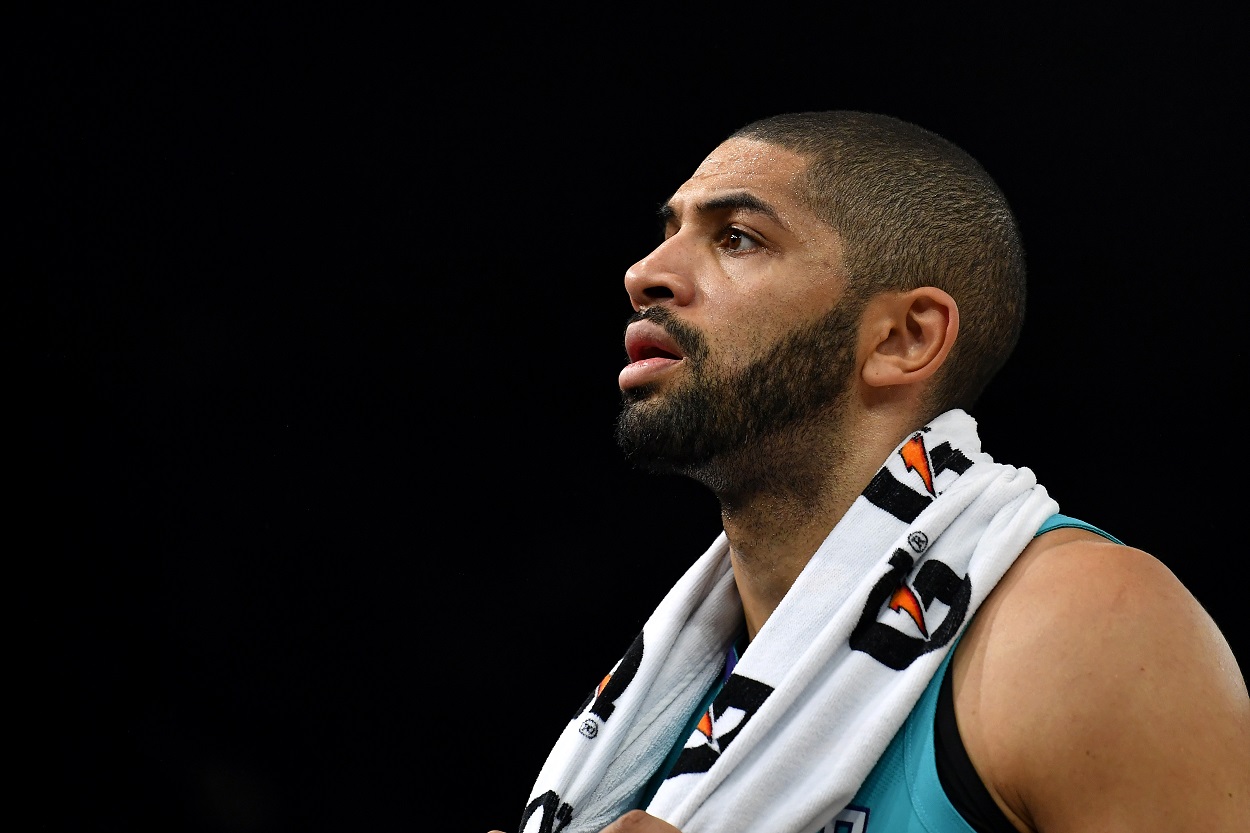 Nicolas Batum's father, Richard Batum, emigrated from Cameroon to play professional basketball in France in the late 1980s. A rugged and physical power forward, Richard was playing for Proville in northern France when tragedy struck in September 1991. With his wife and young Nicolas in the stands, Richard was fouled during a game and went to the free-throw line to take his two shots. Nothing out of the ordinary, right? But just moments later, he collapsed on the court and died after suffering what was initially believed to be a heart attack, but was later ruled an aneurysm.
Despite being a few months shy of his third birthday, Nicolas remembers what he saw that fateful day.
"I can remember when my father went down, and I can remember later, when I wake up, all of the TV stations around and my mom crying and all the craziness going around. Here I was two years old, but I've got memories about it."

Nicolas Batum
While some may have avoided something so closely associated with the death of a parent, Nicolas gravitated toward the game of basketball, determined to honor his father.
His father's death motivated him to play basketball and he became one of the top young players in Europe
Witnessing his father's death certainly didn't make for an easy childhood for young Nicolas, but he found a sense of purpose in basketball. Batum was set on continuing Richard's legacy and felt, as he himself once put it, felt he "had to do something in basketball to finish it." He felt that since his dad was a basketball player that he had to become one as well and put everything he had into the game.
And Batum had quite a bit to give as he went on to become one of the top players in all of Europe as a teenager. In 2004, he helped the junior French national team to the FIBA Europe Under-16 Championship. Two years later, he was named MVP at the 2006 FIBA Europe Under-18 Championship as he helped France to a gold medal. That same year, he was named MVP of the prestigious Albert Schweitzer Tournament in Germany, again leading his home country to a title.
2006 was also the year in which Batum fulfilled his destiny by beginning his professional career with Le Mans Sarthe, for whom he averaged 7.9 points and 3.5 rebounds in 88 games over two seasons in French League and EuroLeague play before deciding to take his talents to the NBA.
Batum nearly didn't get a chance in the NBA due to his father's death
In 2008, then-19-year-old Batum entered his name into the NBA draft. However, his dreams of playing at the highest level were nearly derailed as the death of his father continued to play a big part in his life.
During pre-draft workouts for NBA clubs, an electrocardiogram, more commonly known as a stress test, led a Toronto Raptors physician to ask Batum if he had a family history of heart issues. Batum naturally told the doctor about what had happened to his father, which set off a chain reaction. Teams refused to work him out, giving him no chance to improve his draft status, and Batum feared he wouldn't be drafted at all, even when medical tests he underwent in Cleveland and San Antonio proved he was healthy.
In the end, however, Batum was taken with the 25th overall pick in the 2008 NBA draft by the Houston Rockets and was immediately traded to the Portland Trail Blazers, with whom he spent seven seasons and averaged 11.2 points, 5.1 rebounds, and three assists per game. He then signed a massive five-year/$120 million contract with the Charlotte Hornets in 2015, at the time the largest contract in Charlotte pro sports history and one that the vast majority of people see as a major disappointment as Batum averaged 12.1 points, 5.5 rebounds, and 4.9 assists in those five seasons. Solid numbers, yes, but maybe not worth $24 million a year.
But this is the kind of person Batum is. He actually apologized to Hornets fans for not living up to his contract, something you certainly don't hear every day. Once he was benched at the end of his tenure in the Queen City, he knew he wouldn't be a part of the team's future and the two sides parted ways in 2020, at which point Batum signed a one-year minimum deal with the LA Clippers, who he's now trying to help win an NBA title.
Nobody quite knows what the next chapter looks like for Nicolas Batum, who is still just 32 years old. But even if nobody is willing to give him a chance after this season, which likely won't be the case as he's still got plenty to offer, the fact that he experienced such trauma at an early age but then went out and achieved his dream of continuing his father's legacy has already given his incredible story a happy ending.
Stats courtesy of Basketball Reference, Contract info courtesy of Spotrac