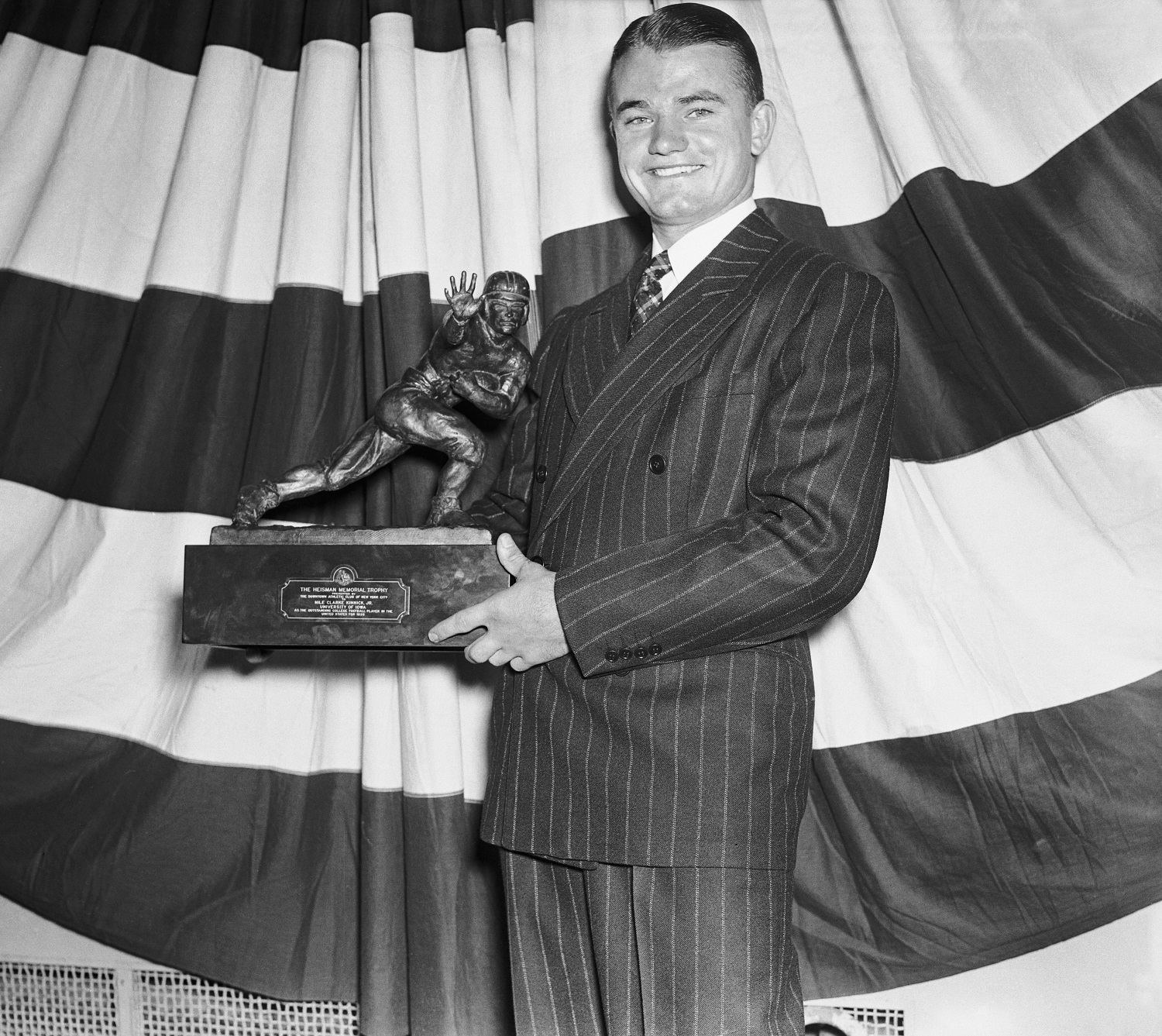 Nile Kinnick Was Tragically Killed While Serving in the Navy Less Than Four Years After Winning the Heisman Trophy
Nile Kinnick, who won the Heisman Trophy in 1939 at Iowa, was tragically killed in a plane crash while serving in the Navy during World War II.
Nile Kinnick may not be the most recognizable name on the list of Heisman Trophy winners but the former college football and basketball star at the University of Iowa, who was tragically killed while serving his country at the age of 24, certainly left an impression on this world and his legacy will live on forever, especially in his home state.
Born in the small town of Adel, Iowa, on July 9, 1918, Kinnick, the grandson of former Iowa Governor George W. Clarke, was an incredible student-athlete growing up and was teammates in youth baseball with future Hall of Fame pitcher Bob Feller.
While attending Adel High School, Kinnick once led the football team to an undefeated season in football while also leading the basketball team to the district finals. The family moved to Omaha, Nebraska, ahead of his senior year but the change in location didn't bother Nile Kinnick as he became a first-team all-state selection in both football and basketball while also helping the baseball team at Benson High School to a city championship before returning to his home state to attend the University of Iowa.
Nile Kinnick won the Heisman Trophy in 1939 at the University of Iowa
Nile Kinnick began his career at the University of Iowa in 1936. Attracted to the football program because they weren't a powerhouse, which some say is why he chose not to go to the University of Minnesota, Kinnick was named the co-captain of the freshman team in 1936 and also played basketball and baseball.
He joined the varsity team at Iowa in 1937 and played many roles for the Hawkeyes. Listed as a running back, Kinnick was also the team's punter and led the nation in the category that season. He was named a first-team All-Big Ten selection and also a third-team All-American. That same year, he was also Iowa's second-leading scorer in basketball and the 15th-leading scorer in the conference.
As a junior in 1938, injuries kept him from being at full strength but Kinnick still managed to earn honorable mention All-Big Ten honors, although the team still struggled to win games. Iowa won just two combined games in '37 and '38 but that all changed in 1939 when the Hawkeyes went 6-1-1 and finished second in the conference, their highest finish since 1922.
Nile Kinnick had a fantastic season in '39, throwing for 638 yards, running for 374 yards, and was involved in 16 of the 19 touchdowns the Hawkeyes scored that year. Kinnick also played at cornerback on defense and was named a consensus First-Team All-American, the Big Ten MVP, and is still the only Iowa player to ever win the Heisman Trophy. He also won the coveted AP Male Athlete of the Year award, beating out the likes of Joe Louis and Joe DiMaggio.
His Heisman Trophy speech was incredible
Obviously, in 1939, there were much more important things going on in the world than football. World War II had begun just as the college football season was getting underway and Niles Kinnick, who was recognized just as much for his character as his athletic ability, referenced that in his incredible speech when accepting his Heisman Trophy. He certainly understood the significance of what was happening overseas but also knew that sports were a way to escape (h/t AdelNews.com).
"Finally, if you'll permit me, I'd like to make a comment which in my mind, is indicative perhaps of the greater significance of football, and sports emphasis in general in this country, and that is; I thank God I was warring on the gridirons of the Midwest and not on the battlefields of Europe. I can speak confidently and positively that the players of this country would much more, much rather struggle and fight to win the Heisman award than the Croix de Guerre."

1939 Heisman Trophy winner Nile Kinnick
Portions of that speech are still played before the national anthem at University of Iowa home games, which, as Hawkeyes fans know, are played at Kinnick Stadium, which was named for the Heisman Trophy winner in 1972.
Tragically, Niles Kinnick died 29 years before his alma mater's stadium was renamed in his honor.
Niles Kinnick was killed in a naval plane crash just a month shy of his 25th birthday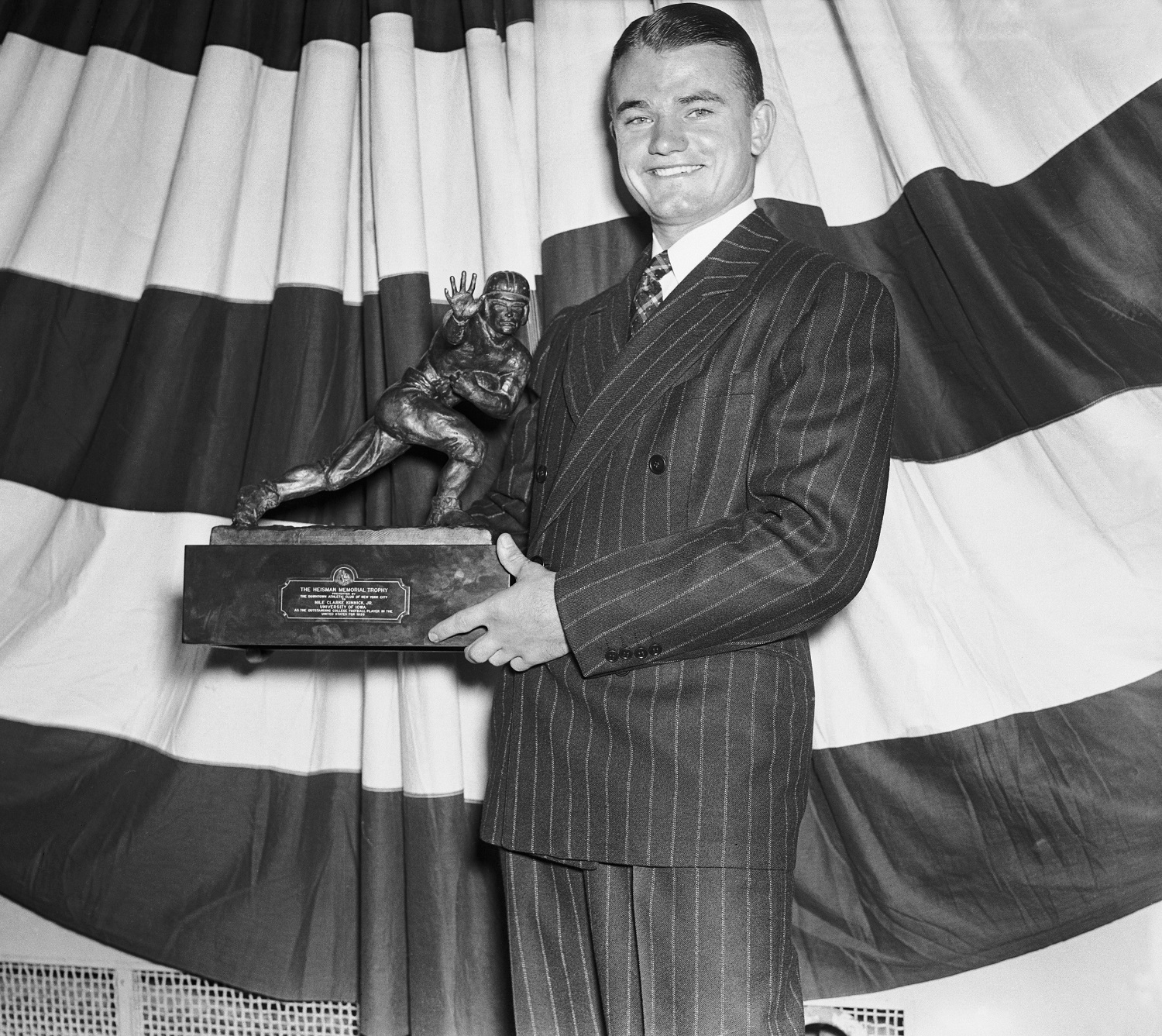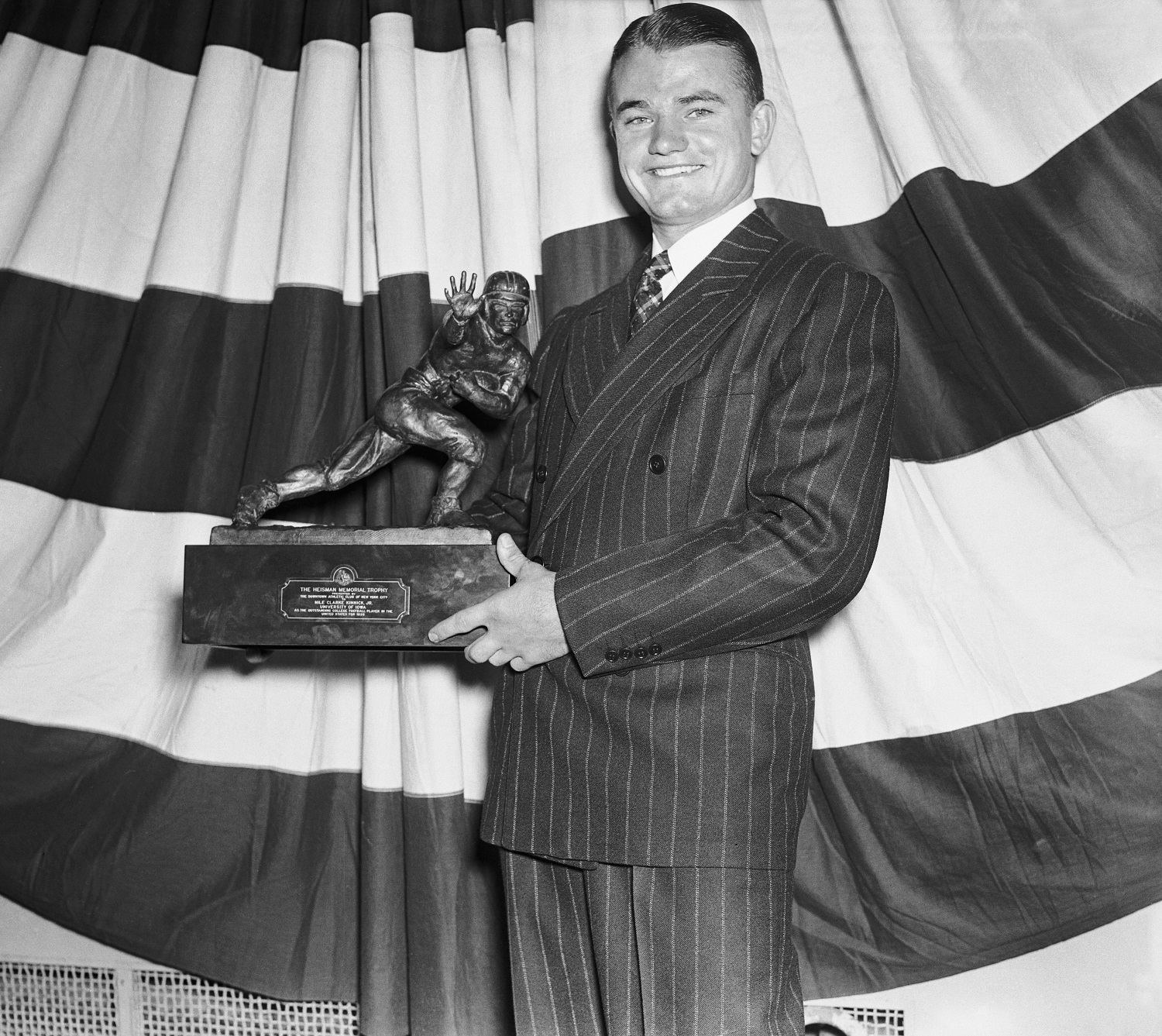 Upon graduation from Iowa, Nile Kinnick chose not to pursue a career in professional football and chose to stay at the university to attend law school while also helping out the football program as an assistant coach. However, after just one year of law school, Kinnick enlisted in the Naval Air Reserve and reported for induction just three days before the attack on Pearl Harbor in December 1941.
Kinnick was training to be a fighter pilot and deployed on the USS Lexington in May 1943. Tragically, on June 2, 1943, during a routine training flight off the coast of Venezuela, his plane began leaking oil, and Kinnick died while making an emergency landing in the Gulf of Paria. His body was never found.
Nile Kinnick was just 24 years old at the time of his death.
Stats courtesy of Sports Reference