The No. 1 Pick in the 2021 NBA Draft Has Already Been Decided, According to the Most Trusted Source in Sports
The 2021 NBA draft is quickly approaching, and every basketball analyst and fan alike is trying to decipher what the Detroit Pistons plan to do with the No. 1 overall pick.
Well, decipher no more.
According to the most trusted source in sports today — the time-traveling fortune tellers who set betting lines for sportsbooks across the country — the No. 1 overall pick has already been decided.
And it's Cade Cunningham out of Oklahoma State.
The 2021 NBA draft is this Thursday
The NBA draft is always an exciting time for basketball fans. It's a night when your favorite team starts a new era with the talented youngster(s) they add to the roster. And who knows? Your team's next pick might just become the franchise player and a superstar for years to come.
This year's draft class is an interesting one, to say the least, but Cunningham is widely regarded as the best all-around player of the bunch. He was the No. 1 prospect in the country coming out of high school last year, and he showed why during his freshman season at Oklahoma State.
Jalen Green, the No. 2 prospect in the 2020 high school class, is neck and neck with Cunningham at the top of the class. He led the G League Ignite team with 17.9 points and 1.5 steals per game last season, and he's an NBA-ready scorer at 19 years of age.
Behind Cunningham and Green, the players that should go off the board next seem to be USC's Evan Mobley, Gonzaga's Jalen Suggs, Florida State's Scottie Barnes, and G League Ignite's Jonathan Kuminga.
Cade Cunningham will be the No. 1 pick, according to sportsbooks
If there's one source you should trust more than any other in sports right now, it's the oddsmakers for respected sportsbooks. They set their lines using a combination of analytics, stats, inside information, and logical thinking, and they always come out on top of those who bet their hard-earned money on sports.
Hey, the book always wins, right?
If a sportsbook offers a bettable line that's completely absurd, it would be in your best interest to trust it. A few months ago, Cunningham was a -500 favorite to go No. 1 overall in the draft, which implies an 83.33% probability.
Pretty strong, right? But still some leeway for someone to sneak in front of him by late July.
Well, Cunningham's odds have since sky-rocketed to -10000, giving him a 99.01% implied chance to go first overall.
You wanna bet $100 on Cunningham? Sure, go for it! But you'll only receive $1 in return.
Well, what about $1 million? That'll get you just $10,000 in profit.
Save your money and stay away from this one.
Does Cunningham deserve to be the No. 1 pick in the NBA draft?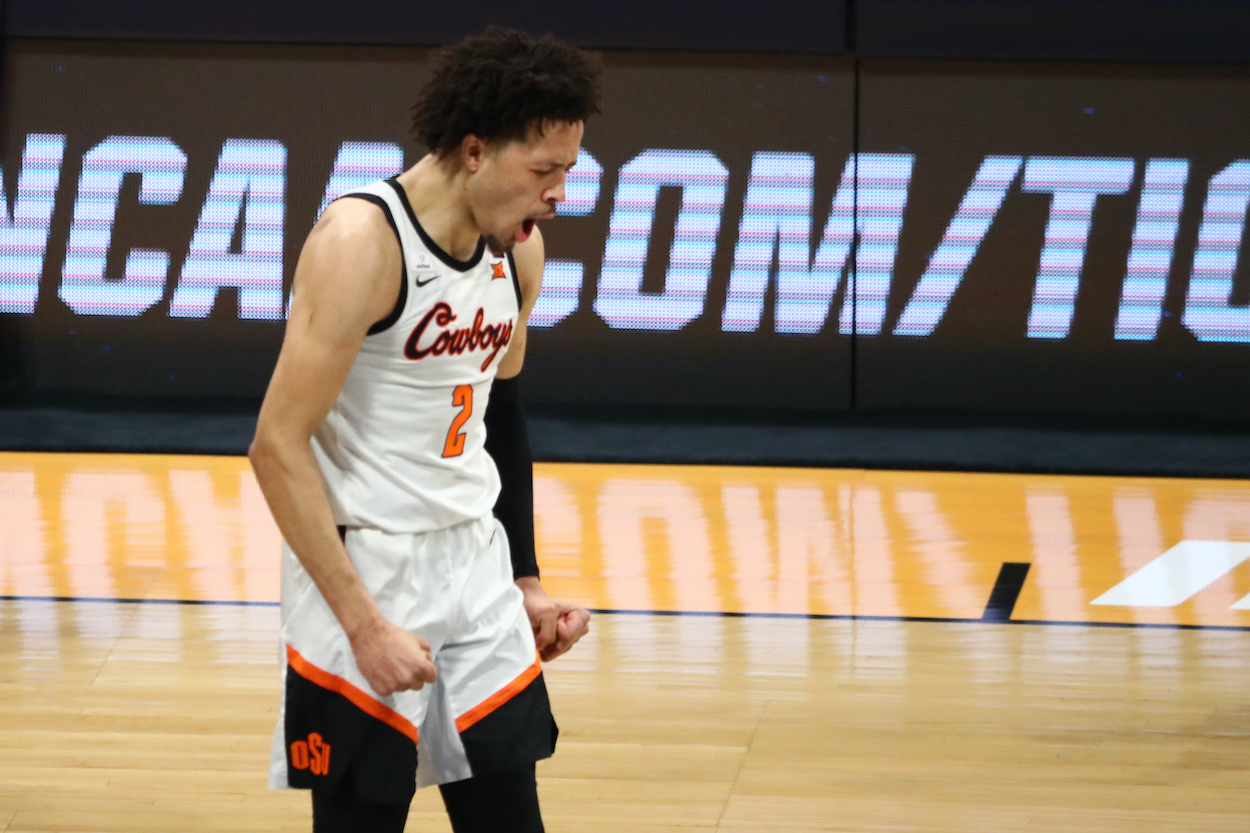 So, Cunningham is going to be the first name off the board this Thursday night. But does he deserve to be?
In short, yes.
Cunningham averaged 20.1 points, 6.2 rebounds, and 3.5 assists per game as a freshman while shooting 43.8% from the field and 40.0% from three. He also led Oklahoma State to a No. 4 seed in the NCAA Tournament and powered the team to its first tournament win since 2015.
The 6-foot-8, 220-pound guard can overpower opponents to the basket, facilitate better than anyone else his age, rebound his position at an elite level, and stroke it from deep when needed.
He's a no-brainer for the Pistons at No. 1 overall, and sportsbooks know it.
All betting odds courtesy of PointsBet