Only 5 Top-5 NBA Draft Picks Selected in 2008 or Later Have Won a Championship, All of Them With LeBron James
Being a top-five pick in the NBA draft obviously means you're a great basketball player, right? Actually, being an NBA draft pick at all means you're a great basketball player as only 60 people in the world are given that honor on an annual basis. But that's not the point we're trying to make here.
The point here today is that being a top-five pick in the NBA draft doesn't guarantee success for the player or the team that drafts him. There have been plenty of top-five picks that never made a single NBA All-Star Game and some that never even appeared in a single NBA game. Overall, the NBA draft is just one big gamble as teams hope the players they select can help them win an NBA title at some point. Sometimes things work out and sometimes they don't.
In recent years, there have been plenty of top-five picks that have become solid players at the pro level. However (in our best 30 for 30 voice), what if I told you that over the last 13 NBA drafts, only five top-five picks have won an NBA championship and that all five needed LeBron James' help to do it?
The last 65 players taken in the top five of the NBA draft
Before we get into specifics, here's a quick look at the top five players taken in each of the last 13 NBA drafts. Think you can spot the five who won a title with LeBron?
2008
Michael Beasley
O.J. Mayo
Russell Westbrook
Kevin Love
2009
Blake Griffin
Hasheem Thabeet
James Harden
Tyreke Evans
Ricky Rubio
2010
John Wall
Evan Turner
Derrick Favors
Wesley Johnson
DeMarcus Cousins
2011
Kyrie Irving
Derrick Williams
Enes Kanter
Tristan Thompson
Jonas Valanciunas
2012
Anthony Davis
Michael Kidd-Gilchrist
Bradley Beal
Dion Waiters
Thomas Robinson
2013
Anthony Bennett
Victor Oladipo
Otto Porter Jr.
Cody Zeller
Alex Len
2014
Andrew Wiggins
Jabari Parker
Aaron Gordon
Dante Exum
2015
Karl-Anthony Towns
D'Angelo Russell
Jahlil Okafor
Kristaps Porzingis
Mario Hezonja
2016
Ben Simmons
Brandon Ingram
Jaylen Brown
Dragan Bender
Kris Dunn
2017
Markelle Fultz
Lonzo Ball
Jayson Tatum
Josh Jackson
De'Aaron Fox
2018
Deandre Ayton
Marvin Bagley III
Luka Doncic
Jaren Jackson Jr.
2019
Zion Williamson
Ja Morant
RJ Barrett
De'Andre Hunter
Darius Garland
2020
Anthony Edwards
James Wiseman
LaMelo Ball
Patrick Williams
Isaac Okoro
LeBron James won an NBA title with Kevin Love, Kyrie Irving, and Tristan Thompson in 2016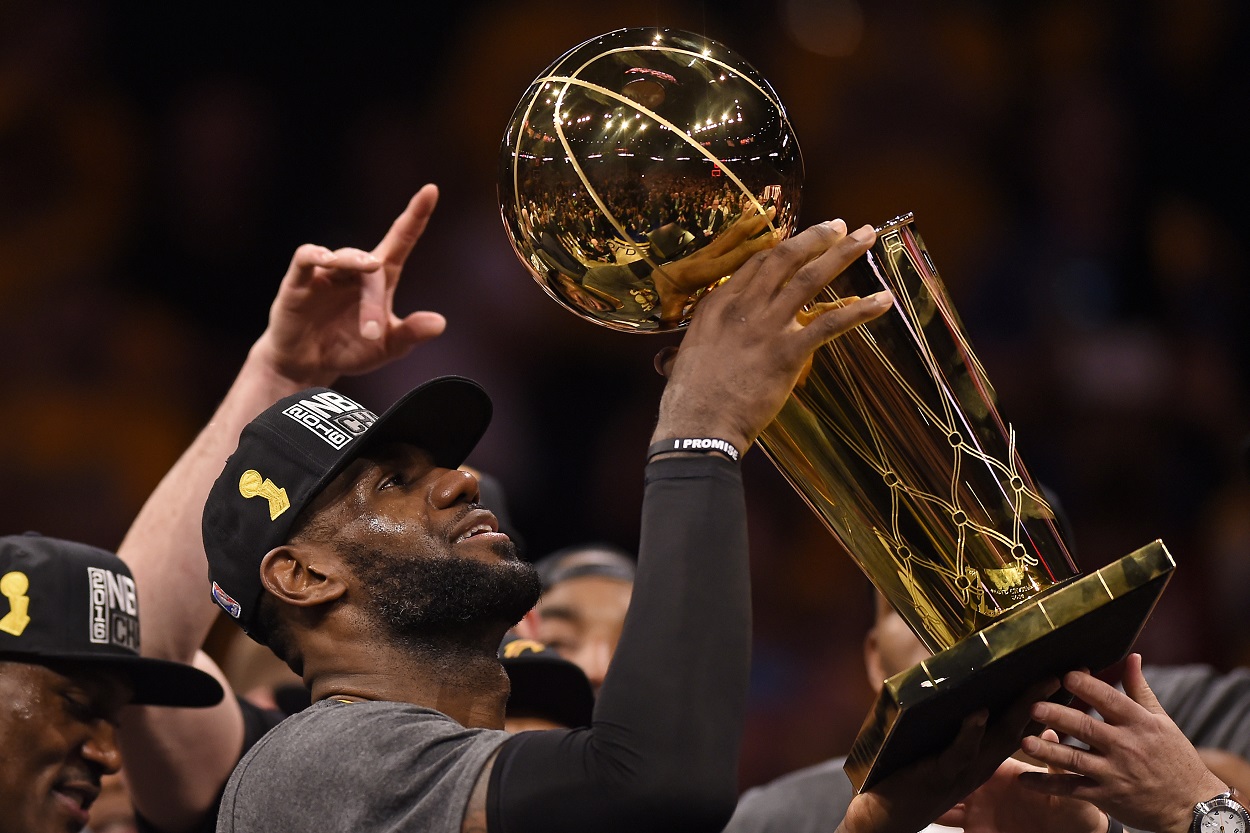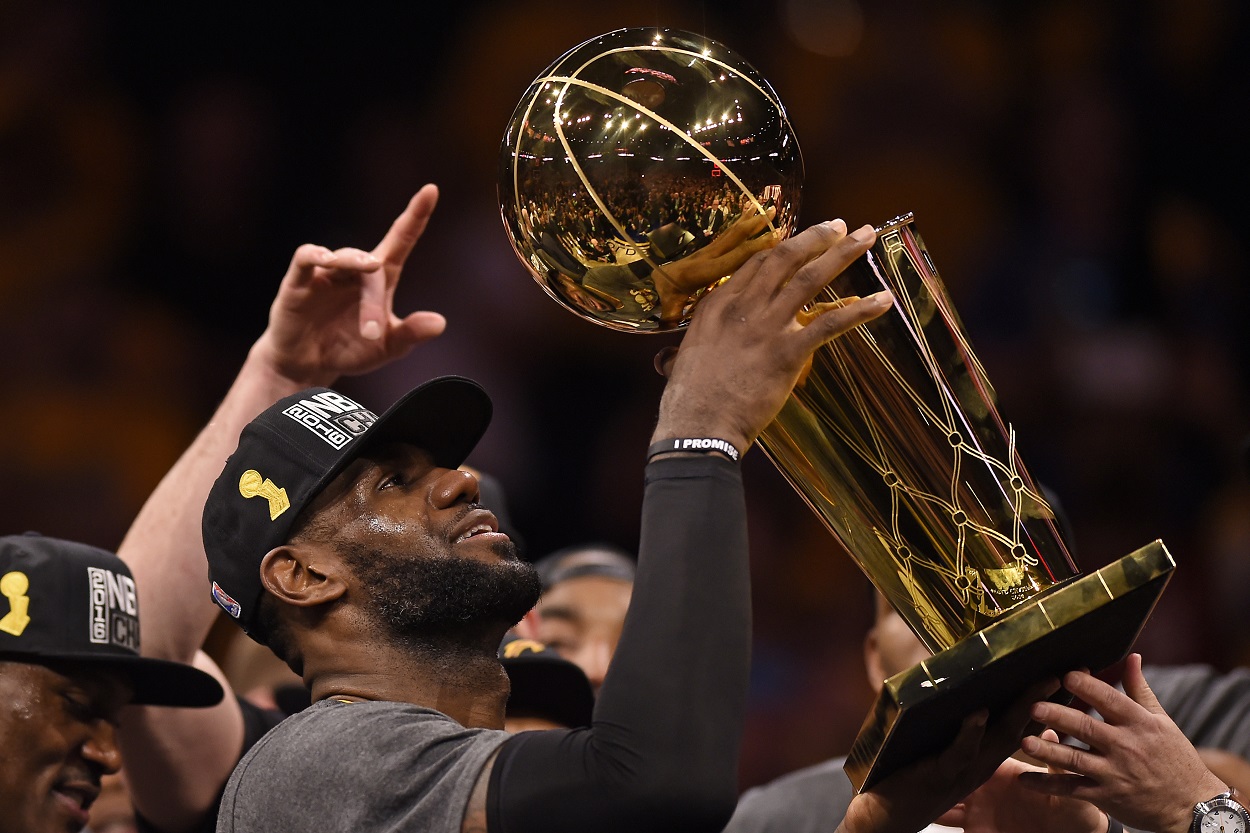 As we're sure you guessed, the first three players selected in the top five of the NBA draft in 2008 or later each won their lone NBA title alongside LeBron with the Cleveland Cavaliers in 2016. Kevin Love, who was taken with the fifth pick in the 2008 draft by the Memphis Grizzlies and was then traded to the Minnesota Timberwolves, made his way to Cleveland via trade in 2014 and is still with the Cavs to this day.
Kyrie Irving was taken by the Cavs with the No. 1 overall pick in the 2011 NBA draft, while Tristan Thompson was selected by Cleveland just three picks later at No. 4. Irving remained in Cleveland until 2017 and Thompson stayed with the Cavs until 2020.
LeBron, of course, left Cleveland for the second time in 2018 to sign with the Los Angeles Lakers, with whom he helped another pair of top-five NBA draft picks win a championship.
Anthony Davis and Dion Waiters, both of whom were top-five picks in the 2012 NBA draft, won a title with LeBron in 2020
The other two top-five NBA draft picks selected in 2008 or later to win an NBA title are Anthony Davis and Dion Waiters, both of whom captured their first title alongside James with the Lakers in 2020.
Davis was taken with the No. 1 overall pick in 2012 and spent the first seven seasons of his career with the New Orleans Hornets/Pelicans before being traded to LA ahead of the 2019-20 season. Waiters was taken with the fourth overall pick in that same draft by the Cavaliers and remained in Cleveland until he was traded to the Oklahoma City Thunder in in early 2015. After a season and a half in OKC, he then spent parts of four seasons with the Miami Heat before being traded to Memphis in February 2020, although he never suited up for the Grizzlies as he was waived only three days later.
Waiters signed with the Lakers not long before the season was shut down due to COVID-19 and made his debut for LA in the Orlando bubble, appearing in seven games. He also played five postseason games for the Lakers, averaging two points in just under eight minutes per game. Given that he'd also played for Miami in 2019-20, Waiters was guaranteed a ring no matter who won the 2020 NBA Finals.
Stats courtesy of Basketball Reference
RELATED: LeBron James and Michael Jordan Are Members of an Elite (and Short) List of Players to Win an NBA Championship and an Olympic Gold Medal in the Same Year