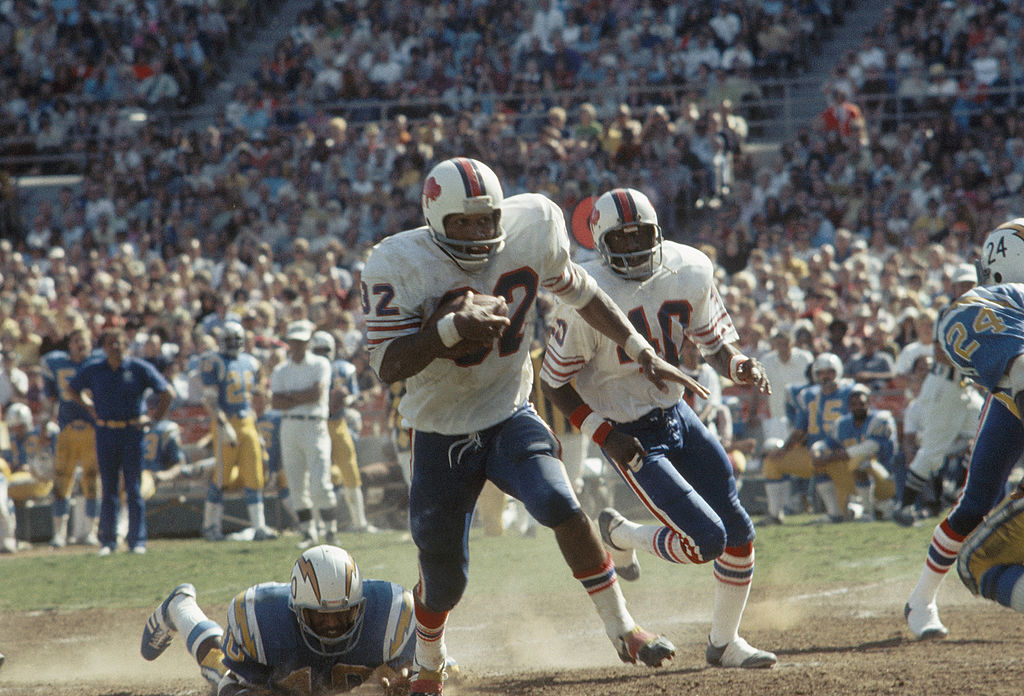 O.J. Simpson's Buffalo Bills Teammates Reflect on The Juice's Unique Football Skills
O.J. Simpson's former teammates with the Buffalo Bills reflect on his unique football talents that made him a Hall-of-Fame running back.
For the last 26 years, O.J. Simpson has been in the news for all the wrong reasons. Before he was a convicted felon, he was a feared running back in college at USC and the NFL with the Buffalo Bills. Known as The Juice, Simpson squeezed his way through would-be tacklers and ran his way into the college and pro football halls of fame.
O.J. Simpson's life after football
After O.J. Simpson's NFL days were over, he worked as a commentator for Monday Night Football. He also became an actor, which started even before his NFL days were over. Simpson was known for his role in The Naked Gun trilogy.
In 1994, Simpson became known for a lot more than his acting skills. Simpson has long been a suspect in the double murder of his wife Nicole Brown Simpson and her friend Ronald Goldman. Simpson was arrested and charged with the murders, but after a lengthy and highly publicized trial, he was acquitted of the murders in a criminal court. He was later found responsible for the deaths in a civil case.
Simpson was then arrested in 2007 for breaking into a casino hotel and taking some sports memorabilia at gunpoint. Simpson said the items were his and were stolen from him. He was arrested and charged with multiple felony counts, including kidnapping and robbery. He was sentenced to 33 years in prison and was released on parole after serving nine.
The Juice's USC football days
O.J. Simpson was an outstanding high school football player, but since his grades weren't deemed very good, he didn't generate a tremendous amount of big-time college offers. Simpson enrolled at City College of San Francisco in 1965. In 1967, Simpson transferred to USC where he had two outstanding years under head coach John McKay.
Simpson led the nation in rushing both of those seasons. He was a workhorse under McKay, who was once asked why Simpson carried the ball so much. "Why not?" McKay asked, according to buccaneers.com. "It isn't very heavy. Besides, he doesn't belong to a union." In 1967, Simpson rushed for 1,543 yards and 13 touchdowns and was the runner-up for the Heisman Trophy.
In his senior year, Simpson scored 23 touchdowns and racked up 1,880 rushing yards. He ran away with the Heisman Trophy. In fact, Simpson held the record for 51 years for the largest margin of victory in the Heisman voting, beating Leroy Keyes.
O.J. Simpson became legendary with the Buffalo Bills
The Buffalo Bills selected O.J. Simpson with the first overall pick in the 1969 NFL draft and he did not disappoint. Simpson made the Pro Bowl in his first season in Buffalo. In his nine seasons with the Bills, Simpson led the league in rushing four times. In 1973, Simpson rushed for an unprecedented 2,003 yards in a 14-game season. He was inducted into the Pro Football Hall of Fame in 1985.
Mike Montler, the center for the Buffalo Bills during the Simpson days, said it was amazing how graceful and elusive The Juice was with the football.
"I played with him four years," Montler said in a 2013 Fox Sports article. "And I'd be willing to bet I could count on one hand the number of times he was actually tackled."
Quarterback Joe Ferguson, who spent a lot of his time handing off the Simpson, said O.J. made his life a lot easier. "It was amazing to hand the ball off to him and watch him move," Ferguson said, "with his balance and vision and football wisdom."