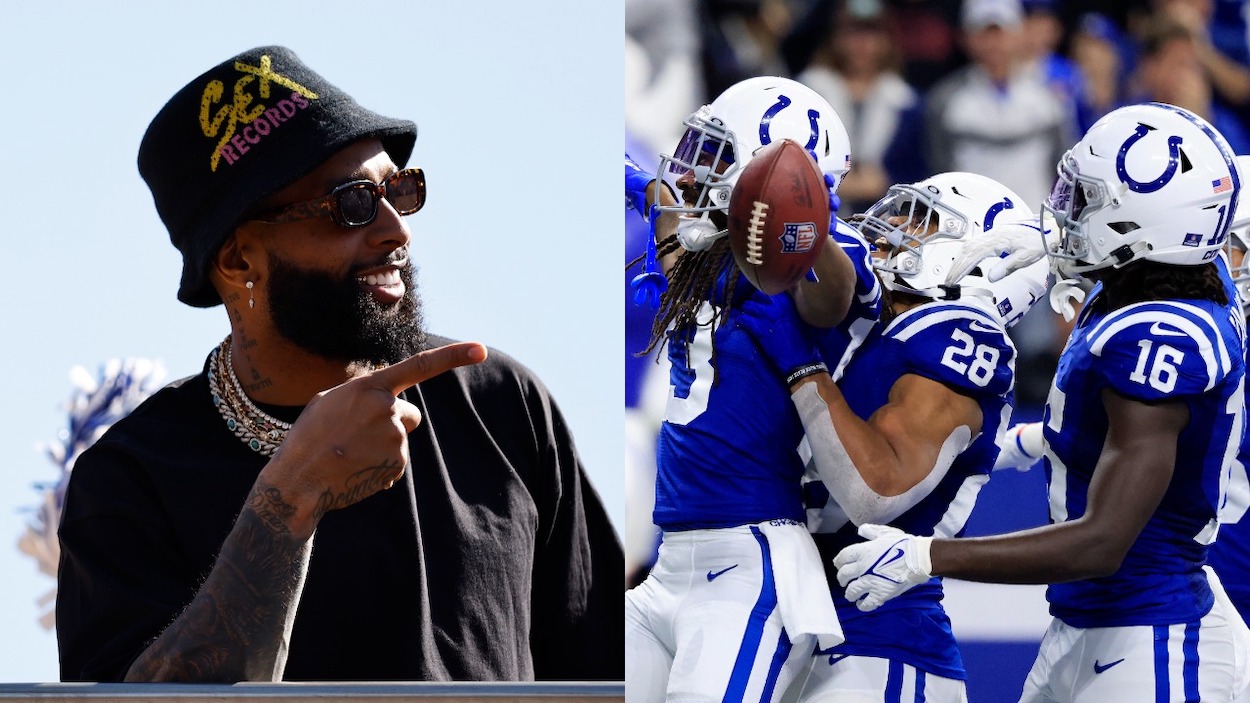 Odell Beckham Jr. Shares 'Random Thought' That Might Signal Interest in Joining Indianapolis Colts
Does Odell Beckham Jr.'s latest tweet mean the free-agent WR is interested in joining the Indianapolis Colts in 2022?
After Odell Beckham Jr. (and his dad) bashed the Cleveland Browns into releasing him mid-season last year, it looked like everything would work out perfectly for the polarizing pass-catcher. The last few months haven't gone well for Beckham, though. Now, the wide receiver's future is in doubt. However, his latest tweet may suggest he my be angling for a shot with the Indianapolis Colts.
Odell Beckham Jr.'s future is up in the air still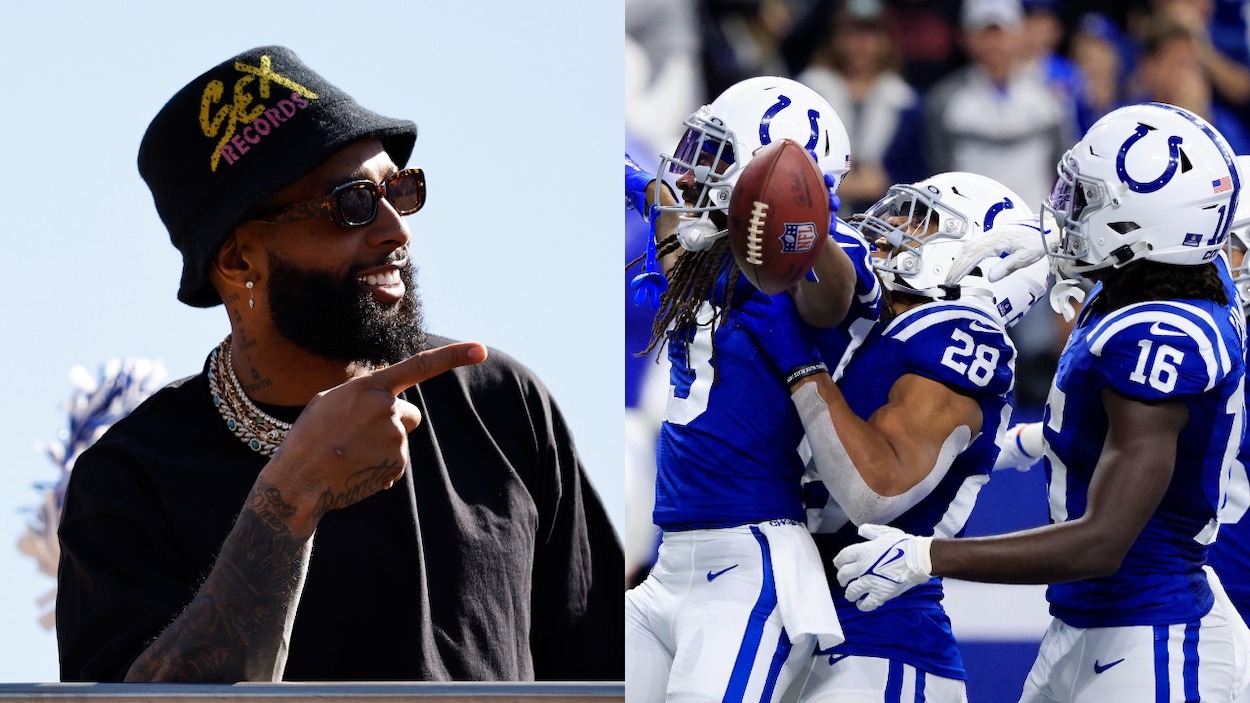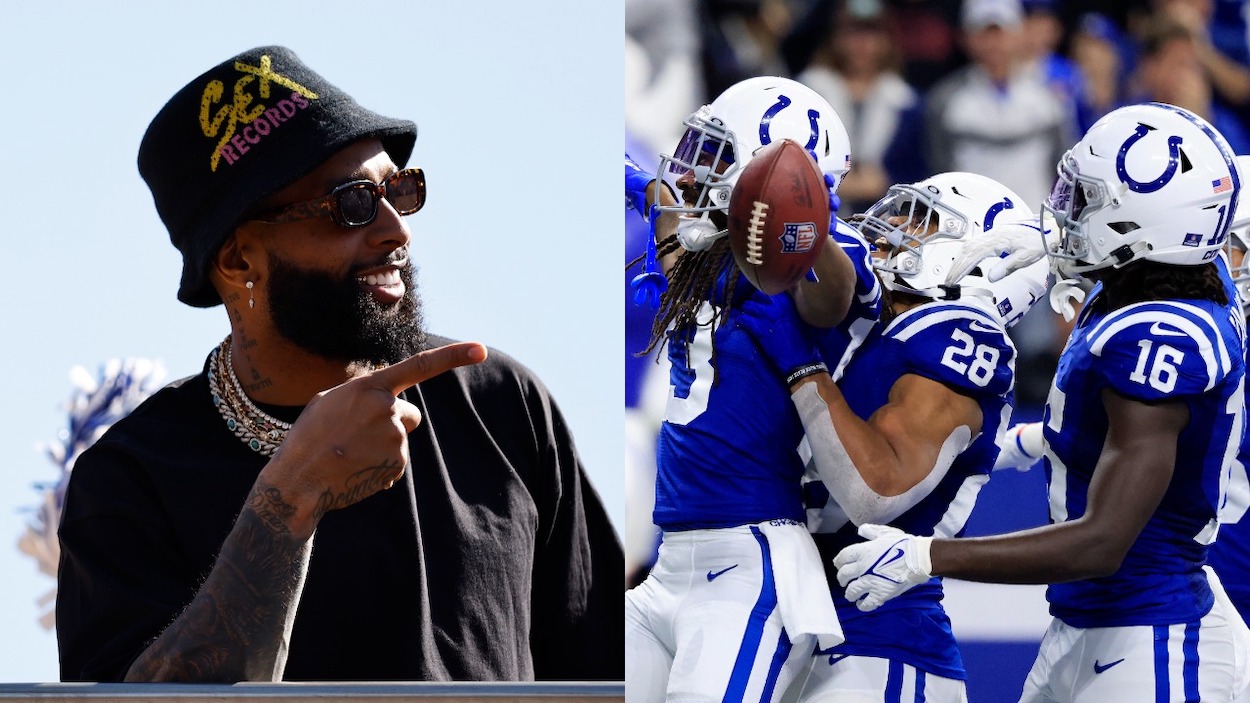 Following his acrimonious departure from the Cleveland Browns, things seemed to be playing out just as Odell Beckham Jr. had hoped when he decided to go to war with Browns QB Baker Mayfield.  
The mercurial wideout made his way to the bright lights and big city of Los Angeles and helped his team make a Super Bowl.
The problems started in that final game, though, when Beckham tore his ACL. Although he got a ring for his troubles, the injury left his future is very much in doubt.
The Los Angeles Rams did trade Beckham's fellow injured WR, Robert Wood, to the Tennessee Titans, which seems to suggest Beckham could be back in 2022. However, the team also gave former Chicago Bears pass-catcher Allen Robinson II a three-year, $46.5 million deal with $30.75 million guaranteed.
Beckham has made no secret about his desire to stay in LA, and, at 29, with $82.8 million in career earnings, he may be willing to take a pay cut to do it.
That said, after eight NFL seasons where he's missed 33 games (and possibly more next season) with various injuries, Beckham might be looking for one last big-money deal from a team with cap space and a massive need for a No. 1 WR.
This is what makes Beckham's tweet about what's happening with the Indianapolis Colts so intriguing.
OBJ likes what's happening with the Indianapolis Colts
After jettisoning quarterback Carson Wentz to the Washington Commanders, the Indianapolis Colts looked around the NFL's QB carousel for a signal-caller of their own.
Following a disastrous flirtation with Deshaun Watson, the Atlanta Falcons finally agreed to part ways with the franchise's 14-year veteran passer, Matt Ryan. With a few phone calls and a third-round pick, Ryan left the only team he's ever known to become the fifth Colts starting quarterback in the last five seasons.
Now, a team that was one disastrous loss to the Jacksonville Jaguars away from making the playoffs in a relatively weak AFC South has an upgraded QB situation, a still-stout defense, an excellent O-line, an All-Pro running back, a new pass-rusher in Yannick Ngakoue, and $16 million in cap space.
With T.Y. Hilton a free agent and Zach Pascal signing with the Eagles, the biggest thing the Colts could use this offseason is a top pass-catcher to complement Michael Pittman Jr. and Parris Campbell.
Enter Odell Beckham Jr.?
The free-agent WR recently tweeted about the situation in Indy, writing, "Random thought …. Bruh I really think Matt Ryan to the colts was actually [fire emoji], I think bruh will elevate and do sum special over there."
If OBJ tweets eye, horse, and shoe emojis next, the move to Indy could be on.
Would Beckham be a good fit with the Colts? 
Odell Beckham Jr. was once one of (if not) the best WRs in the NFL. Age, injury, and attitude have taken that distinction way from the outspoken wideout. But, as he showed in his brief Super Bowl appearance with two catches for 52 yards and a touchdown, he can still show flashes of that New York Giants OBJ.
Chances are, Beckham will end up back with the LA Rams for the 2022 season. It will likely be on a short-term deal for not a lot of cash. And it may not even start in Week 1, but returning to his Lombardi Trophy-winning squad makes the most sense.
However, if Beckham does decide to see if there's a bigger payday out there, or the Rams decide to roll with Cooper Kupp, Allen Robinson II, Van Jefferson, and Ben Skowronek, the former LSU Tiger could end up on another team.
The Indianapolis Colts make sense as that team, but only in 2022.
For one season, Matt Ryan and Beckham could get along in the nation's heartland, and the winning team this connection would help create would keep OBJ happy in a run-dominant offense.
Beckham could be the final piece that makes the Colts a real playoff contender in the AFC.
All that said, beyond 2022, the marriage would become a real problem.
As cool as hanging out with Pat McAfee and "the Boys" for a season would be, Indianapolis doesn't quite offer the glitz and glamor of New York or LA. Also, Ryan's physical gifts are declining, and RB Jonathan Taylor's are on the uptick, meaning neither Beckham nor the passing game will be the focus of Indy's offense in the coming years, and we all know how the WR responds to that.
Lastly, as much as Ryan and Beckham could make the Colts a playoff contender, the franchise wouldn't be a realistic Super Bowl squad. The AFC is too stacked with future Hall of Fame QBs in their prime for the Colts to truly contend.
All contract figures courtesy of Spotrac