An Odell Beckham-Vikings Partnership Wouldn't Make Minnesota a Feared 2022 NFL Playoffs Team
The common narrative around free agent wide receiver Odell Beckham Jr. is that he is going to sign with either the New York Giants, Dallas Cowboys, or Buffalo Bills. However, at the 11th hour, just days before the All-Pro wide receiver is expected to sign, there is a surprise fourth entrant into the race. Could OBJ be on his way to the Minnesota Vikings? If he is, that will absolutely help Kirk Cousins and the team for the rest of the regular season. However, an Odell Beckham-Vikings partnership won't strike fear in the hearts of their NFL playoffs opponents. Here's why.
An Odell Beckham-Vikings team-up prioritizes passing over running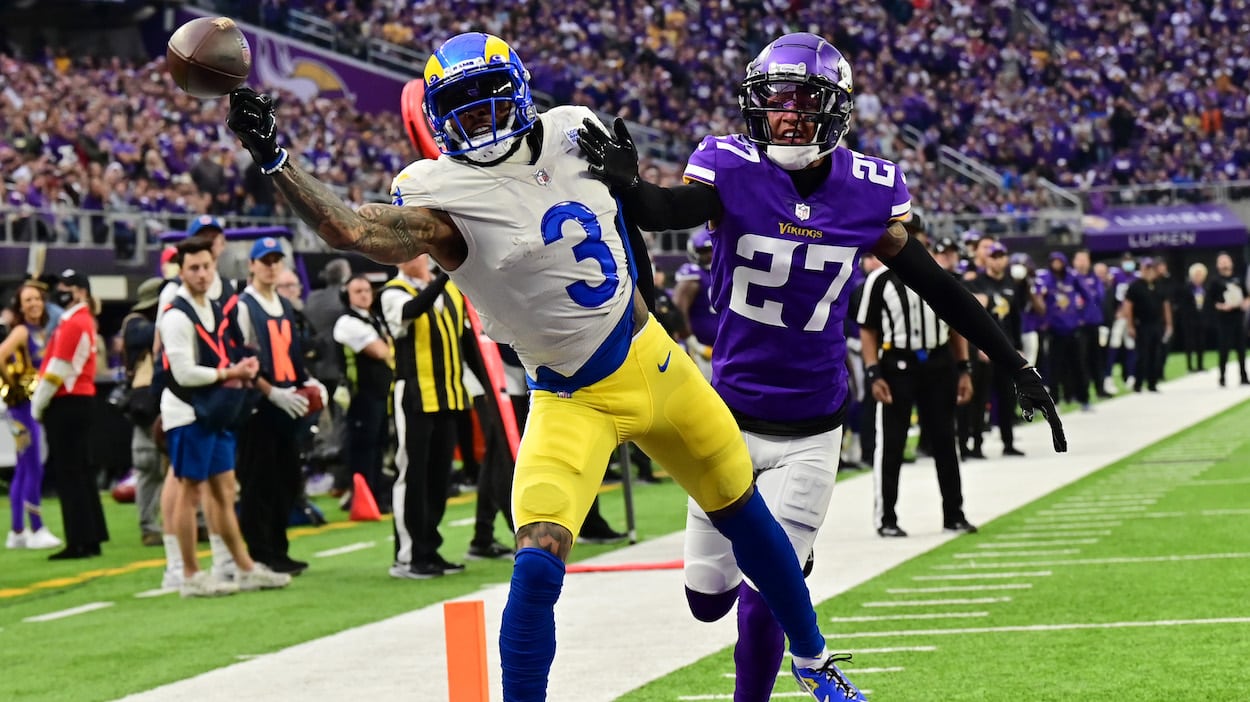 In a vacuum, the addition of Odell Beckham Jr. will likely make any offense better. When healthy, he's a top-20 WR in the NFL.
Part of the issue with OBJ this season, though, is that after tearing his ACL in February, we have no idea if we will get the healthy Beckham. The former Giants, Browns, and Rams star is 30 years old, and he suffered the type of knee injury that often keeps even younger players out for a year or more (see Chase Young, Jameson Williams, Tre'Davious White).
Let's assume the wideout will be relatively the same physically as he was last season, though, as we discuss why an Odell Beckham-Vikings combo won't make the team a Super Bowl favorite.
The first reason OBJ won't move the needle for Kirk Cousins and the Vikings, in the long run, is that the team is better when they commit to running the ball with Dalvin Cook. Kevin O'Connell's bunch are 10-2 this season, and in the losses, Cook has two of his three lowest rushing totals of the season. In eight of the Vikings' 10 wins, Cook had over 75 yards.
Bringing in Beckham distracts from the balance that makes the Vikings offense so good. And O'Connell, who comes from the Sean McVay coaching tree, could get easily distracted into passing too much, as McVay does from time to time.
There are arguments to be made that Beckham is a good run blocker (he is) and that more offensive weapons equal more space for Cook (it does) if O'Connell stays the course. So, this is definitely a concern, but it is also not the only reason an Odell Beckham-Vikings marriage doesn't win them the trophy.
The free-agent signing doesn't solve the Kirk Cousins problem
The bigger reason that an Odell Beckham-Vikings pairing doesn't ultimately move the needle in the NFL playoffs is that, no matter how well OBJ plays, Kirk Cousins is still the Vikings QB.
This isn't a Cousins hit job, either. He is an above-average NFL quarterback who, in most situations, is an excellent signal-caller to have. However, you can't ignore how much he struggles when the pressure is on.
Cousins has a 1-3 postseason record. This year's Vikings squad is likely the best he's ever played with, though, so this could improve. What's more concerning is his primetime record. In 28 games played after the 4 pm ET window, Cousins is an abysmal 10-18.
Digging further, in Thursday (3-4), Saturday (1-0), and Sunday (4-4) night games, he is now 8-8 after his Thanksgiving Day win vs. the New England Patriots. By doing some quick math, you probably already realize that means he's 2-10 on Monday night when his team is the sole act in town.
It's doubtful this poor record is actually about the time of day the game is played. What seems more likely is that Cousins struggles when the most eyeballs are on him and his team.
This season, Justin Jefferson, Dalvin Cook, Kevin O'Connell, and maybe even Odell Beckham Jr. will be there to try and help Cousins over this hump. However, a zebra rarely changes his stripes, especially at 34, so Minnesota is likely in trouble in the NFL playoffs even if an Odell Beckham-Vikings pairing comes to fruition.