Oklahoma Sensation Caleb Williams Lands a $1 Million Offer From a Former NFL Quarterback
Caleb Williams threw for 1,916 yards in a memorable freshman season as the quarterback for the Oklahoma Sooners. Now, he's ready to give fellow NCAA athletes a run for their money when it comes to the new pay-for-play landscape of college football.
His best move could be to stay put at Oklahoma if he wants to play in the NFL. Still, the idea of picking up $1 million just one year removed from high school must be tempting.
Caleb Williams is coming off an impressive freshman season
The Oklahoma Sooners chose wisely in recruiting Caleb Williams out of Washington, D.C., despite the pandemic shutting down his senior high school season before it started.
Williams took over as the Sooners' starter midway through his true freshman season, finishing with 1,916 yards on 64.6% accuracy and 21 touchdowns against just five interceptions. He also averaged 5.6 yards and scored six TDs running the ball.
At 6-foot-1 and 183 pounds at age 20, Williams can expect to fill out a little more while in college, but he is already a promising NFL prospect. However, where he does the remainder of his preparation for the pros is the No. 1 offseason question in Norman.
Caleb Williams owns a $1 million offer from former NFL QB Charlie Batch
Oklahoma Sooners star Caleb Williams has declared free agency by entering the transfer portal. While it's seemingly a radical move for a quarterback with reasonable job security at a high-profile FBS school, Williams is understandably cautious following the departure of head coach Lincoln Riley. That's because the Sooners turned to Clemson for their new coach, hiring Brent Venables.
Venables has made his coaching mark on the defensive side of the ball. Any quarterback would have reasonable concerns about the offensive scheme a new coach might install, so entering the transfer portal offers Williams options even as he says returning to OU remains a possibility.
However, following Riley to USC is also a possibility. Georgia, which is playing for a national championship, is another potential landing spot.
Now, an unexpected suitor has entered the picture. Former Eastern Michigan quarterback Charlie Batch is trying to lure Williams to his old school with the promise of a $1 million NIL deal from an investment firm with ties to the former NFL quarterback, according to the Detroit Free Press.
"GameAbove Capital is prepared to pay you ONE MILLION DOLLARS for one year!" Batch tweeted. "Are you ready be an EAGLE?"
It's a serious offer for the Oklahoma Sooners quarterback to weigh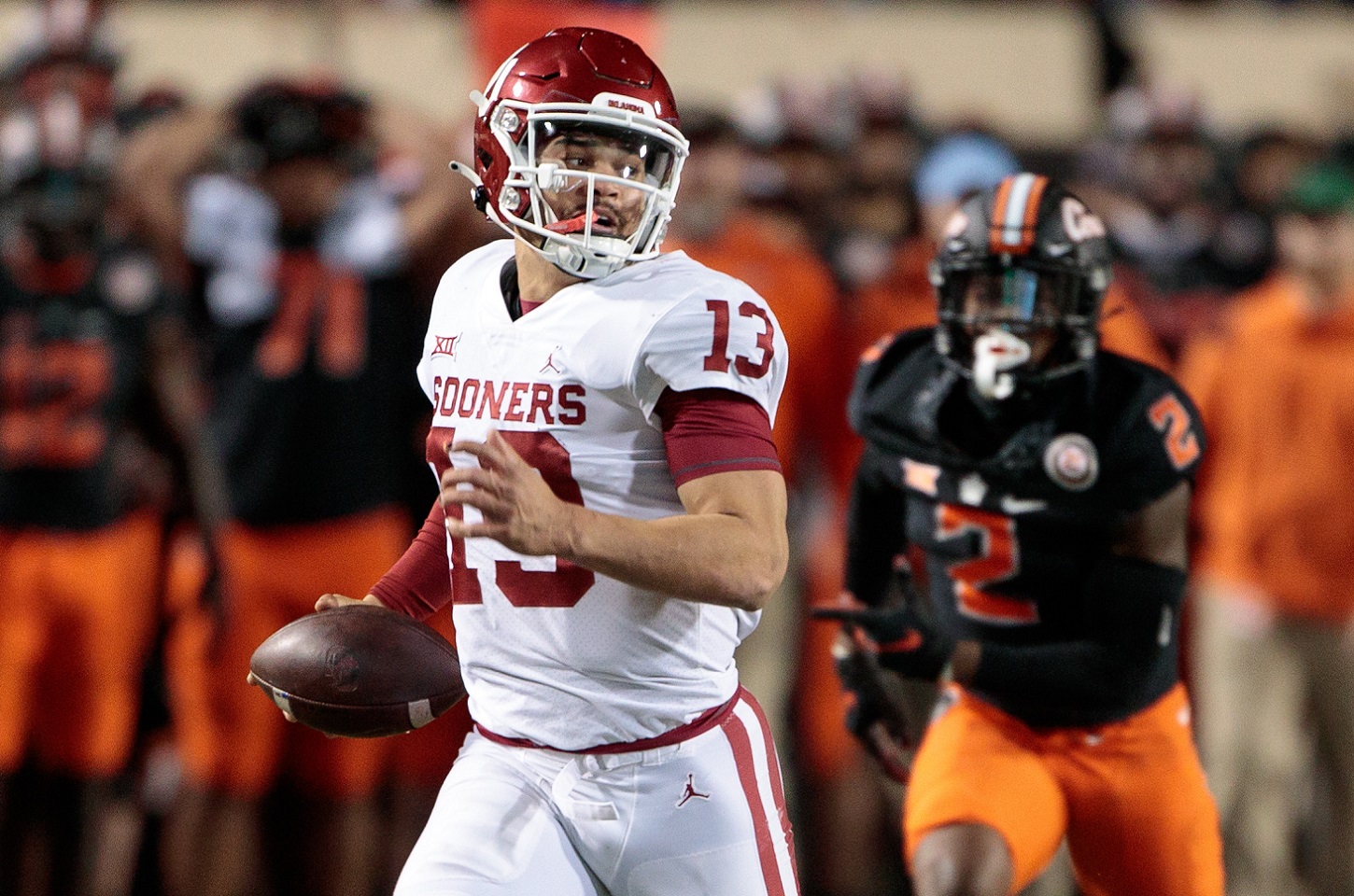 As recently as a year ago, the $1 million offer that Charlie Batch has made to Oklahoma Sooners QB Caleb Williams would have been a big no-no. However, the NCAA succumbed to pressure from state and federal governments and agreed to allow athletes to cash in on their Name, Image, and Likeness (NIL) rights.
NIL deals earned some college stars deals adding up to the high six figures, and some may have already cracked $1 million once the various individual arrangements are totaled.
Williams' situation is unique on a couple of fronts:
Though there are unconfirmed reports that Travis Hunter just shunned Florida State to commit to $1.5 million in NIL deals at Jackson State, a single NIL deal for $1 million potentially breaks new ground. Any inducement to leave a Power 5 program for the Mid-American Conference is also different.
A former high-profile athlete interjecting himself into a college player's decision about transferring adds to the glare of the spotlight already on Williams.
Charlie Batch played his college football at Eastern Michigan, where he threw for 3,280 yards and 23 touchdowns as a senior in 1997. The Detroit Lions selected Batch in the second round of the 1998 draft, and he played 12 NFL seasons with them and the Pittsburgh Steelers. He retired in 2012 after making 55 pro starts, all but nine of which came in his four seasons with the Lions.
Whether Williams hops on the Eastern Michigan offers or another opportunity remains to be seen. Still, walking away for an Oklahoma program that produced Baker Mayfield, Kyler Murray, and Jalen Hurts in consecutive seasons might require convincing more substantial than a $1 million payday.
Like Sportscasting on Facebook. Follow us on Twitter @sportscasting19.