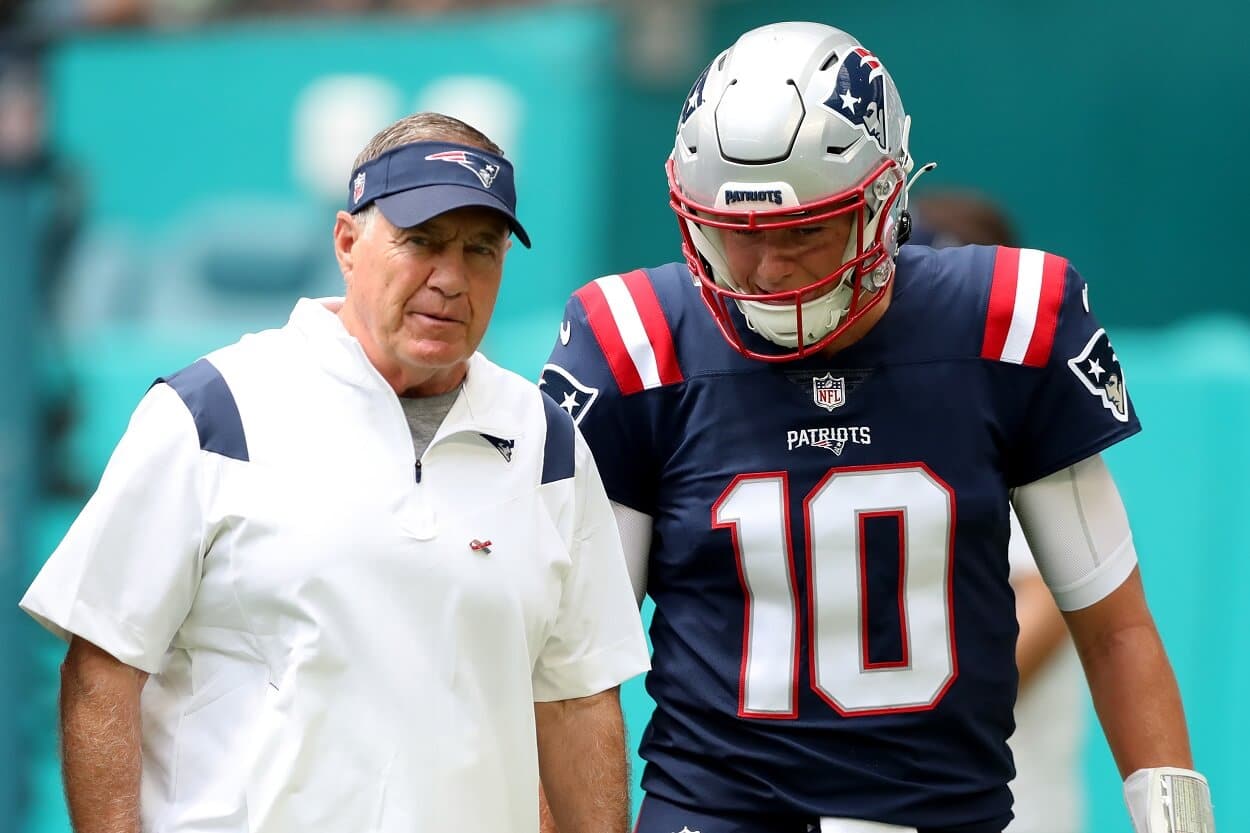 An Old Friend Just Opened the Door for Bill Belichick to Make Things Right With Mac Jones
Bill Belichick needs to take advantage of his former employee releasing DeAndre Hopkins.
Instead of setting his second-year signal-caller up for success, Bill Belichick did the exact opposite by putting one of his closest confidants in charge of calling plays for the 2022 season. To no one's surprise, the Matt Patricia-as-OC experiment backfired badly on multiple levels. Not only did the New England Patriots miss the playoffs for the second time in three years, but promising quarterback Mac Jones regressed mightily after looking like a worthy successor to Tom Brady as a rookie.  
While the backlash from banking on a familiar face to fill a vital role ultimately led to yet another known commodity coming back to Foxborough, new offensive coordinator Bill O'Brien isn't the only former ally Belichick should be thanking this offseason. 
After all, one of his proteges just paved the way for the Patriots to make a substantial upgrade to their anemic offense. More importantly, Belichick officially has an opportunity to make up for his past mistakes and prove to Jones that he's truly committed to building a championship team.
Monti Ossenfort just pulled a page out of his old boss's playbook
It certainly hasn't taken long for Monti Ossenfort to make his mark in Arizona. After ascending from personnel assistant to director of college scouting with the Patriots and serving as director of player personnel from 2020-22 with the Tennessee Titans, the 45-year-old was named general manager of the Arizona Cardinals back in January. 
Clearly, the longtime NFL front-office executive learned a thing or two from his mentor in New England. 
In addition to executing a number of trades in the 2023 NFL Draft to accumulate more capital, Ossenfort pulled a page right out of Bill Belichick's playbook over the weekend by cutting ties with a big-name star. Following months of trade rumors, the Cardinals released DeAndre Hopkins on May 26, bringing a swift end to his three-year stint in the desert. 
Considered one of the best receivers of his generation, the five-time Pro Bowler carried a $19.45 million base salary for 2023 that clearly didn't fit in the Cardinals' financial plans. However, the fact Ossenfort outright released the team's most accomplished player rather than getting even a late-round pick in return definitely raised eyebrows. 
Unfortunately for Kyler Murray, Hopkins' release means he can't count on having a true WR1 when he's healthy enough to play again. On the other hand, having a three-time first-team All-Pro hit the free-agent market right before training camp begins means Belichick can finally do right by his own quarterback. 
The Cardinals' cost-cutting move can help Bill Belichick atone for 2022
One team's trash is another team's treasure. 
While money is the primary reason Hopkins is no longer a Cardinal, it's fair to point out that he's missed time in recent years due to injuries and a PED suspension. Still, even an aging version of the sure-handed wideout would represent a massive upgrade for just about every NFL team. 
And when it comes to the Patriots' current crop of pass catchers, there's no doubt they desperately need someone like Hopkins. As much as New England may be high on speedy second-year pro Tyquan Thornton, there isn't a coach with a worse track record of drafting and developing receivers than Belichick. Meanwhile, it's difficult to get overly excited about a group that includes big-bodied (and injury-prone) veteran DeVante Parker, the talented but inconsistent Kendrick Bourne, and JuJu Smith-Schuster, someone who's best utilized as a No. 3 WR. 
With Hopkins free to sign with any team, Belichick shouldn't hesitate to pull the trigger on a deal. Unlike the Buffalo Bills and the Kansas City Chiefs, the Patriots have the cap space to accommodate his contract. Plus, they can create more room by signing homegrown players like Michael Onwenu and Kyle Dugger to extensions. 
In other words: Money shouldn't be an issue. 
And even if Hopkins has a high asking price in mind, this isn't the time for Belichick to be in bargain-hunting mode. With his own job potentially on the line, he needs to do everything possible to put the Patriots in a position to at least make the playoffs in 2023. Getting Jones a bonafide weapon like Hopkins would breathe new life into an offense that looks underwhelming on paper. 
Given how poorly last year went, Belichick should seek to undo the damage he caused by being more aggressive in building an offense that can compete in today's NFL. And he should be committed to smoothing things with Jones so the team can evaluate the signal-caller's future fairly. Adding Hopkins on a one-year deal would make the Patriots a threat in the AFC in 2023, give Jones confidence, and maybe even buy Belichick more time in his pursuit of Don Shula's all-time wins record.
Would the Patriots be willing to outbid other teams for DeAndre Hopkins?
Money talks — and it will be fascinating to see if Belichick steps up to ensure Hopkins doesn't join another interested suitor. The Patriots typically don't enter into bidding wars, especially with big-name veterans on the wrong side of 30. In many ways, ponying up $15 million or more for a single season of Hopkins' services would go against everything Belichick has stood for two decades. 
Then again, desperate times call for desperate measures. 
The Patriots look bound to finish fourth in an AFC East division that now includes Aaron Rodgers, Josh Allen, and Tua Tagovailoa. Considering how outspoken Robert Kraft has been the past few years about his desire to win playoff games again, does Belichick view 2023 as his last chance to prove he deserves to stick around? If so, that could cause him to go against the grain and do something out of the norm, like signing Hopkins to an expensive one-year deal. 
Still, it's not like the Patriots should be the only team looking to convince the star receiver to sign on the dotted line. The Chiefs and the Bills could use help at the position. In the NFC, the Detroit Lions and New York Giants stand out as potential landing spots. Both franchises are on the cusp of contending and could use a proven WR1. 
So, if Bill Belichick wants to do right by Mac Jones, he's going to have to pay up. 
Thanks to his old friend, though, at least he won't have to surrender a draft pick.