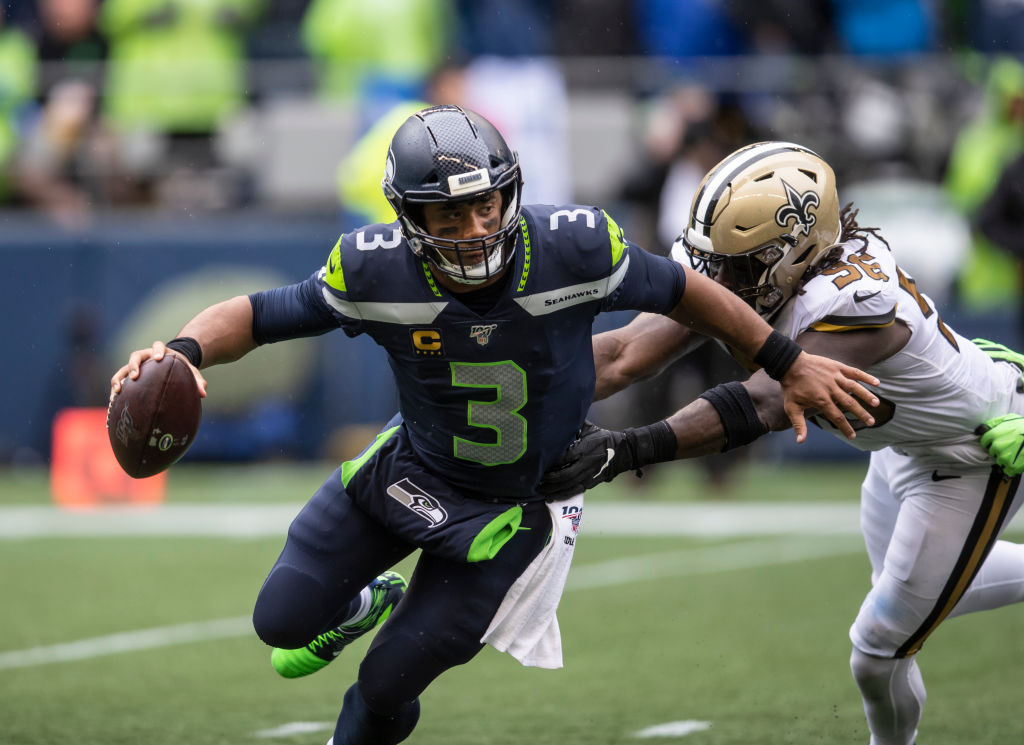 One Unconventional Coach is Helping Seattle Seahawks Quarterback Russell Wilson Thrive
Russell Wilson works with countless Seattle Seahawks staffers every day. But one less conventional coach may be the key to his success.
If it takes an entire village to raise a child, it takes a city to run an NFL offense. Between the scouting staff, coaches and coordinators, and, of course, the players, there are plenty of cooks in the kitchen. Sometimes, a single relationship can simplify everything. Just ask Russell Wilson.
Beyond his standard preparation, the Seattle Seahawks quarterback spends a great deal of time working with one specific coach. That man, however, helps the signal-caller focus on something much more complicated than throwing the perfect spiral.
Russell Wilson's College Football Career
During his time in college, Wilson famously played football and baseball. He started out at North Carolina State, playing quarterback during the fall and working out with the Colorado Rockies during Spring Training. After three strong seasons in Raleigh, however, Wilson needed to make a change.
The quarterback transferred to the University of Wisconsin and promptly threw for 33 touchdowns while running for six more. He led the Badgers to the Rose Bowl, where they would lose to the Oregon Ducks, before being drafted by the Seattle Seahawks.
Wilson transitioned seamlessly to the NFL level, winning the Seahawks starting job out of the preseason. He carried the club to the playoffs in his rookie year; Seattle would fall in the Divisional Round, but Wilson led them to a Super Bowl title the next year.
Russell Wilson's great expectations
After winning the Super Bowl in his second season and losing in the championship game in 2014, Wilson became a victim of his own success. It wasn't enough to be a good quarterback; he had to be one of the league's best. Things don't always go smoothly, though.
Wilson was plagued by nagging injuries throughout the 2016 NFL season, causing a slump in production. While his stats rebounded in the next year, the Seahawks missed the playoffs.
After that setback, though, Wilson came back stronger. He threw for 35 touchdowns in 2018 and earned a massive four-year, $140 million contract extension. Throughout all the peaks and valleys of his career, however, one man has quietly been helping the quarterback.
Russell Wilson's mental coach
In 2012, Wilson was preparing for the NFL draft when he met Trevor Moawad, who was IMG's director of performance at the time. The pair worked together on mental training, and the young quarterback couldn't get enough; after their sessions ended, he asked Moawad to keep in touch.
The pair still work together, primarily focusing on Wilson's mental state, which Moawad believes is the key to success. "Superhero gifts are not the defining factor," he told ESPN. "Elite behavior is the deciding factor, and you take people with average talent and great behavior, they're going to make it. Russell is a collection of world-class behaviors."
The psychology of an NFL comeback
One of their major focuses has been "neutral behavior," which essentially means not getting too wrapped up in positive or negative emotions. When you're trying to guide an NFL team through a fourth quarter comeback, a level head is essential.
Moawad holds up Wilson's famous comeback against the Green Bay Packers in 2015 as an example of the practice. The Seahawks trailed 16-0 in the contest before coming back to win in overtime; Wilson threw four interceptions but rallied his team to victory.
 "Neutral thinking is truth-based thinking focused on behaviors, and Russell's language is all about competing. There's time. He's not pretending that he didn't throw four picks," Moawad explained. Once Wilson is in the right mental state, his physical skills can take over.
It's easy to think of football as a game of pure physicality. Russell Wilson, however, is showing that your brain matters as much as your brawn.