The Orioles Signed Chris Davis to a Crippling $161 Million Contract, and It's Going to Get Worse
Following a 13-year career in the big leagues, power-hitting first baseman Chris Davis officially announced his retirement on August 12. 
A longtime member of the Baltimore Orioles who began his career with the Texas Rangers, Davis' tenure with the O's will go down in history as one of the worst. He was widely overpaid upon first joining Baltimore (a contract that includes crippling deferred money) and never established a sense of consistency at the plate.
Having spent a majority of the past two seasons on the injured list due to a hip injury, Orioles fans around the US likely exhaled a sigh of relief upon learning of Davis' retirement.
Unfortunately for those fans and the Orioles franchise as a whole, said crippling contract isn't going anywhere anytime soon.
Chris Davis' massive seven-year, $161 million contract includes deferred money through 2037
As one typically sees with a smaller market team like the Orioles, their front office had to heavily rely upon deferred money when negotiating a contract extension with Davis in 2016. 
The lefty slugger was coming off a 2015 campaign in which he hit a league-leading 47 home runs and was looking for a large offer to remain with the Orioles. Davis also led the major leagues in both home runs (53) and RBIs (138) just a few years prior in 2013 — he had every right to ask for big money from Baltimore.
It's also worth highlighting that Davis is/was represented by infamous MLB agent Scott Boras. He has a way of making sure his players always receive top dollar.
The Baltimore Orioles will be making payments until 2037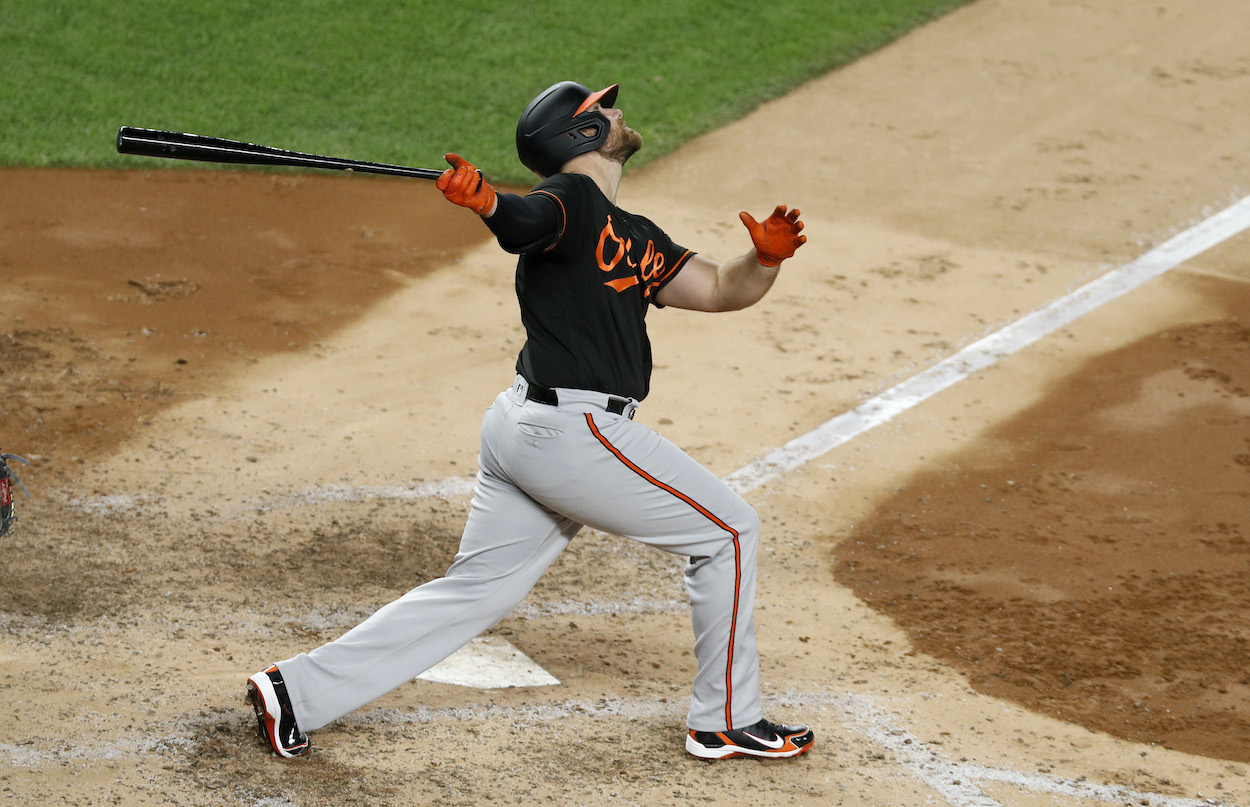 The seven-year, $161 million contract that the Orioles handed to Davis is the largest in Orioles' franchise history, and it also contains deferred money all the way through 2037.
Yes, you read that correctly — through 2037.
According to spotrac.com, Baltimore will be making yearly payments ranging from $9.16 million to $1.4 million until Davis is 51 years old. The total money still owed to Davis comes out to roughly $59 million. His retirement gives a false sense of "escape" to the Orioles franchise and its fans; however, the reality is that their debt to Davis has only just begun.
Like how the New York Mets are forced to make yearly payments to Bobby Banilla, the Orioles will have to get used to sliding a few million dollars Davis' way once a year.
Chris Davis still had some impressive years worth applauding
While Davis will primarily be remembered for this abysmal contract and his lackluster final years with Baltimore (he once recorded an 0-for-54 hitless streak in 2019), the power-hitting first baseman did have some strong years that are worth remembering.
Davis' 1.004 OPS, which he recorded in 2013, saw him place third in the AL MVP voting and his .923 OPS in 2015 saw him place 14th. Davis' biggest issue was his inconsistency. When firing on all cylinders, he was one of the best sluggers on the planet. However, he frequently followed up these MVP-caliber performances with seasons in which his OPS plummeted into the .700s.
Davis' final few years with the Orioles were specifically bad, as he recorded a sub-.200 batting average in 2018, 2019, and 2020. However, that still doesn't take away from finishing his MLB career with 295 career home runs. An impressive total, no matter how bad he was at times.
With that said, the Orioles likely won't care about Davis' glory days. They're stuck paying him for the next 16 years, which is only going to limit an already money-strapped front office further.
All stats courtesy of Baseball Reference.