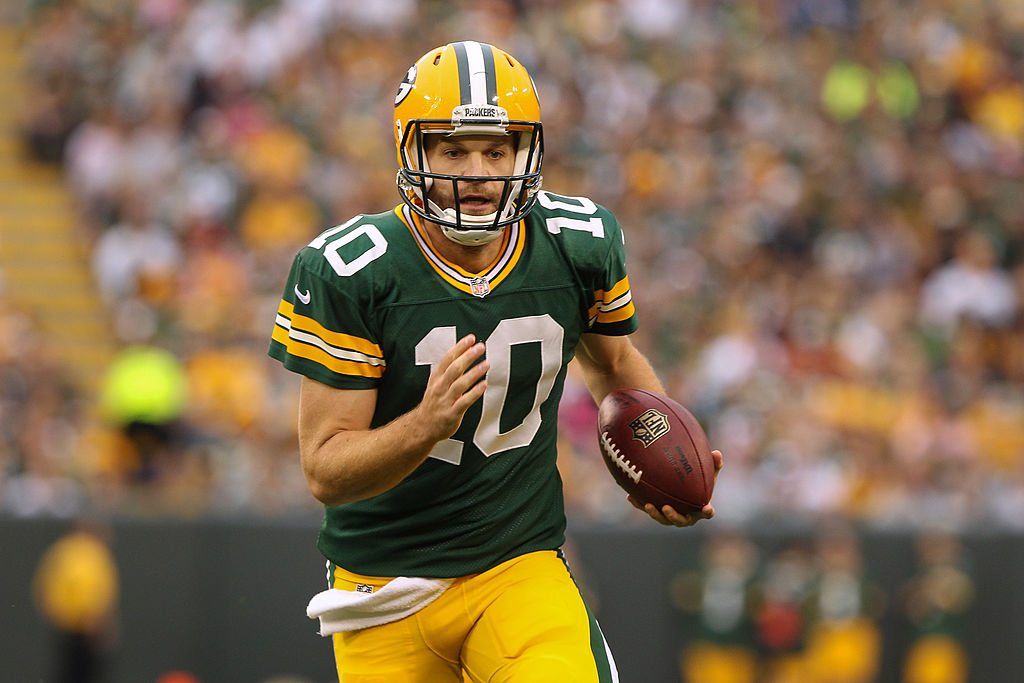 Packers Quarterback Matt Flynn Turned 7 NFL Starts into a $19 Million Career
Matt Flynn might have only won a handful of starts during his NFL career, but the quarterback still made more than $19 million.
Historically, the Green Bay Packers have had pretty good luck with quarterbacks. Bart Starr led the club to three NFL championships and five Super Bowl titles; more recently, Brett Favre and Aaron Rodgers have ruled the roost. From 2010 through 2013, however, Matt Flynn stepped under center for a handful of games.
While some fans may remember Flynn's six-touchdown performance in 2012, he never developed into an NFL starter. That didn't hurt his bank account, though; he turned seven total starts into a $19 million football career.
Matt Flynn's road to the NFL
As a high school quarterback in Texas, Matt Flynn started making a name for himself. USA Today said that he "may be one of the best quarterback prospects in the country;" on the back of that reputation, he headed to LSU.
With the Tigers, however, Flynn didn't get much of a chance to shine. He redshirted during his first year on campus, then spent the next three seasons backing up Jamarcus Russell. Flynn finally took over the starting job as a fifth-year senior and led LSU to a national championship.
That one year of success didn't win over any NFL teams, though. The Green Bay Packers eventually selected Flynn in the seventh round of the 2008 NFL draft; in training camp, he managed to beat out Brian Bhrom for the back-up job.
Flynn spent the next four seasons in Green Bay but rarely saw the field. While he did throw for six touchdowns in one of his appearances, he only made two starts before leaving town.
Becoming an NFL journeyman
After his contract in Green Bay ran out, Matt Flynn hit the open market. He signed a new deal with the Seattle Seahawks, hoping to take over as quarterback; that, of course, wouldn't happen.
Flynn arrived in the Pacific Northwest at the same time as a rookie named Russell Wilson. The third-round pick would go on to win the starting job, relegating the veteran to back-up duty. The following spring, Seattle traded Flynn to the Oakland Raiders; his odyssey, however, wouldn't end there.
Once again, Flynn failed to win the starting job; he saw the field twice due to injuries but was cut in October. He then signed with the Buffalo Bills as an emergency back-up. Once the preferred quarterbacks recovered, though, Flynn was released again. The veteran would finish the season in Green Bay, where he started four games with both Aaron Rodgers and Seneca Wallace on the shelf.
The Packers kept Flynn on the books for the next season, but, after the 2014 campaign, he hit the open market again. He signed offseason deals with the Patriots and Jets, but didn't make either roster; he then joined the Saints in November, but never appeared in a game. After that, the journeyman finally called it a career.
Matt Flynn still made millions in the NFL
During his seven-year NFL career, Matt Flynn proved to be more of a journeyman than anything else. He may have only started seven total games, but he still took home a nice chunk of change.
In total, Flynn earned just over $19 million. Most of that money came after leaving Green Bay for the first time, when the Seahawks inked the quarterback to a four-year, $20.5 million deal; while the Raiders cut him during the second season of that contract, he still earned roughly $14.5 million before becoming a free agent.
While no one dreams of being a veteran back-up, Matt Flynn doesn't have any complaints. Not only did he earn plenty of money, but he had a great time doing it.
"I wouldn't take anything back that I've done in my NFL career. It's been so much fun," he told Cameron DaSilva of Fox Sports in 2016. "I've had eight years in the NFL now — six in Green Bay. My time there was special. I'm just thankful for everyone that's given me an opportunity. I've had a blast in the NFL. I'm a stronger person from all the traveling and ups and downs with everything."