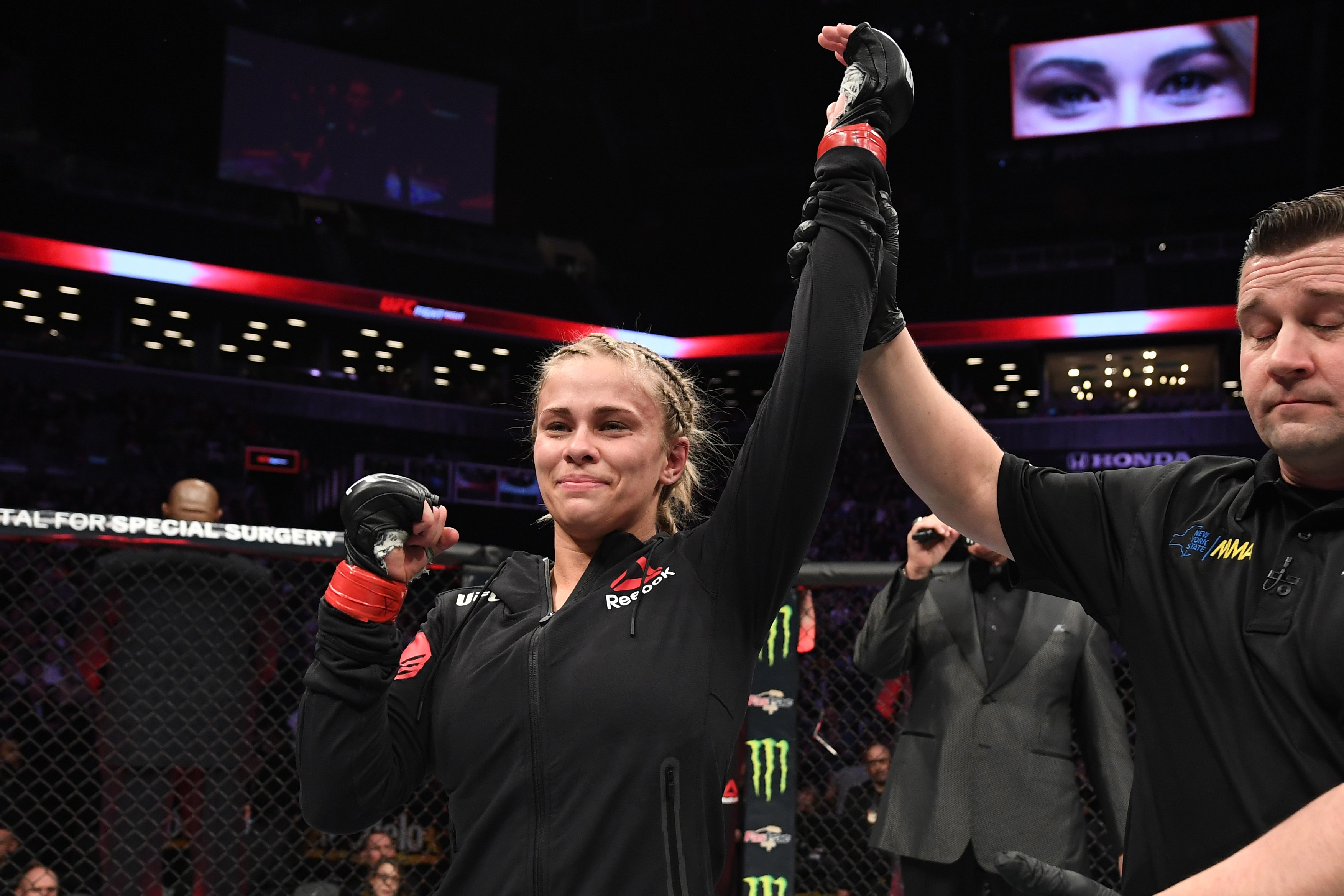 Paige VanZant Punches Back at UFC's Dana White Daring Him to 'Let Me Go'
Paige VanZant didn't put up much of a fight in UFC 251. But she's punching back at UFC president Dana White after his recent remarks.
Paige VanZant publicly admitted before UFC 251 she believed she was undervalued and made more money outside of the octagon than in it. She indicated she planned on testing the free agency market regardless of the fight outcome against Amanda Ribas on Fight Island. 
Following her disappointing performance and early-first round submission loss, Dana White mockingly agreed it would be good for VanZant to explore her opportunities working for another promotion. VanZant has been quiet since the event and White's remarks. Until now. She opened up about his comments, what she personally thinks of him, and then boldly dared him to let her go. 
Paige VanZant wants to get paid
In June, Paige VanZant made news when she was the latest in a line of UFC fighters, including Jon Jones and Curtis Blaydes, who have openly decried the wages paid by the fight promotion. 
"I made more money on 'Dancing with the Stars' than I have in my entire UFC career combined. Every fight, every win, every bonus," VanZant told ESPN's Ariel Herwani days before her fight at UFC 251 against Amanda Ribas. That fight, in which she was paid $46,000, was the last on her contract with the UFC. While she was open to re-signing with the UFC, VanZant said she wanted to test her value on the open market with other promotions.
"I just feel like a regular extension isn't what I want, and I want to prove my worth and my value — and I want a brand-new contract. And I'm really excited to get that opportunity and really test the free agency because how do you know what your value is unless you can go test it amongst all the other sharks?"
VanZant loses fight and White says she got 'smoked'
In Paige VanZant's final fight of her UFC contract, she had every motivation to perform well. She didn't, however, have the ability to overcome an up-and-coming star in Amanda Ribas. 
Ribas came out the aggressor against VanZant and dominated from the start. Ribas didn't have to dominate long as she won in the first round via an armbar submission. It was definitely not the fight VanZant had hoped for, and the result dropped her record to 8-5. Due to injuries, VanZant has seen limited time in the cage the last several years and is 1-3 since 2016. After her loss, Dana White didn't hold back.
"I like Paige … it's like Blaydes, when Blaydes fought last. When you talk all that stuff, 'I'm not being paid enough,' you know?" White said in the post-fight press conference. "Fighting inconsistently, one time in the last year. Injuries, and then got smoked in the first round of the fight? She should definitely test free agency."
Paige VanZant punches back
Since White's comments, Paige VanZant hadn't spoken about the fight or his remarks. That all changed when she had an interview with MMA Fighting. Initially, VanZant sounded hurt by what White had to say.  
"It's unfortunate because I feel like I have a really good relationship with Dana. I feel like I thought we were closer friends and he could text me or call me. Something to have a little bit of compassion, something to communicate with me personally but maybe he will. We just don't know. I'm sure it's an uncomfortable situation.
"I've never spoken negatively about the UFC," VanZant said. "I'm not bitter about where I am in my career, bitter about the position that the UFC has put me in whatsoever. I just felt like for myself, I wanted to test free agency and that's not because I dislike the UFC or dislike Dana or anybody."
While VanZant sounded almost conciliatory in her response, she also punched back against the UFC president. 
"Dana's comments, what I'm hearing you say, he wants me to test free agency then hopefully they just let me go then. If that's how they feel, then they'll just let me be free."
With her past work, including the Sports Illustrated Swimsuit Issue, her promoting brands on Instagram, not to mention her television appearances on "Dancing with the Stars" and the Food Network's "Chopped," Paige VanZant will land on her feet somewhere. She just has to hope she doesn't get taken to the ground because a submission might not be far behind.