Past Champions Criticizing Kyle Larson for a Major Offseason Decision Are Way off Base
The difference between pit bulls and members of the racing community criticizing Kyle Larson is that pit bulls will eventually let go. Unfortunately, promoters and past and present drivers continue to criticize the 2021 NASCAR Cup Series champion for a perfectly reasonable decision about how to handle his offseason.
2021 NASCAR champ Kyle Larson finished second on Sunday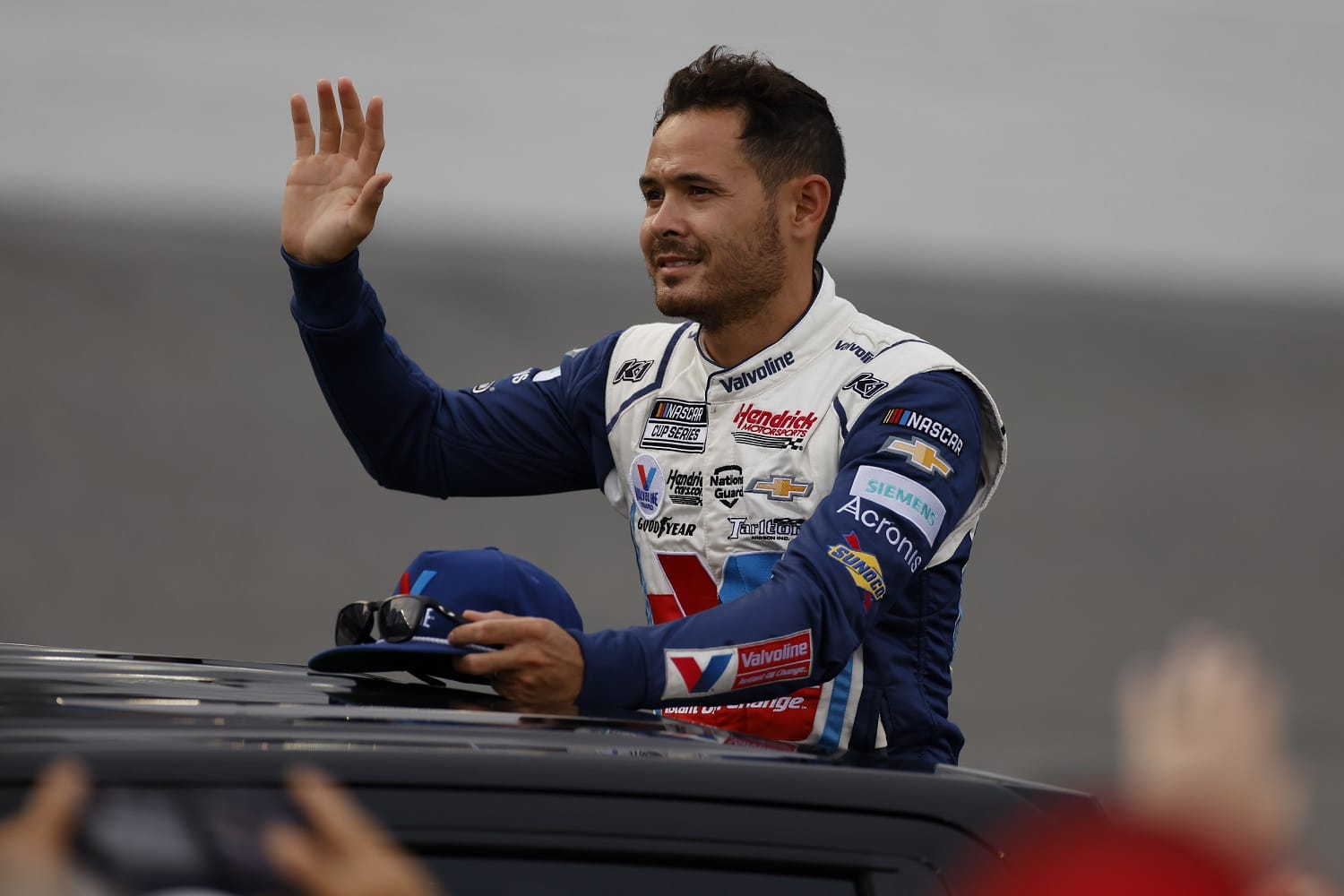 Kyle Larson pulled off a neat trick over the past week, competing in Vado, New Mexico, while living rent-free in the heads of people in Tulsa, Oklahoma, some four hours away by air.
Larson finished second Sunday night in the 50-lap Late Models championship of the Wild West Shootout on the 0.375-mile Vado Speedway Park track. Bobby Pierce executed the last of the event's six lead changes with seven laps to go to capture the $25,000 first prize.
"That was so much fun," Pierce said, according to Speedsport.com. "Kyle raced me so clean. It takes a guy like that to know exactly where he's gonna put his race car and know exactly where I'm gonna put my race car afterwards."
For his part, Larson considered the trip to just north of the Mexican border to be worth it.
"That was the most fun Late Model race I've ever been a part of," he said. "There was more lead changes in one race than there is all season, so that was a lot of fun. … I definitely can't wait for next year. This was definitely more fun than I anticipated, and I'm sure with all the races that we've had night in, night out, the crowd is just gonna continue to get bigger."
Larson's second-place check was $10,000, which probably has his critics howling more than usual.
Criticism of Kyle Larson was coming from everywhere all week
In any other year, Kyle Larson would have spent the week racing midget cars in Tulsa instead of Late Models in New Mexico. However, Larson and fellow NASCAR Cup Series star Christopher Bell, who combined to win five of the last six championships in the Chili Bowl Nationals, decided not to participate. They previously suggested the $10,000 first prize isn't commensurate with what an event with big fields and sellout crowds should be paying.
According to Racing America, Bell's absence may have stemmed more from concerns at Joe Gibbs Racing about keeping him healthy. But Larson has been vocal about the Chili Bowl's payout since last summer and is unapologetic. Promoter Emmett Hahn has pushed back, citing the expense of running a huge event without receiving a share of concession money.
Others sided with Hahn in recent days.
"I'm a Kyle Larson fan, I like Kyle," Jack Hewitt, a multi-time USAC champion from the 1980s, told FloRacing. But him and Christopher Bell don't know how to pick their battles. You pick something that's going to make a difference.
"Emmett Hahn don't give a s*** what Kyle Larson thinks."
Defending champion Tanner Thorson also chimed in.
"I don't want to say too much and burn any bridges, but I'm here," he said. "I'm a little bit sour about it to be honest. I wish those guys were here. I have a really good race car again, and I want to race the best. And if the best are supposed to be here, why aren't they here?"
Then there's this from Keith Kunz, a longtime car owner: "Kyle's forgotten where he's come from."
Hahn got in one more shot.
"First it was about it didn't pay enough and then the story became it was about (paying) the guys in the back of the field," Hahn said. "He bought himself a jet plane, a two-and-a-half-million-dollar motorhome and if he really wanted to help these back of the field guys, he would."
The driver has put his money where his mouth is
Emmett Hahn referencing Kyle Larson's purchases scores cheap points. Winning races in sprint cars or midgets isn't what allows Larson to buy nice things. Rather, he's a superstar in NASCAR, where what Hahn pays as his top prize wouldn't even cover a team's tire bill at the Daytona 500.
And contrary to what Keith Kunz suggested, Larson hasn't forgotten his roots.
Larson and brother-in-law Brad Sweet, the defending World of Outlaws season champion, have invested in Silver Dollar Speedway and are launching the High Limit Sprint Car Series this spring. The 12-race series' prize pool is $1.3 million.
That dwarfs the additional $34,600 Hahn says he added to the Chili Bowl prize purse this year.
"I just wish, if Kyle was that mad about the purse, that he would have called me," Hahn said.
That's a nonsensical comment, of course. If Hahn didn't already understand paying $10,000 to the driver prevailing over 350 other competitors is inadequate, then a call from Larson wasn't going to make a difference.
Got a question or observation about racing? Sportscasting's John Moriello does a mailbag column each Friday. Write to him at [email protected]