Patrick Mahomes' Former Chiefs Teammate Admits It Was 'Tough to Watch' His QB Run for His Life in Super Bowl 55
It wasn't easy for Kansas City Chiefs fans to watch Patrick Mahomes scramble around in the backfield trying to avoid a slew of Tampa Bay Buccaneers during Super Bowl 55. It was even harder for Mahomes' former left tackle to watch his QB run for his life behind a decimated offensive line.
Eric Fisher, who was Mahomes' blindside protector and most trusted offensive lineman last season, watched in horror from the stands during the Super Bowl as Kansas City's line let Buccaneers through all night as if they had E-ZPass.
Patrick Mahomes ran for his life during Super Bowl 55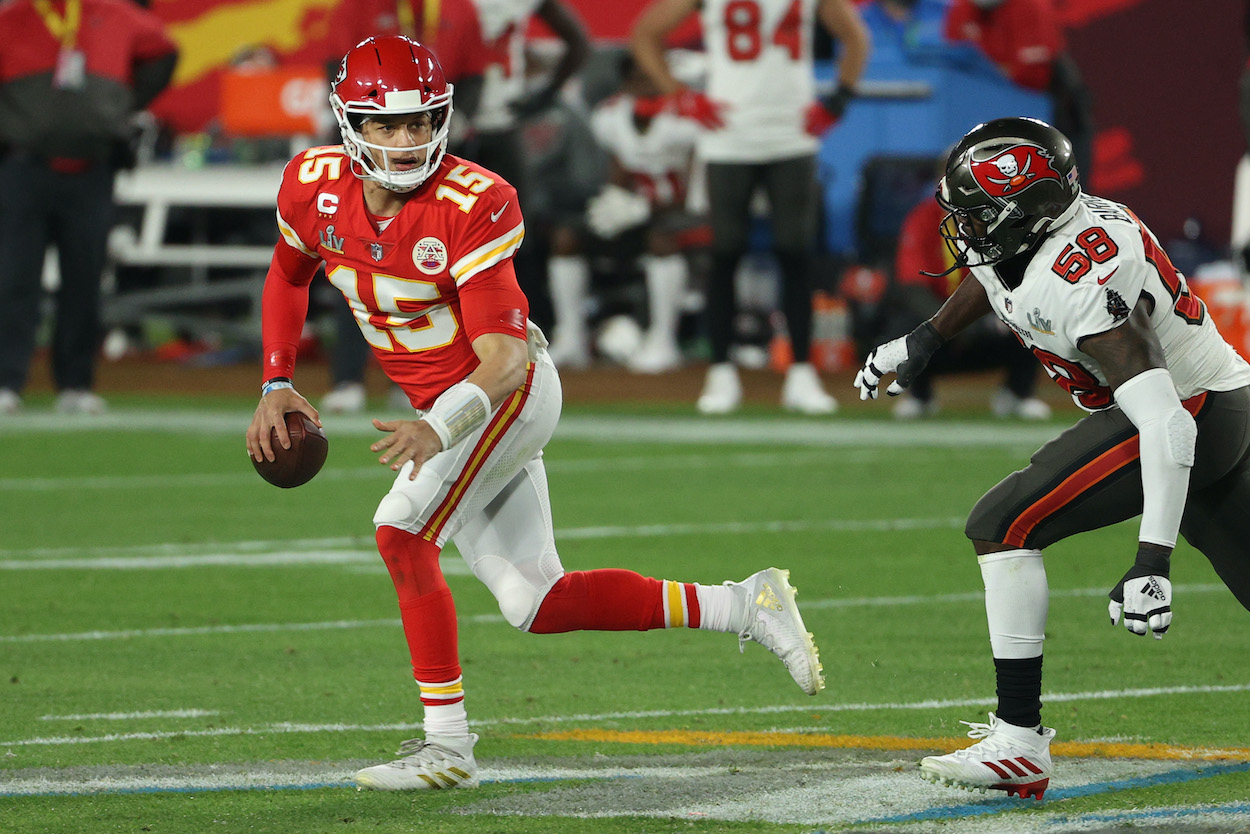 The Chiefs came into Super Bowl 55 with a massive disadvantage along the line of scrimmage. Kansas City was missing Fisher, LG Kelechi Osemele, and RT Mitchell Schwartz to injuries, as well as RG Laurent Duvernay-Tardif and OT Lucas Niang to COVID-19 opt-outs.
Not a great sign when you're going up against a vaunted Buccaneers defensive line that finished the season with the fourth-most sacks in the NFL (48).
Kansas City's biggest fears came true from the opening snap, and Mahomes was on the run the entire game. The makeshift offensive line couldn't block the Buccaneers even if they sent only four pass rushers. Mahomes was hit nine times throughout the game and sacked three times for 27 yards.
According to ESPN Stats and Info, Mahomes was pressured on 29 of his 56 dropbacks, which marked the most pressures in Super Bowl history. All Fisher could do during the onslaught was watch from the stands, and he had a tough time doing it.
Eric Fisher admits it was "tough to watch" Mahomes in the Super Bowl
Fisher was supposed to be Mahomes' trusty bodyguard at left tackle during Super Bowl 55, but an untimely Achilles tear ended his season early. The Chiefs were then forced to start two backup tackles against the Buccaneers, and that went about as poorly as it possibly could've.
Fisher has since signed a one-year deal with the Indianapolis Colts. During his introductory press conference, he spoke about the helpless feeling of watching Mahomes run for his life during the Super Bowl.
"Sitting up in the stands, it was tough to watch, to know that the quarterback that I was protecting was running around there," Fisher said. "It was tough to watch. I like being a consistent player, so to not be available to do that job for my team, it was tough. It just makes me want to get back and stay healthy and just continue to play high-level football for a team."
Fisher excited to get to work with his new quarterback
Fisher won't be back on the field with his new team by Week 1, but he's eager to get started with a new offensive line in front of his new quarterback, Carson Wentz.
"One of the huge things is the offensive line there," Fisher said. "To be able to play next to the best left guard in the league, I'm darn excited for that. But across the board, talented guys everywhere.
"We got a great quarterback coming from Philly and I'm excited to build that chemistry with him, build that chemistry with the guys. But to be a part of that O-line group, I'm really, really chomping at the bit to get back to work. I'm looking forward to it, that's a big part of it and I think we're going to have a lot of success."