Patrick Mahomes Injury: Will Chiefs QB Be Able to Play in the AFC Championship Game?
The Kansas City Chiefs defeated the Jacksonville Jaguars, 27-20, on Saturday afternoon to advance to their fifth straight AFC Championship Game, but that wasn't the biggest story to come out of the win. Patrick Mahomes, who left the field in the first half but later returned to finish the game, was later diagnosed with a high ankle sprain.
With the AFC Championship Game just a week away, it might be impossible for the likely MVP to return to full health by then. So, will Patrick Mahomes be able to play in the AFC Championship next Sunday?
Patrick Mahomes injury: Chiefs QB suffers high ankle sprain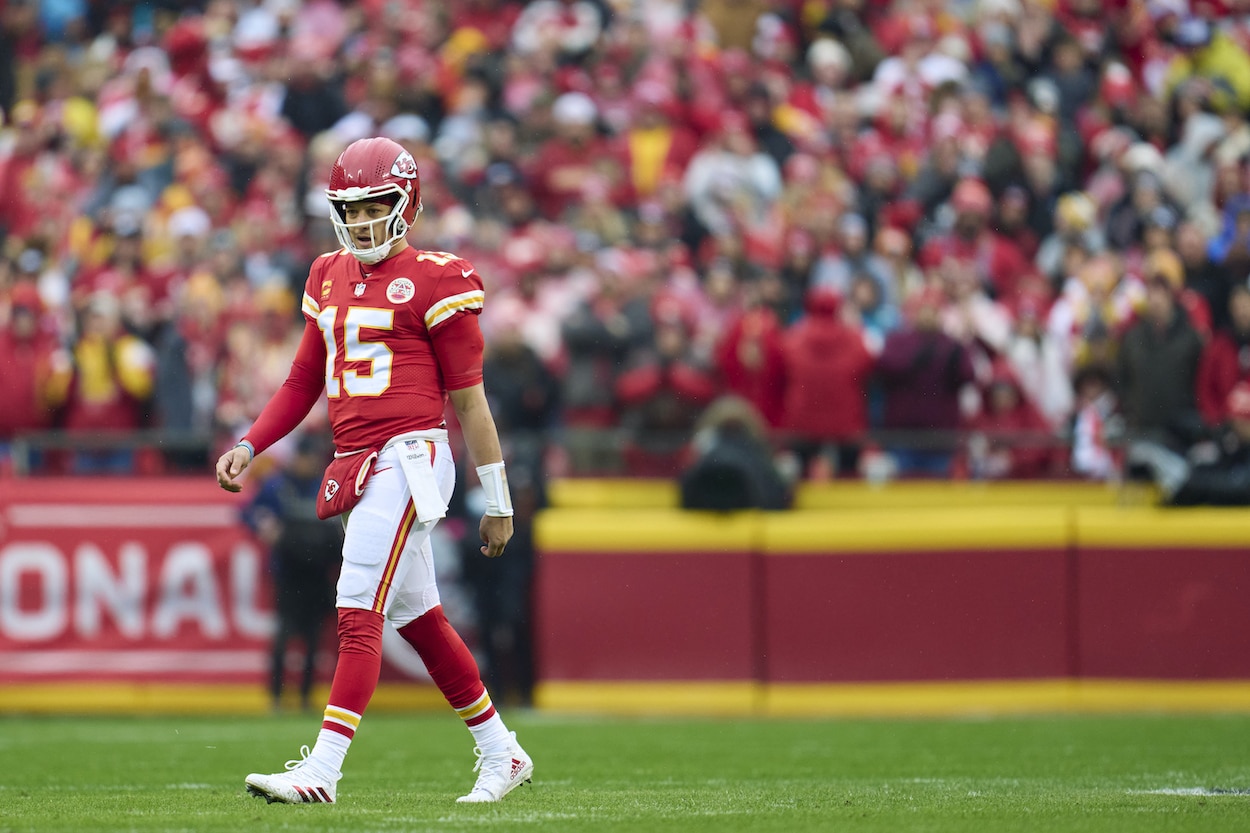 Chiefs fans collectively held their breath on Saturday afternoon when Mahomes went down awkwardly in the first quarter and hobbled getting up. The QB stayed in the game for the rest of the drive, but he later walked back to the locker room to get his right ankle X-rayed.
The X-rays came back negative, so Mahomes returned to the game and led the Chiefs to a 27-20 victory over the Jaguars.
Although Mahomes was able to finish the game, he didn't escape a concerning injury. The 27-year-old underwent an MRI on Sunday that revealed a high ankle sprain, per a tweet from Adam Schefter of ESPN. Will Mahomes be able to suit up in the AFC Championship and play through the pain?
Will Patrick Mahomes play in the AFC Championship Game?
High ankle sprains can knock NFL players out for multiple weeks, but Mahomes doesn't plan on letting his injury stop him from playing in the AFC Championship Game.
"It feels better than I thought it was going to be now," Mahomes told reporters after Saturday's win, per ESPN. "Obviously, I have a lot of adrenaline going right now, so we'll see how it feels. But I'll hop right in the treatment and try to do whatever I can to be as close to 100% by next week. Luckily for us, we played the early game on Saturday, so we get an extra almost half a day that I can let that ankle rest."
Chiefs head coach Andy Reid also expects Mahomes to suit up next Sunday, although he'll be playing through some pain.
"Let's just see how it goes here the next couple days," Reid said. "It's going to be sore, I know, but let's see where he is at. He's had this before, and he was able to keep pushing through."
To that point, Mahomes suffered a high ankle sprain in Week 1 of the 2019 season. It didn't cost him any missed games, though, and he threw for 817 yards and seven touchdowns over the next two weeks. Mahomes may not be able to scramble as effectively as he normally does, but his high ankle sprain shouldn't affect his ability to chuck the ball down the field.
So, yeah, he'll be out there against the Cincinnati Bengals.