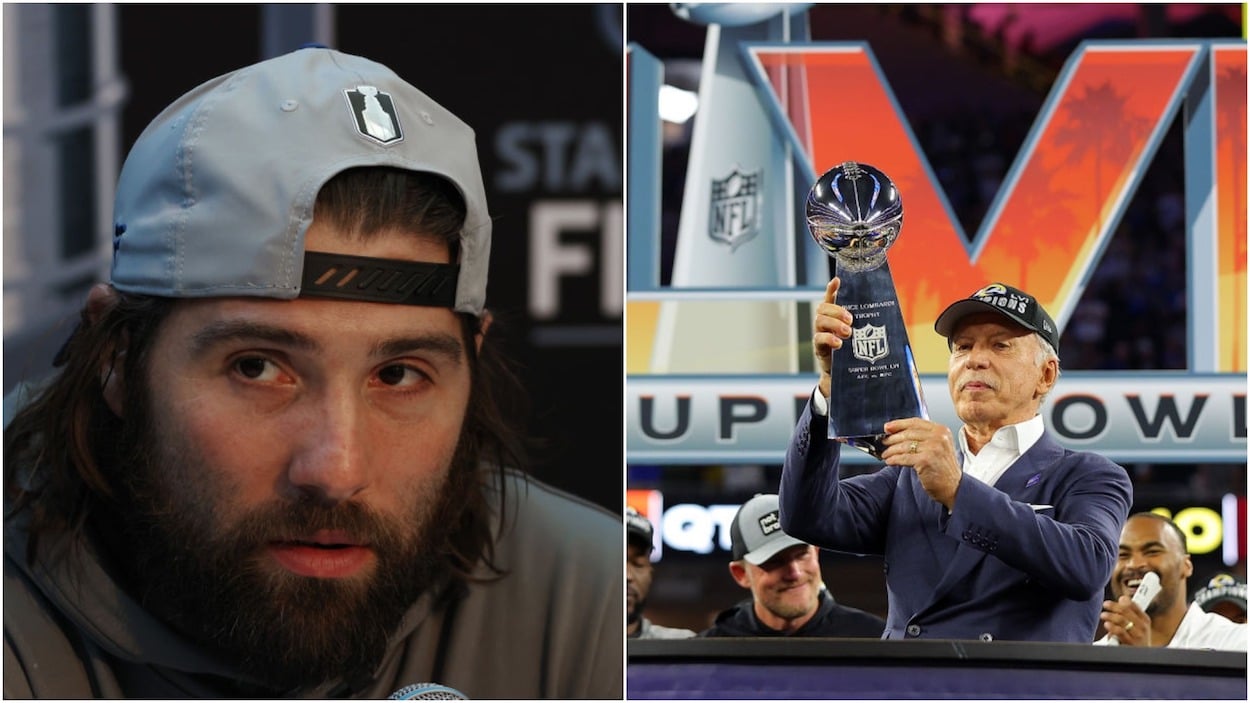 Patrick Maroon Calls Out Avalanche Owner Stan Kroenke Ahead of the Stanley Cup Final: 'I Can't Stand That Guy'
In pro sports, rivalries form between multiple players. Tampa Bay Lightning forward Patrick Maroon, however, called out Stan Kroenke.
Patrick Maroon has quite the recent history when it comes to Stanley Cup Final. While hockey players dream of lifting the iconic trophy once, he's won the past three consecutive championships. When the Tampa Bay Lightning take on the Colorado Avalanche, he'll be gunning for ring number four.
Although that silverware is motivation enough, the forward could have a bit of extra motivation up his sleeve: beating Stan Kroenke.
During an appearance on The Pat McAfee Show, Maroon, who hails from St. Louis and formerly played for the Blues, admitted that he hates the Avalanche owner.
Patrick Maroon hasn't forgotten how Stan Kroenke moved the St. Louis Rams
Although Arsenal fans hold their own distaste for Stan Kroenke, most of the owner's detractors cite how he pulled the St. Louis Rams out of Missouri and moved them to Los Angeles. If we take him at his word, Patrick Maroon is one of those critics.
"I hate Stan Kroenke," the Lightning forward told Pat McAfee. "I can't stand that guy. Honestly, he took…Honestly, you guys played at The Dome, The Dome's a s****y, s****y, it's, it was a bad, bad arena. I'm sure it was terrible for you guys to go in there and play, but the Greatest Game on Turf with Kurt Warner, Marshall Faulk, I mean, Orlando Pace, I mean you can go down the, I mean just to watch that, I think Mike Jones made that huge tackle against Tennessee. But to like have that taken away from us, it just sucks. … The fans are true passionate in St. Louis, and I just can't stand that guy for taking them out of there."
While it's a bit surprising to hear an NHL player directly voicing those sentiments, they're not exactly unexpected. As mentioned above, Maroon grew up in St. Louis before returning home to play for the Blues. His feelings toward Kroenke are certainly not unusual. A Washington Post story from 2016, for example, called him the "most hated man" in the city. If that was before the Rams won a Super Bowl in their sparkling new stadium, you can imagine the current sentiment.
Even with Maroon's (potential) extra motivation, the Tampa Bay Lightning will face a tough test against the Colorado Avalanche 
Like it or not, hate is certainly a powerful emotion. Even if that adds a bit of extra wind to Maroon's sails, though, it won't be easy for Tampa to overcome Colorado and win another Stanley Cup.
While postseason hockey has traditionally been a place where teams reliant on speed and skill suffer, the Avalanche haven't missed a beat. The club finished the regular season averaging 3.8 goals per game; during the playoffs, that number has risen to an incredible 4.6 goals per outing.
Nathan McKinnon has led the way with 11 goals, but Colorado isn't a one-man show. Cale Makar has contributed 22 points from the back-end, while Gabriel Landeskog and Mikko Rantanen are tied with 17 points apiece. Nazem Kadri probably won't be ready for Game 1, but if he returns to the lineup, he'll surely be a thorn in the Lightning's metaphorical side.
Although facing Andrei Vasilevskiy will be a stiff test, it's safe to assume that Colorado will manage to score some goals. Tampa may have an opportunity to strike back against Darcy Kuemper – he might be a step slow after missing some time through injury – but the netminder has posted solid numbers this year. He might not have the same resume as his opposite number, but he probably won't be a pushover.
Through that lens, it won't be easy for Patrick Maroon to get his revenge. In the NHL Playoffs, though, anything can happen. Stan Kroenke certainly isn't guaranteed another championship. Stats courtesy of ESPN.
Like Sportscasting on Facebook. Follow us on Twitter @sportscasting19 and subscribe to our YouTube channel.RELATED: The NHL Refuses to Position Itself for Success Even as Gary Bettman Says the Right Things About Viewership
Related post url: