Penny Hardaway Remembers the Incredible Challenge of Facing the Relentless Gary Payton
Since he hit the hardwood during the 1990s and 2000s, Penny Hardaway has had the privilege of facing off against some legendary NBA players. On one famous occasion, for example, Michael Jordan took the court wearing the Magic guard's signature sneakers. His Airness isn't the only player who looms large in Hardaway's memory, though.
During an appearance on the All the Smoke podcast, the Memphis native was asked about his toughest point guard matchup. Without missing a beat, Penny shouted out his "dude," Gary Payton.
Penny Hardaway had high praise for Gary Payton and his point guard play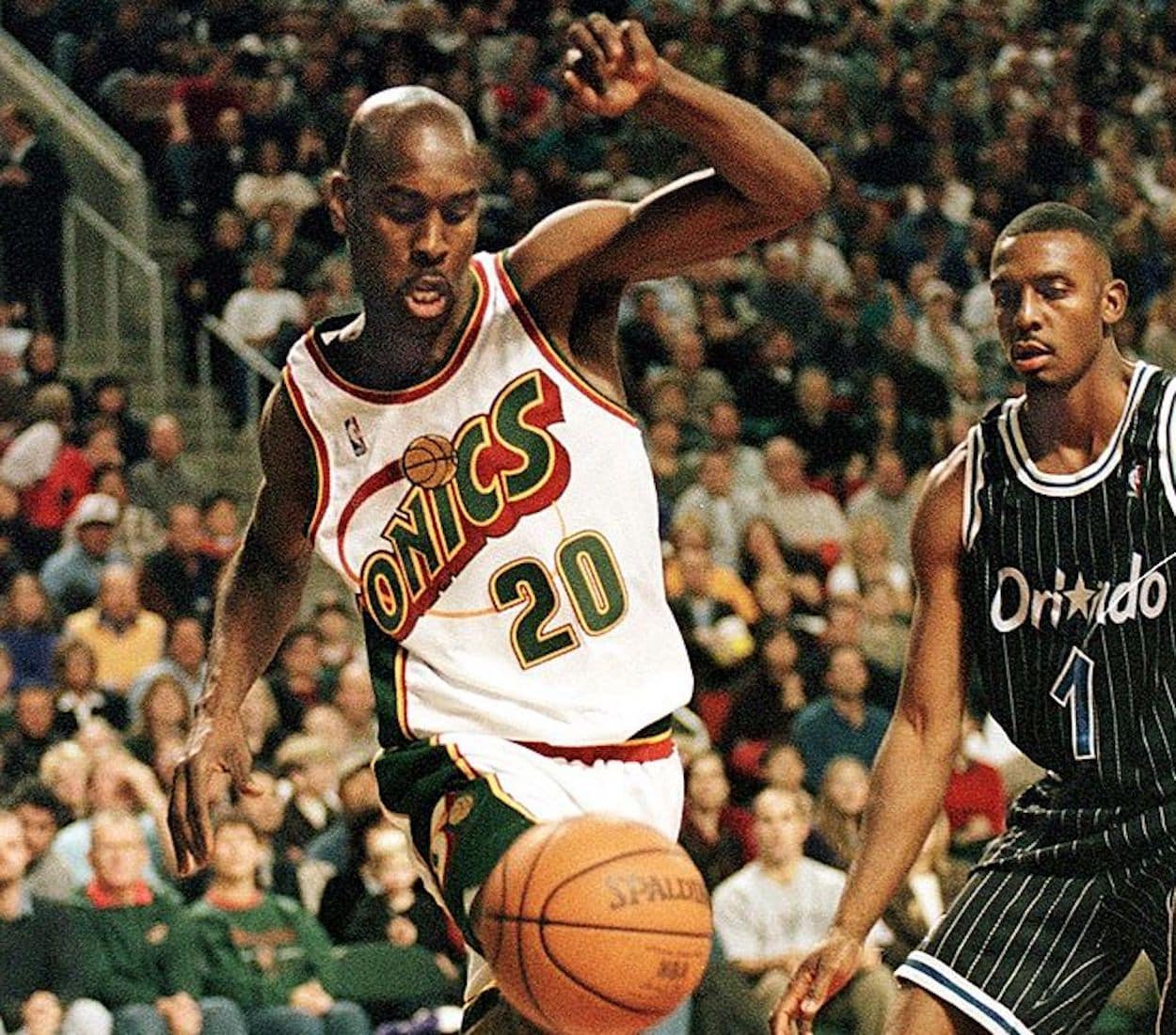 While professional athletes, especially retired ones who do the media rounds, are used to being asked superlative questions, the responses can sometimes leave something to be desired. It's easy to play things safe; no one wants to offend an old friend by inadvertently throwing some shade in their direction.
Penny Hardaway, however, was ready to roll on All the Smoke. When asked, "Who was an opposing point guard who, every time you played him, it was time to go," the six-time All-Star knew exactly where to turn.
"You had to get on top of it?" Penny asked. "GP [Gary Payton]. GP. GP, my dude. That dude right there. Hey, GP was as real as they come, dog. That dude, I never saw him take one game off. I never, he always was on a mission when it came to getting at you."
As you might expect, facing off against a competitor of The Glove's caliber meant Hardaway had to be on his game.
"So, when you played him, you had to bring it, bro, or else he wasn't going to respect you," the former Magic guard continued. "He was gonna dog you if you didn't bring it."
Gary Payton is a reminder that effort actually does matter 
From afar, effort in sports can seem like little more than a coaching cliche. Working hard is all well and good, but you'll eventually hit a talent-based ceiling. Even if I practice basketball five hours a day for a year, I'm simply not going to outduel LeBron James.
With all of that being said, though, Penny Hardaway's quotes about Gary Payton suggest that hard work and effort are more than mere platitudes. They're noticed and appreciated – well, as much as you can appreciate going against a tough opponent – even at the professional level.
That becomes even more apparent when we consider The Glove's time on the hardwood. Payton is widely remembered for his trash talk and his hard-nosed defense. Neither of those actions is glamorous, but they stem from a refusal to back down and a desire to fight and claw for every inch. That's the sort of thing that teammates, opponents, and fans can all appreciate.
"Payton loved that fight [of players stepping back to him]," Zach Harper wrote in an Athletic story ranking the guard as the 48th-best player in NBA history.  "He didn't bully people on the court physically and verbally to diminish them. He did it to bring that fight out of them. He was there for it all. Make a move against him, and be immortalized. That's how good he was. That's how overwhelming he was. That's how loud he was. His game will echo throughout the history of this league, no matter how long the NBA goes. And it will only be just a tiny decibel louder than his mouth."
Penny Hardaway, for one, certainly appreciated that part of Payton's game.