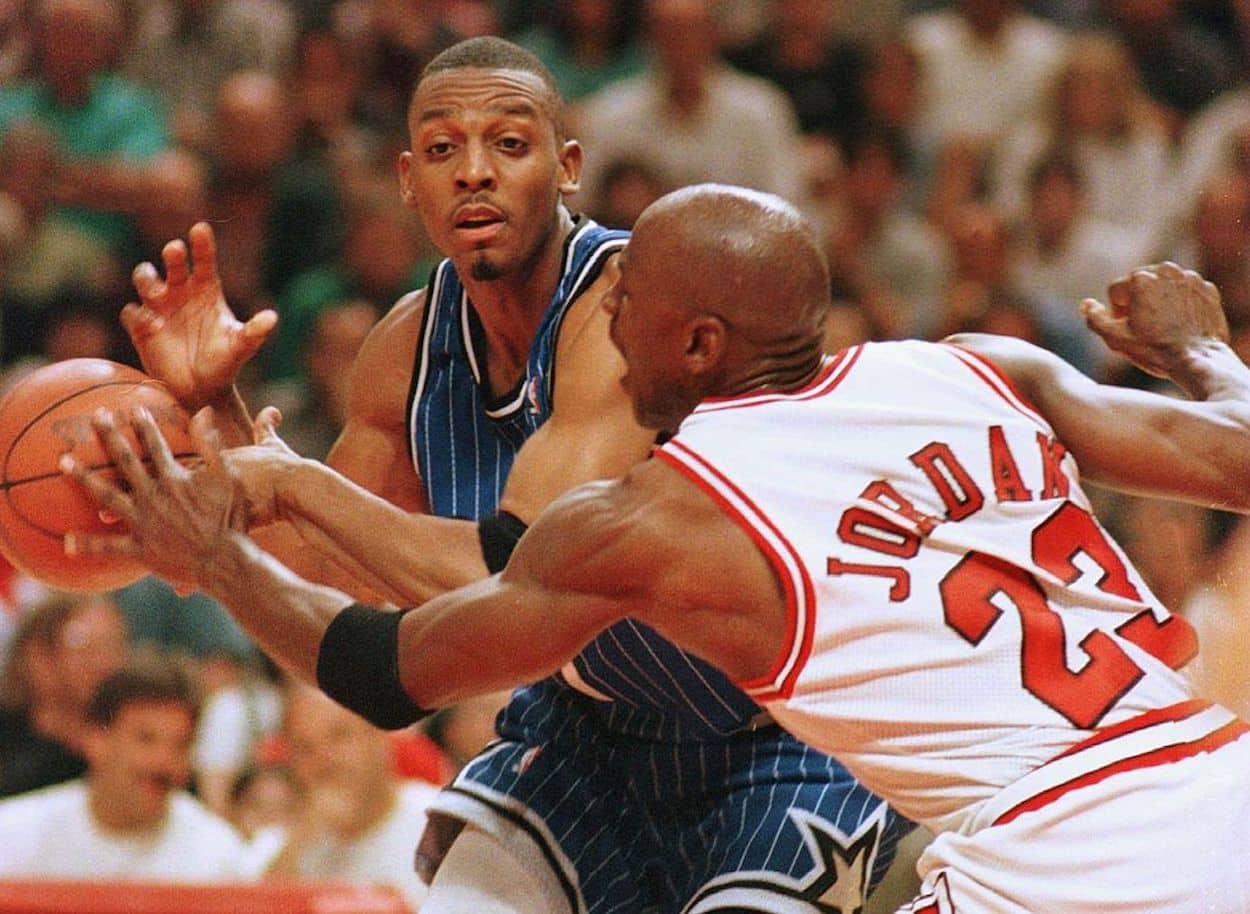 Penny Hardaway Revealed How Michael Jordan Came to Wear His Shoes In an NBA Game: 'He Didn't Ask Me For Them'
Have you ever wondered how Michael Jordan came to wear Penny Hardaway's Air Flight Ones during the 1995 postseason? We've got you covered.
As the cliche says, clothes make the man. If you believe that to be true, then shoes make the NBA player. When it comes time to hit the hardwood, there's nothing more personal than sneakers. Not only does footwear provide a comfortable foundation, but it says something about who you are as a player. Michael Jordan, for example, flexed his metaphorical muscles by wearing his own Air Jordans.
On one occasion, though, MJ donned someone else's signature shoe. During the 1995 NBA Playoffs, he spent a game in Penny Hardaway's Air Flight Ones.
For years, fans have wondered how that memorable moment played out. Did His Airness and Hardaway cut a deal? Had the living NBA legend gotten a hold of Penny's personal sneakers? Perhaps Nike pulled some strings behind the scenes.
Thankfully, Hardaway clarified exactly what happened. Let's take a walk down memory lane.
Penny Hardaway remembers how Michael Jordan got a hold of his sneakers in 1995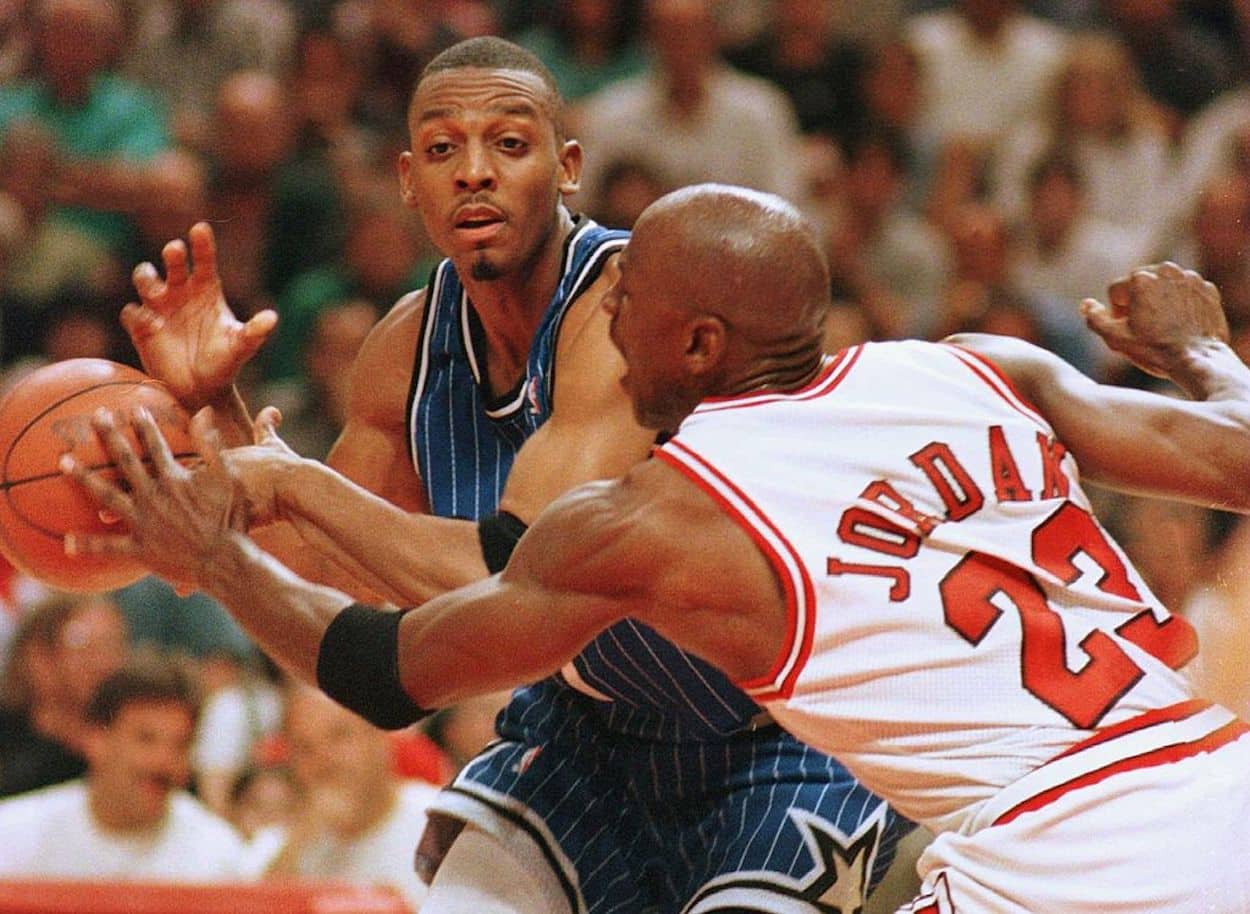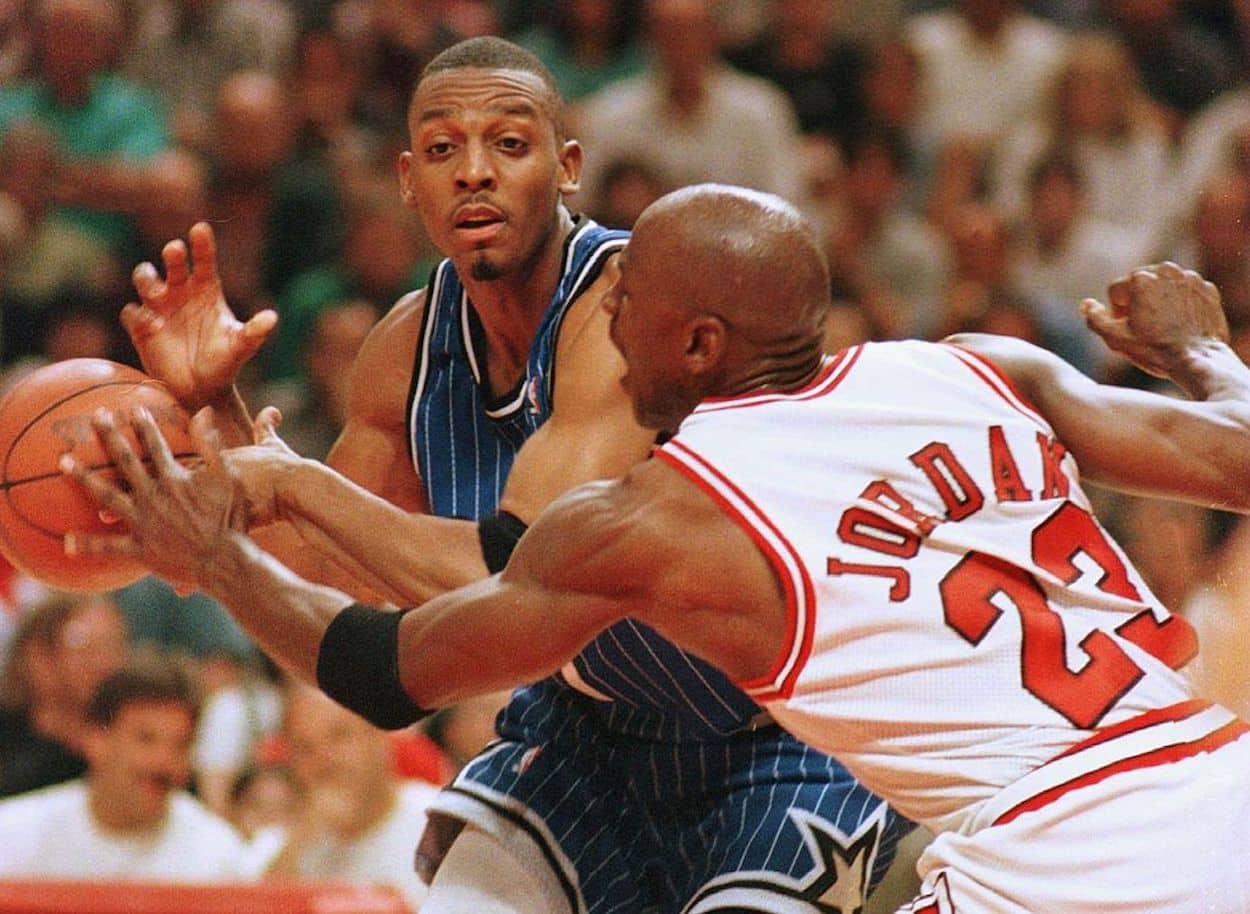 At the risk of painting with a broad brush, Michael Jordan is a pretty intimidating character. Especially within the context of a playoff series, he wasn't going to falter and show any signs of humanity. That, at least in part, explains the confusion about his footwear during the 1995 Eastern Conference Semifinals.
MJ had returned from retirement, and his Bulls were engaged in a fierce battle with Penny Hardaway and the Orlando Magic. Ahead of Game 3, however, he faced an additional annoyance: The NBA fined him for wearing white Air Concords, which didn't match Chicago's uniforms, in the first two games.
When it came time to hit the court for the third contest, His Airness was wearing something different. He hit the court in Penny Hardaway's Air Flight Ones. How did he make that happen?
Being a global superstar, it seems, has its perks.
"He's Michael Jordan. He was the man. He didn't ask me for them. He just told Nike to give them to him," Hardaway told Aaron Dodson of Andscape in 2018. "He said, 'Hey, man, give me some of the kid's shoes.' I thought, Of course … how many pairs do you need? Do you need mine? It was like, 'That's Michael Jordan … wearing MY shoes.'"
Jordan shone in Game 3, but Penny Hardaway didn't mind 
On that fateful night in 1995, Michael Jordan went off. While wearing Penny Hardaway's shoes, he dropped an eye-popping 40 points. That performance wasn't enough, however, to keep the Bulls from losing and falling behind 2-1 in the series.
While that probably made things a bit happier for the Magic – imagine if Hardaway's shoes carried Chicago to victory – Hardaway was touched by the moment. Michael Jordan, arguably the greatest basketball player ever, had chosen to wear his shoes in NBA action.
"We all know that Michael Jordan is one of the fiercest competitors ever. He's not gonna wear just anybody's shoe … he wouldn't do that for a lot of people," Penny added. "For him to do that for me, it was the ultimate level of respect."
And, to make things even sweeter, the Magic ended up winning the series and advancing all the way to the NBA Finals. While the club ultimately fell short, losing to the Houston Rockets, Penny Hardaway was pretty close to the top of the basketball world.
Just think about it. Michael Jordan, the man who completely changed both basketball and sneaker history, personally demanded some of the guard's shoes.
It's tough to get any bigger than that.