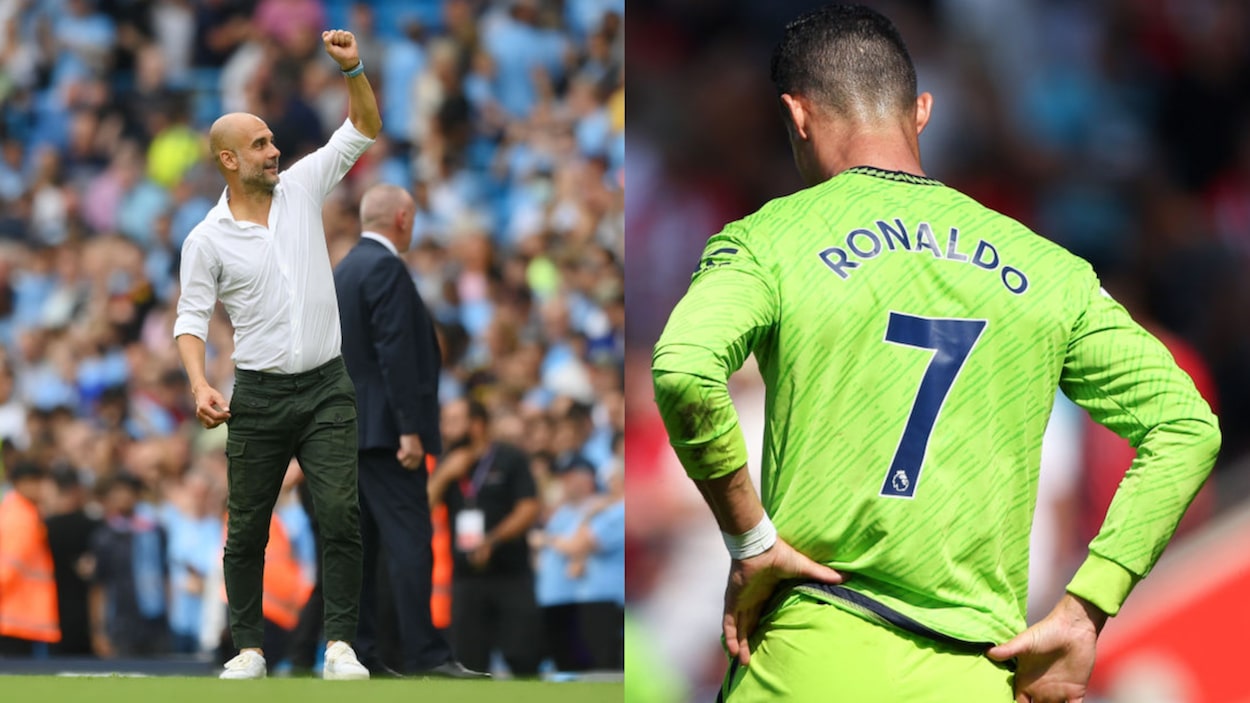 Pep Guardiola, Cristiano Ronaldo, and the Winners and Losers of Premier League Matchday 4
With another round of Premier League matches in the books, let's look at who's riding high and who's already hitting a rough patch.
The transfer window may still be open, but the Premier League soccer campaign is starting to kick into high gear. For some clubs, the EFL Cup has already begun; midweek league games will begin this Tuesday, and European competitions are also on the horizon. While every match is always important, this busier portion of the schedule will up the stakes a bit. When you're playing every few days, a small wobble can quickly turn into a dangerous losing streak.
With all of that on the horizon, let's take a look at the biggest winners and losers of Premier League Matchday 4.
Winner: Pep Guardiola
While Erling Haaland could have gotten the nod because of his hat trick, Pep landed on the list as somewhat of a catch-all for Manchester City. Although things might not initially seem promising — they were down 2-0 to Crystal Palace before mounting a comeback — the Citizens actually put in a solid performance.
When you consider the actual shot map (h/t Caley Graphics), Guardiola doesn't have too much to worry about. His club controlled the ball and limited Palace to two shots; one was a speculative blast, and the other was the header that found the back of the net. At the other end of the pitch, City generated 2.3 expected goals and largely did what they were supposed to do.
So, as somewhat of a catch-all, Guardiola gets the nod. While he isn't sitting at the top of the table, he's got Haaland firing on all cylinders, (most likely) kept hold of Bernardo Silva, and landed in a manageable Champions League group. On the whole, it was a pretty solid week for the Spaniard and City.
Loser: Cristiano Ronaldo
Across Manchester, Cristiano Ronaldo won't be feeling as positive. Manchester United have won back-to-back games, but the Portuguese striker hasn't started in either of them. For a man who's used to shining on soccer's biggest stage, being a bit part player isn't enough.
To make matters even more frustrating, the transfer window is rapidly closing, and the Portuguese striker hasn't found a new home. Virtually every one of Europe's elite has balked at paying a massive salary for an aging player. The manager of Sporting, where the striker started his career, has even gone as far as threatening to resign if Ronaldo joins the club.
While this is at least partially a problem of his own making — if the forward was willing to reduce his salary, things would probably be a bit different — it's still a humbling time for CR7.
Winner: Martin Odegaard
In recent years, Arsenal's captaincy has been cursed. While the player wearing the armband has tended to either suffer from injuries or leave the club in unhappy circumstances, Martin Odegaard is bucking the trend.
Last weekend, the Norwegian midfielder scored two goals against Bournemouth. On Matchday 4, he followed that up with another goal as Arsenal came back to beat Fulham 2-1. His leadership was also plain to see, as he drove the Gunners forward and refused to let his teammates collapse.
Although Odegaard captains Norway, some pundits questioned if he had the right personality to take charge of a young Arsenal team. Not only have the last two matches confirmed that, but he's also found his scoring touch to keep the Gunners perfect.
Loser: Conor Gallagher
We go from one London-based midfielder to another. Unfortunately for Conor Gallagher, he's on the wrong side of the ledger.
Last year, Gallagher shone at Crystal Palace. While Chelsea's young talent doesn't always get a chance to break into the first team, the England international earned a place in Thomas Tuchel's squad, and, with N'Golo Kante hurt and Matteo Kovacic recovering from an injury, he stepped into the starting lineup.
Things didn't go according to plan. After struggling against Leeds, Gallagher received two yellow cards against Leicester. At the risk of seeming a bit dramatic, his one-match ban could be a serious obstacle in earning a spot at Chelsea.
Kovacic is recovering, and Palace are reportedly trying to bring the Englishman back to Selhurst Park. If Tuchel doesn't feel like he can rely on Gallagher, he could slip down the depth chart or even head out the door.
Any sports fan can tell you about revolving door moments when a player was in the right place at the right time to seize an opportunity. Gallagher, for all we know, might have to wait for his next chance.
Winner: Graham Potter and Brighton
While it would have been easy to acknowledge Liverpool putting nine goals past Bournemouth, Graham Potter and his Brighton have earned some recognition. With all due respect to the parties involved, Liverpool is supposed to be one of the best teams in the league; Brighton, however, weren't supposed to be sitting in fourth place.
It's easy to point at the sample size (yes, Brighton will probably fall back down the table as they play more games against tougher opponents), but Potter is clearly doing a fine job. Despite losing two players who were central to his plans in Yves Bissouma and Marc Cucurella, the Seagulls are flying. They look like an extremely well-coached team with a fine scouting department. Whoever identified Moisés Caicedo, for example, deserves a raise.
At the risk of being a bit hyperbolic, maybe Brighton will take over the West Ham/Wolves position of battling for the Europa Conference League spot this season? At this point, early signs look promising.
Loser: Bournemouth
Again, I don't want to be hyperbolic here. Bournemouth are a newly promoted team, and playing an angry Liverpool at Anfield would be a challenge for any club. With that being said, though, losing 9-0 has to land you on the loser's list.
In isolation, the result doesn't really matter. Bournemouth were supposed to lose 99 out of 100 times. The danger, however, is that this defeat crushed the squad. The Cherries' upcoming matches with Wolves and Nottingham Forest will be more realistic tests. If they struggle there, things will really get ugly.
And, if you want to know how bad things could get, just listen to manager Scott Parker. When asked if this defeat would be the lowest point of the season, he responded, "At this moment in time, where we currently are, I can see some more to be honest with you." (h/t Shamoon Hafez)
That's certainly not what you want to hear from your boss after a major setback.
Like Sportscasting on Facebook. Follow us on Twitter @sportscasting19 and subscribe to our YouTube channel.