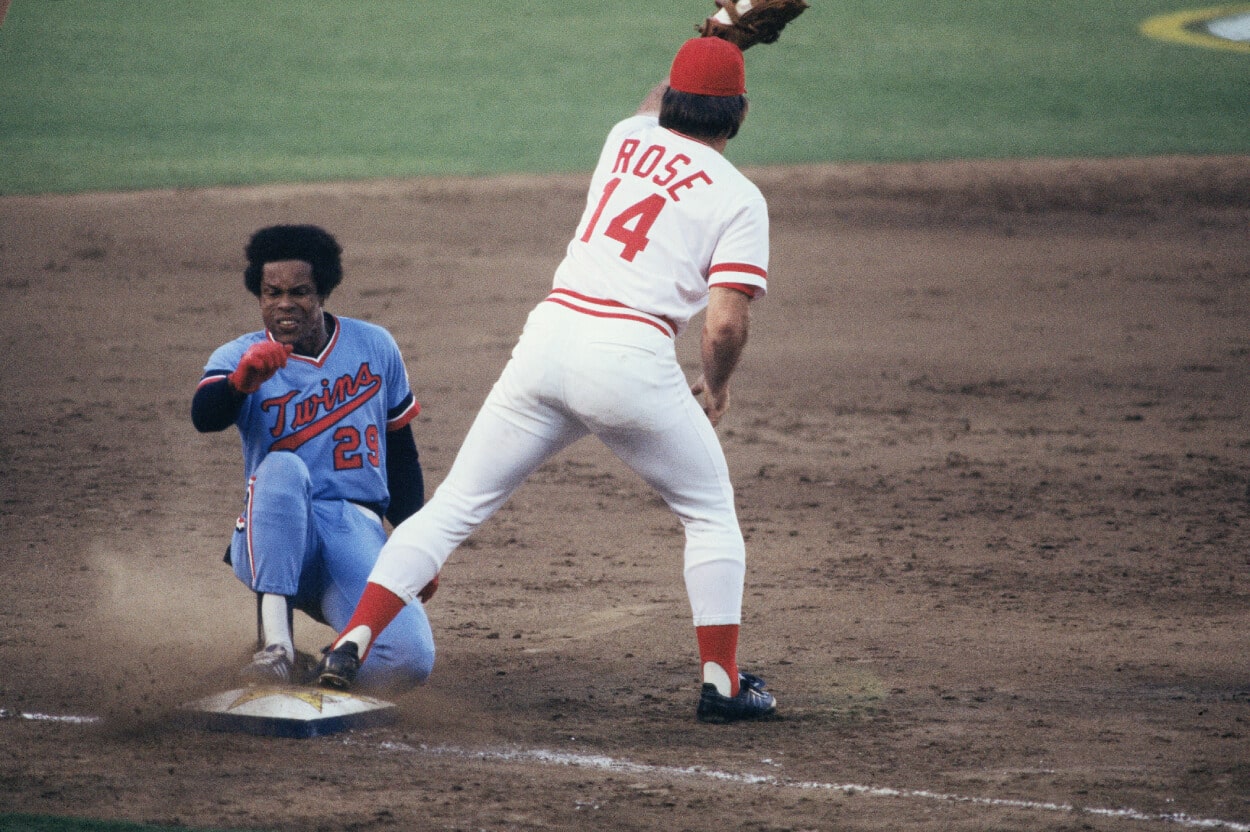 Pete Rose Doesn't Believe Even Rod Carew Going to Bat for Him Will Help His HOF Chances
Pete Rose responded to Rod Carew's tweets about MLB being hypocritical regarding Rose's Hall of Fame status.
Earlier this year, Rod Carew added another hit to his legendary career, but it doesn't appear it will drive home Pete Rose. Carew took to Twitter and went to bat for Rose. The Minnesota Twins legend questioned Major League Baseball, calling it hypocritical by punishing Rose for his gambling issues while the league has "a sportsbook at the Reds stadium."
Rose responded by praising Carew and said he appreciates having a player of his stature in his corner. He also said he doesn't believe Carew's comments will do much to change the mind of MLB Commissioner Rob Manfred to get Rose into the Hall of Fame.
Pete Rose belongs in the Hall of Fame
On Aug. 24, 1989, former Major League Baseball Commissioner A. Bartlett Giamatti banned Pete Rose from the game after allegations he gambled on baseball. Rose initially denied the charges but later admitted to betting on his own team to win. After appeals and letters of apology, nothing has changed. Rose remains on the outside, looking in.
Statistically, Rose is the best hitter to ever play in the big leagues. No player has more than his 4,256 hits, and it's a record that likely will stand forever. He owns numerous MLB records, including games played, and is a three-time batting champion and a three-time World Series champ. He was the MVP in 1973 after leading the league in batting average (.338) and hits (230).
Nicknamed "Charlie Hustle," nobody played the game harder. Rose insisted his all-out style of play came from his father. When Rose was away from the family playing baseball, his father wrote letters to him. At the end, he'd sign them by writing, "Keep hustling."
"I remember my dad used to write me a letter every week," he said of the Talking to Titans podcast in 2022. "At the end of the letter, he would always put 'keep hustling.' That was his signature — keep hustling.
"That's why I run to first on a walk. That's why I slid headfirst."
Off the field, Rose messed up. He admits it now. He's been punished for 34 years. Is that not enough? Whether there's an asterisk next to his name or not, the best hitter in baseball needs to be in the Hall of Fame.
Carew went to bat for Rose, who doesn't believe it will help much
Rod Carew, a seven-time batting champ and 18-time All-Star, chimed in on Twitter months ago when someone asked him what he thought about sports gambling. Turn on a baseball or football game, and sportsbook advertisements and betting lines are all over the place today. Times have changed, and Carew made that point.
"It has gone too far and it's hypocritical," Carew tweeted in response to the sports gambling question. "How can you keep Pete Rose out and have a sportsbook at the Reds stadium??"
Someone argued that Rose was punished because he gambled on games in which he played. Carew responded.
"If they can embrace gambling to the level of putting it in the stadium, they can forgive Pete and recognize him for the Great he is. That's the point," Carew tweeted.
Rose appreciated having the backing of the 18-time All-Star. He also said he doesn't believe it will help his case to get into the Hall of Fame very much.
"Hell, if Willie Mays or Hank Aaron, who's gone now, or (the late) Stan Musial, who I played against, if any of those guys said the same thing that Rodney (Carew) said, I don't think baseball's gonna move on that," Rose said to Forbes in a phone interview. "To be honest with you, I've kind of given up on the Hall of Fame. I've been turned down so many times, I can't see Mr. Manfred changing his mind.
"I always had a lot of respect for Rodney. He's a hell of a player, hell of a hitter. Any time you get guys like that in your corner, it can't hurt. It's got to help. I think deep down, Rob Manfred is a great guy. He's gonna do what's best for the game of baseball. I see no reason why reinstating me would be bad for the game of baseball."