Pete Rose Has the Stats and Stories to Prove He Belongs in the Hall of Fame
Pete Rose has the stats and the stories to prove he belongs in the Baseball Hall of Fame.
Barry Bonds, Roger Clemens, and Curt Schilling can now officially join Major League Baseball's all-time hits leader Pete Rose as outsiders looking in when it comes to the Baseball Hall of Fame. The three, who statistically belong in Cooperstown, were on the ballot for the 10th and final time and fell short of earning the required 75% of the votes to get in.
Rose, banned from baseball after a gambling issue, took time this week to reflect on his Hall of Fame-worthy career. He spoke about various topics, including how the game has changed, the first big purchase he made as a pro baseball player, and the one player he looked up to.
Pete Rose says players today don't have the will to win like they did in his era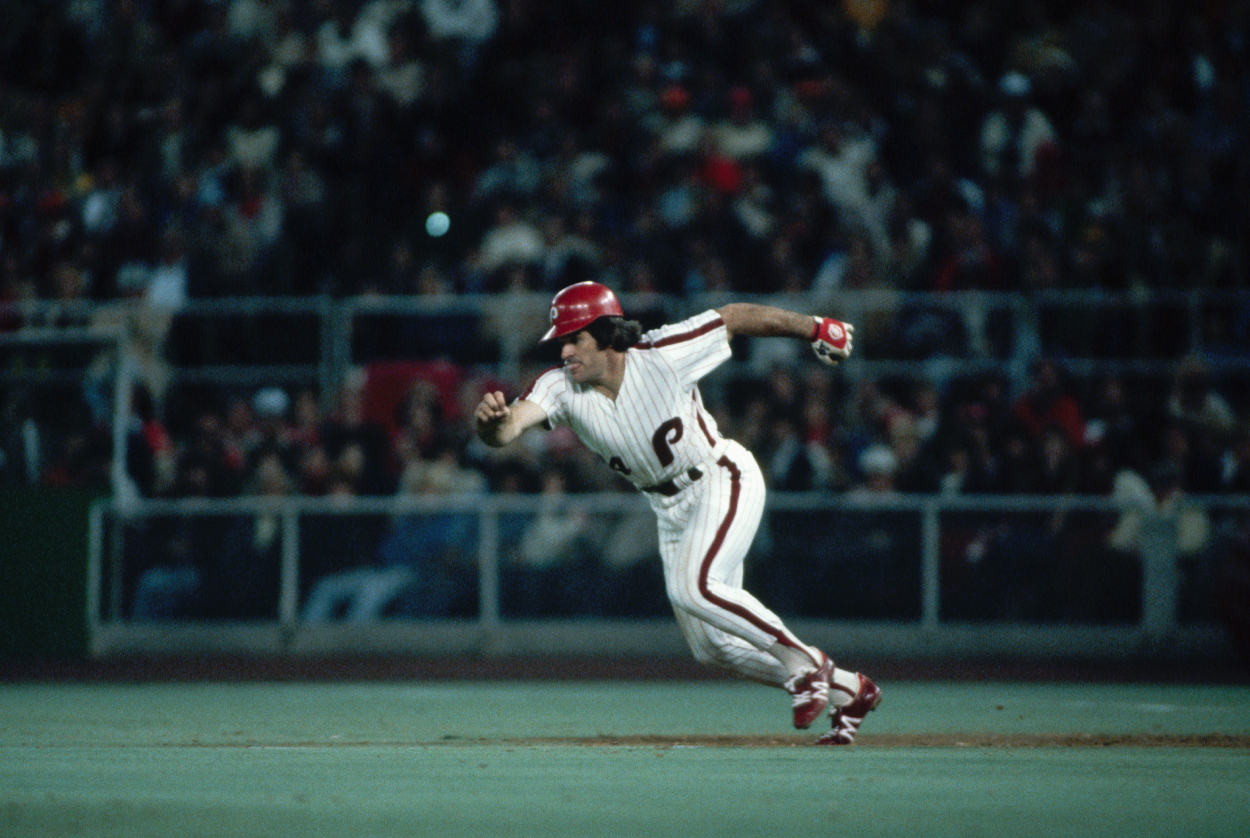 Rose is old-school. He's always been that way. With Rose, there was no such thing as a jog. He was always full-steam ahead. With today's players, he believes that isn't the case.
"Back in the '40s, '50s, and '60s, that's all we had was sports," Rose said in a January episode of the Talking to Titans podcast. "We didn't have the iPads, didn't have the computers, and we didn't have the iPhones, none of that stuff. We had sports."
Rose, who finished his career with 4,256 hits and a .303 batting average, said some of today's players have that drive to be great, but not nearly enough share his passion for the game.
"They got too much stuff going on today," he said. "We didn't have that much going on. We had sports. I'd rather be playing today because I'd be making $40 million a year.
"My style of play don't make a dent on the guys today. They're not worried about getting to first and getting to third and getting him. All they're worried about, and God bless them, but all they're worried about is how many home runs they can it and how much money they can make."
Pete Rose revealed the first big purchase he made with his baseball money
Rose didn't get his first massive contract until he signed with the Philadelphia Phillies after the 1978 season. He became the highest-paid player in all of sports when he inked a four-year deal worth $810,000 per season. As a rookie in 1963, he made $7,000.
Rose also inked a big deal with Mizuno that significantly bumped up his pay. After the '78 season, Rose went to Japan with the Reds to play a 15-game schedule against some of Japan's All-Star teams. He had a 15-game hitting streak during that stretch and became a fan favorite with his success and his hustle.
"When I went over there, I busted my ass," he said. "I gave those people their money's worth. I was diving for everything and sliding headfirst.
"Another thing about that trip was I got to sign with Mizuno. I was the first American player to use Mizuno products. I used their bats, their batting gloves, and I used their shoes. Back in those days, I was on the cover of Sports Illustrated 21 times. Louisville Slugger was paying me $12,000 a year. Mizuno paid me $130,000."
Well before his big deal with Mizuno, he had already made his big purchase with his baseball money.
"I bought a '57 Corvette," he said. "Two-hundred-eighty-three horsepower. The first week of playing in Macon, before I made the big leagues, we played in Knoxville. My mom drove my Corvette down to Knoxville for me to drive back to Macon so I could have a car for the summertime. After the series in Knoxville, Art Shamsky, my roommate who played for the Reds and played for the Mets, and I were driving back to Macon, and I got pulled over.
"We just filled the gas tank and we're making $500 a month. A guy takes us to the police station to book us for speeding. He tells us to empty our pockets. We emptied our pockets and we had $2.83. He said, 'That's your fine, now get the hell out of here.'"
Rose said Ted Kluszewski was the one player he looked up to
Podcast host Rob Gough asked Rose if there was one player he looked up to. Rose didn't hesitate to answer.
"I loved the first baseman for the Reds," he said. "Big Ted Kluszewski. He's the guy who had the big arms. That's why they cut the sleeves for the Reds uniform. He used to look at me and point to his muscle and — he was a great guy by the way and he could play — he'd say, 'You know what that is?' I'd say, 'What is it big guy?' He'd say, 'That's a Polish joke stopper.'
"When I became manager of the Reds, he ended up becoming the batting coach for my team. That's how far back Ted and I go."
Rose doesn't need the Hall of Fame. Anyone who saw Rose play knows he's one of the all-time greats, and he's got the stories to prove it.