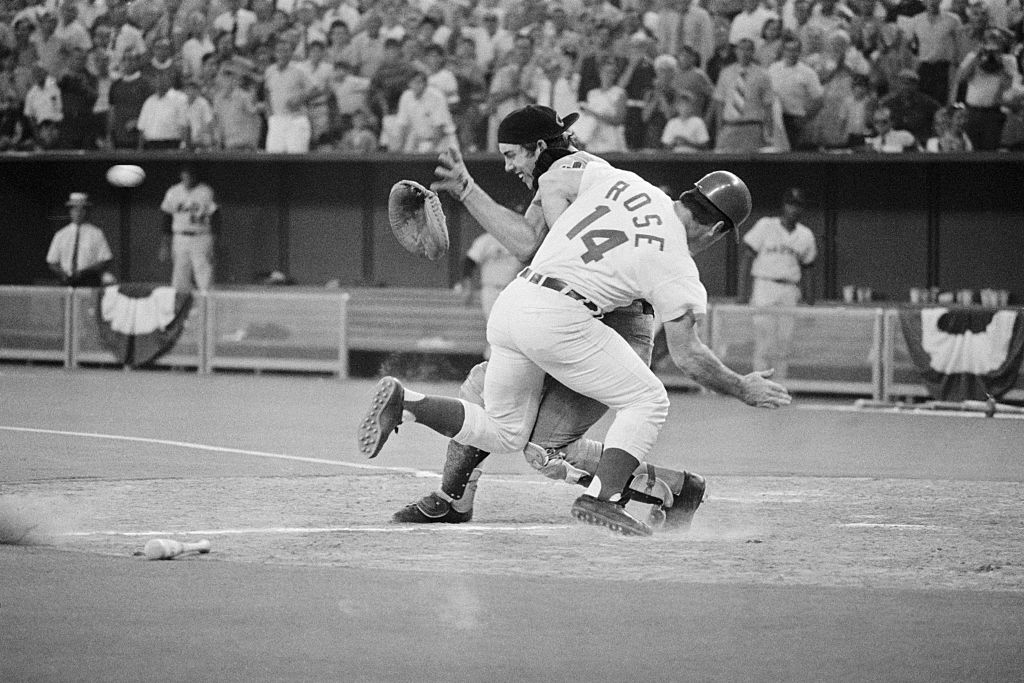 Pete Rose's Reckless Hustle Nearly Ruined Ray Fosse's Career
Pete Rose bowled over Ray Fosse to score the winning run in the 1970 All-Star Game, injuring the Cleveland Indians catcher.
Assuming there is a 2020 Major League Baseball season and accompanying All-Star Game, fans are sure to hear about Ray Fosse. And when Ray Fosse's name gets brought up, that can only mean that Pete Rose won't be far behind.
Fosse will be recalled because this year marks the 50th anniversary of the All-Star Game, which ended with a violent collision at home plate in which Rose's determination to win an exhibition game altered the remainder of Fosse's promising career.
Pete Rose scored the winning run at home
The 1970 MLB All-Star Game, the first played at night, was held in Cincinnati two weeks after the opening of Riverfront Stadium. The Reds' Pete Rose invited pitcher Sam McDowell of the Indians to dinner the night before, and young Cleveland catcher Ray Fosse tagged along. The players and their wives ended the evening at Rose's home.
Rose and Fosse would end the next night at home plate.
The National League entered the bottom of the ninth inning trailing 4-1 in the All-Star Game but tied on a Dick Dietz home run, Willie McCovey's RBI single, and a Roberto Clemente sacrifice fly. Rose ended the inning by striking out.
The game remained tied in the 12th until Rose and Billy Grabarkewitz hit two-out singles. Jim Hickman then singled to center field, with Amos Otis unleashing a throw that moved Fosse a few steps up the third-base line. The ball and runner arrived almost simultaneously and Rose bowled over Fosse, forcing him to drop the ball and ending the game.
Rose was criticized afterward for being overly aggressive, but the incident was consistent with his hard-charging style throughout much of his career.
Ray Fosse was never the same after the collision
Ray Fosse was sent to a hospital after the collision with Pete Rose and the X-rays on his sore shoulder came back negative. However, an examination the following year detected a fracture that had healed incorrectly and indicated that he had also separated the shoulder.
Fosse entered the game in Cincinnati batting .312 with 16 homers in his first full season. He would play just 42 more games the remainder of the year and finished with a .307 average but just two more homers than he had at the break.
Fosse's decline in subsequent seasons was apparent, beginning with a .276 average and 12 homers in 1971 (hindered in part by a torn ligament in his left hand) and .241 with 10 homers in 1972.
The man who was selected 29 spots ahead of future Reds Hall of Fame catcher Johnny Bench was traded to the Oakland Athletics in 1973 and won a pair of World Series there but missed half the 1974 season after being injured while breaking up a fight between teammates Reggie Jackson and Billy North.
Fosse ended his career with stints back with the Indians, Seattle Mariners, and Milwaukee Brewers.
Ray Fosse's career after retirement
Though remembered foremost for the collision with Pete Rose, Ray Fosse finished his 12-year career in the majors with respectable numbers despite his injuries: a .256 average, 61 homers, and 324 RBIs. His propensity for throwing out baserunners contributed to his earning two Gold Gloves early in his career.
Fosse, 72, has been part of the Oakland A's broadcast crew on radio and television since 1986. He was nominated in 2002 for the Ford C. Frick Award in baseball's Hall of Fame.
Although his injury in the collision with Pete Rose raised concerns at the time, it wasn't until 44 years later that Major League Baseball changed its rules regarding catchers blocking the plate in response to an ankle injury to Buster Posey of the San Francisco Giants.