Peyton Manning Once Roasted David Letterman on 'The Late Show' and the Host Still Loves the Joke
Peyton Manning is one of the greatest NFL quarterbacks of all time. He's also arguably the funniest athlete ever, with hilarious appearances on shows like Saturday Night Live and the Comedy Central Roast on his resume. One of his best televised zingers, though, came before the QB got to the NFL when he got the best of the title host of The Late Show with David Letterman. On that night, Manning's joke was so good that Letterman still loves it to this day. 
Peyton Manning zinged David Letterman on 'The Late Show' back in 1997 
Hall of Fame quarterback Peyton Manning has been a superstar since before he entered the NFL. After his four years at Tennessee, the QB entered the 1998 NFL Draft and was already so famous he earned an invite to appear on The Late Show with David Letterman.
On an episode of Peyton's Places on ESPN+, the Hall of Fame QB and iconic late-night host sat down and chatted about their 25-plus-year relationship.
As a part of the conversation, the two reminisced about Manning's first appearance on the show in December 1997, four months before Letterman's hometown Indianapolis Colts drafted him No. 1 overall.
During that '97 interview, Letterman asked Manning about staying for his senior season at Tennessee, despite already being the top QB prospect the season before.
That's when Manning got a hilarious shot off at the TV host.
"It was such a rush my first three years, so I wanted to slow things down, come back, and enjoy my senior year, just like your great senior year at Ball State," Manning quipped.
The line cracked Letterman up two decades ago, as he responded on the show, "That's right. I could have turned pro, but I went back to finish up my college before I broke into broadcasting."
He was so impressed by Manning's jab at the time he said, "the kid's got writers!"
Fast forward to 2023, and that crack still makes David Letterman laugh, and he admitted to Peyton Manning, "That was not a writer, and that was a very strong joke."
Manning and Letterman are a perfect match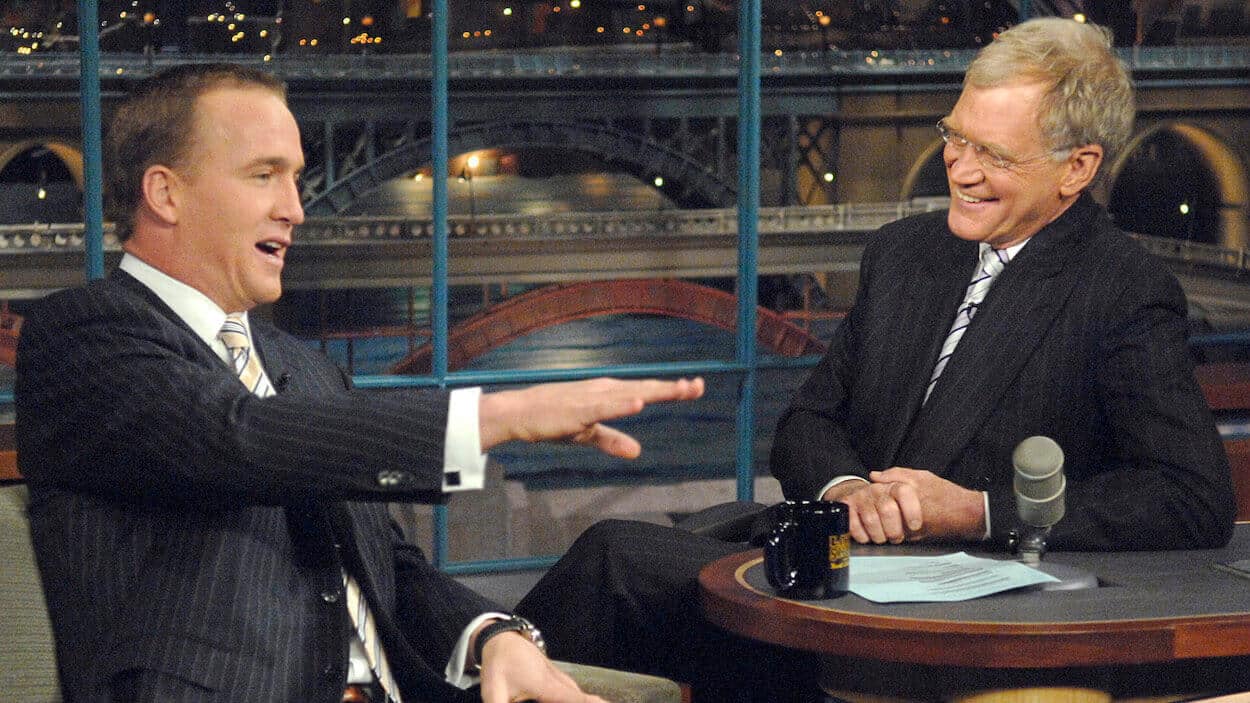 A New York-based comedian and late-night host and a New Orleans native NFL quarterback might not seem like a great match, but Peyton Manning and David Letterman have always been great together.
The QB has appeared on The Late Show with David Letterman several times, and each appearance was excellent.
That's because Manning is a hilarious athlete, and Letterman is a huge sports fan, specifically a fan of Indiana sports teams.
Whether it's roasting Rob Lowe on Comedy Central, pegging a child with a football on SNL, or chanting "Cut that meat!" on one of his (seemingly) thousands of TV commercials, Manning has the self-awareness and timing of a true comedian.
These days he gets to show it off by trading barbs with his little brother, Eli, on ESPN's Manningcast Monday Night Football alternate broadcasts.
As for Letterman, the Indianapolis native grew up loving his local teams, and when he first started hosting late-night TV, Colts Hall of Famer Art Donovan was one of his most frequent guests.
The host often had his guests — both athletes and celebrities — throw footballs at targets with him on The Late Show, including the time he and Manning threw them at NYC taxi cabs.
Letterman is a Colts and Indiana Pacers fan, as well as a supporter of his alma mater, Ball State, in Muncie, Indiana. The comedian also owns an IndyCar race team.
With the shared history of humor and Indiana sports, it's no surprise Peyton Manning and David Letterman make magic whenever they get together.