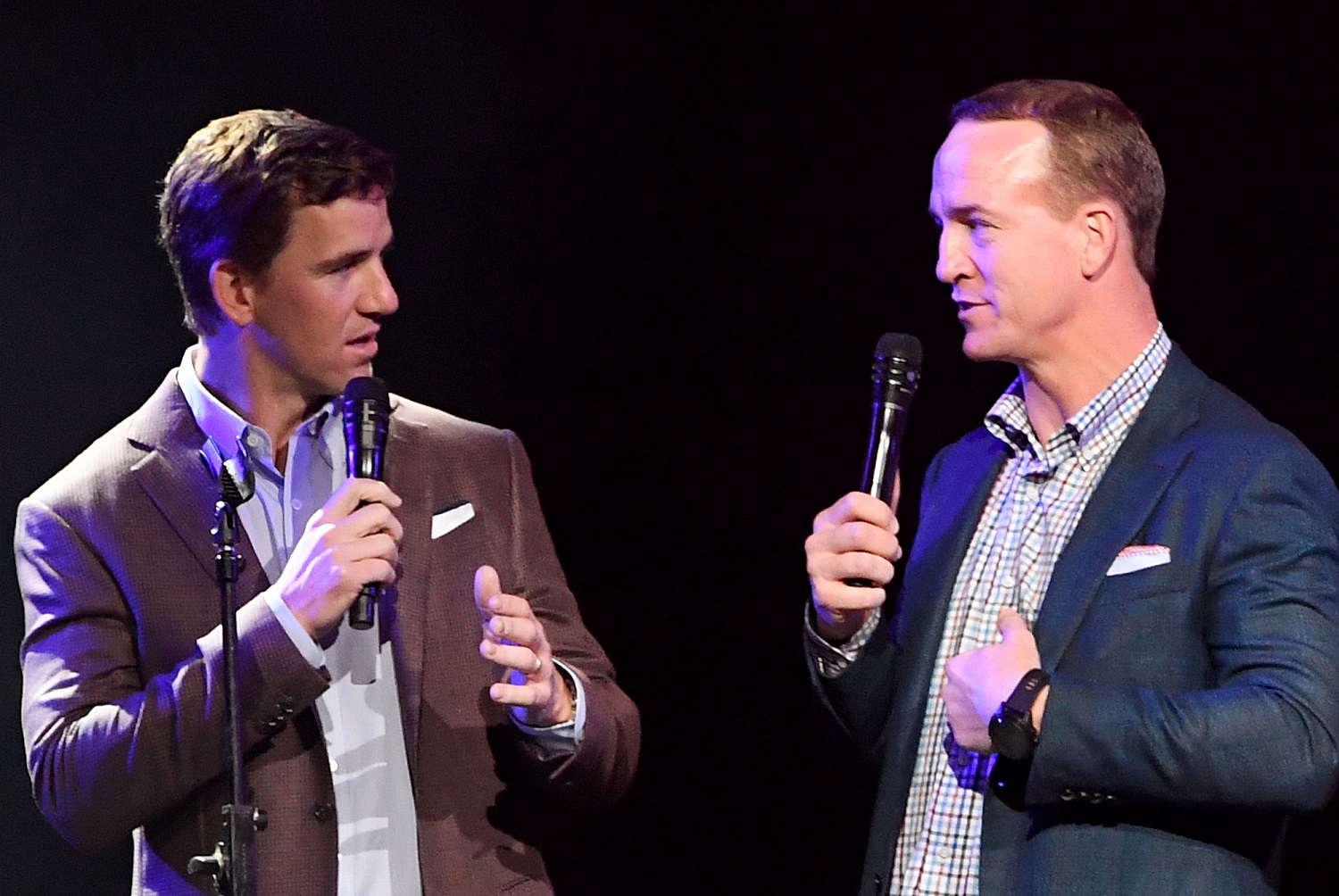 Peyton Manning Says Brother Eli's Unique Skill Turned Him Into a 'Silent Assassin'
Pro Football Hall of Fame quarterback Peyton Manning says his brother Eli Manning is a world-class prankster, so keep a close eye on your phone around him.
Just think, we've been believing all these years that Eli Manning's special talent was beating Tom Brady's New England Patriots in Super Bowls. Peyton Manning now says that's not the case. His little brother's actual unique skill is messin' with family and friends.
Peyton Manning is in the Pro Football Hall of Fame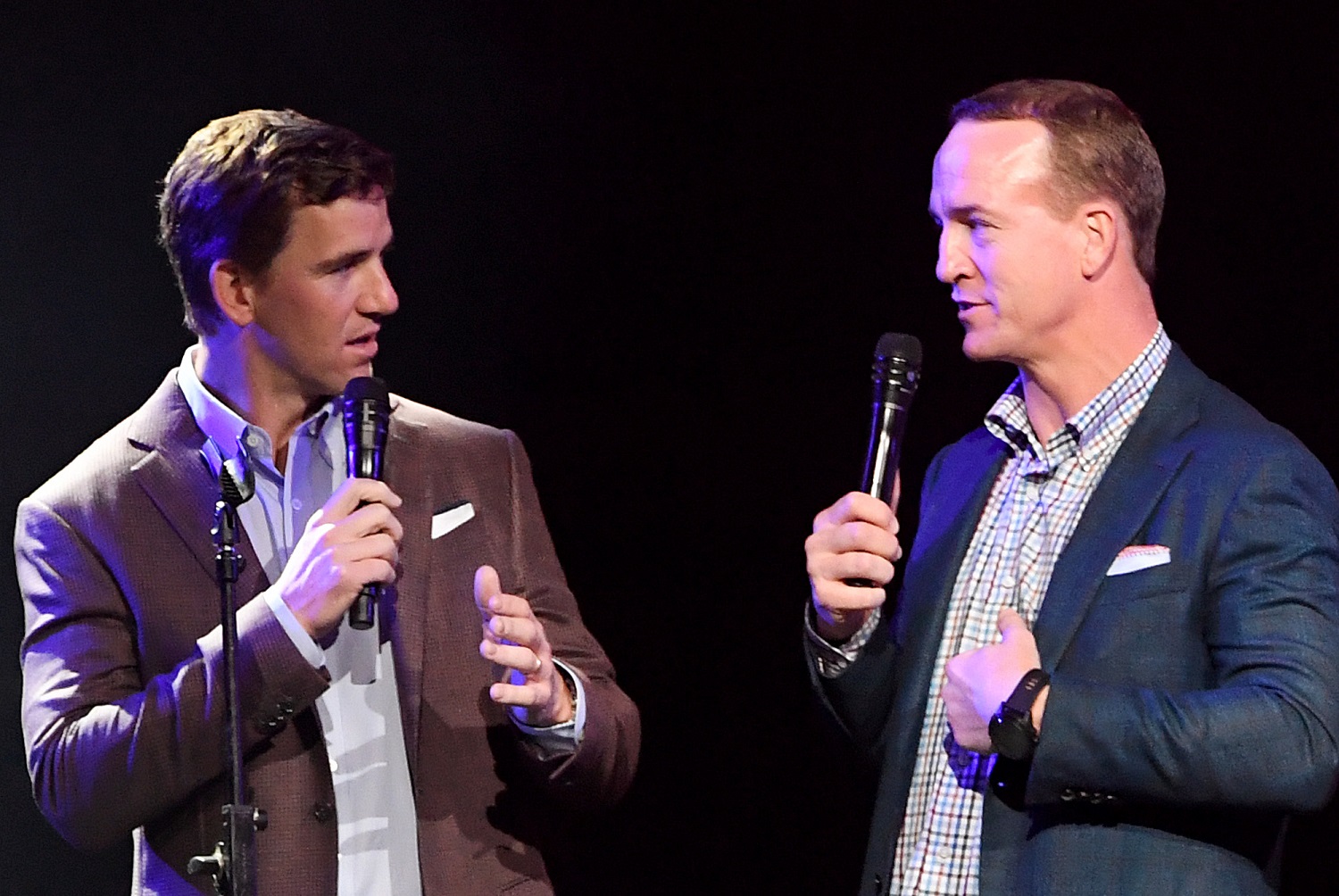 There was little doubt that Peyton Manning was heading to the Pro Football Hall of Fame by midway through his NFL career. By the end of the 2006 season with the Indianapolis Colts, he was a Super Bowl-winning quarterback with three first-team All-Pro honors on his resume.
Eight seasons later, he retired from the Denver Broncos with a second championship ring, a 186-79 record as a starter, and 539 touchdown passes. He entered the Hall of Fame as a first-ballot inductee over the weekend.
Eli Manning retired four years after his brother, so voters have not yet taken up his Hall of Fame candidacy. Whereas Peyton was an easy pick, Eli figures to be a tough call because his numbers beyond the two Super Bowl rings are more pedestrian.
Eli was 117-117 as a starter while playing his entire career with the New York Giants. His ratio of 366 touchdowns to 244 interceptions wasn't exceptional, and the only statistical category he ever led the league in was interceptions – three times. He needs voters to fixate on his championship rings and their own dislike of Bill Belichick.
Peyton Manning says brother Eli is a 'silent assassin'
Eli Manning operates an entertaining Twitter account, which is consistent with his reputation as a locker room cut-up during his playing days. In fact, Peyton Manning came into the NFL six years earlier but credits Eli with helping him understand the value of practical jokes and humor in keeping the locker room loose. He spoke about some of those moments during a panel discussion at the Hall of Fame weekend in Canton, Ohio.
"Eli's kind of a silent assassin," he said. "You think he's this sweet, innocent kid. Eli can put your phone in German in seven seconds.  The beauty of it is, it's a four-step process. It's 'general, settings, language, turn it into Chinese.' And once it's in Chinese you can't figure out what 'settings, general, language' is in Chinese."
Eli Manning caught John Lynch, too
San Francisco 49ers general manager John Lynch, a longtime safety for the Tampa Bay Buccaneers and Denver Broncos as well as another Hall of Fame inductee, said Eli's shenanigans didn't cease with his retirement in 2019. Manning got him during a golf outing this year.
"He took my phone, and somehow every time I typed 'the' it became – and I'll clean this up – 'Man, I gotta go …,'" Lynch said, according to Audacy.com. "Our owner, Jed York, sends me a text, 'How's the golf trip going?'
"'Jed, it's awesome. We're going to the course right now.' Well, 'the' became 'Man, I gotta go …' And Jed's going, 'JL, what are you saying, man?'"
Peyton Manning interrupted Lynch's story:
"It's called text replacement," he told Lynch and the audience. "That's kind of my new move now."
Moves like that will earn a guy a spot in the pranksters' hall of fame.
All stats courtesy of Pro Football Reference.