Bill Belichick Suddenly Has the Perfect Opportunity to Make a Franchise-Altering Power Move That Would Set Mac Jones Up for Stardom
Bill Belichick made sure that whoever starts at quarterback for the New England Patriots in 2021 has a far better chance of succeeding than Cam Newton did a year ago. After all, for all of his own shortcomings, the former Carolina Panthers star most certainly didn't have enough weapons around him during his first season in Foxborough.
Of course, nobody knows which quarterback will get the first crack at taking advantage of Belichick's free-agent spending spree. But if the architect of the greatest dynasty in NFL history wants to set Mac Jones up for stardom, he suddenly has the perfect opportunity to make that happen.
The Patriots have exciting potential on offense thanks to an expensive free-agent spending spree
Even Belichick would have to admit he didn't always do the best job of surrounding Tom Brady with adequate weapons. And as Newton found out in 2020, the Patriots didn't have enough talent at the skill positions to consistently put points on the scoreboard.
Don't expect that to be the case in 2021.
After watching Josh McDaniels' offense finish 27th in scoring and total yards ⁠— both of which represented new lows for the Belichick era ⁠— Robert Kraft's longtime head coach got his boss to sign off on a slew of lucrative free-agent contracts. While it remains to be seen whether the Patriots invested wisely, there's no doubt the offense looks more intimidating after Belichick's expensive shopping spree.
The tight end position suddenly went from a glaring weakness to an obvious strength thanks to the additions of Hunter Henry and Jonnu Smith. Instead of relying on practice-squad types, the Patriots have two established veterans who should shine in McDaniels' scheme.
Meanwhile, whoever wins the starting quarterback job will get to work with an improved group of wideouts. Nelson Agholor (two years, $22 million) and Kendrick Bourne (three years, $15 million) should make life easier for either Newton or Jones. Although neither projects as a true No. 1 receiver, both players have the route-running chops and quickness to excel as pass-catching options.
However, Belichick could certainly look to make an upgrade at the position. And he has an opportunity to do so if he calls up another coach who's hoisted the Lombardi Trophy before.
Bill Belichick has a path to make a franchise-altering power move that would set Mac Jones up for stardom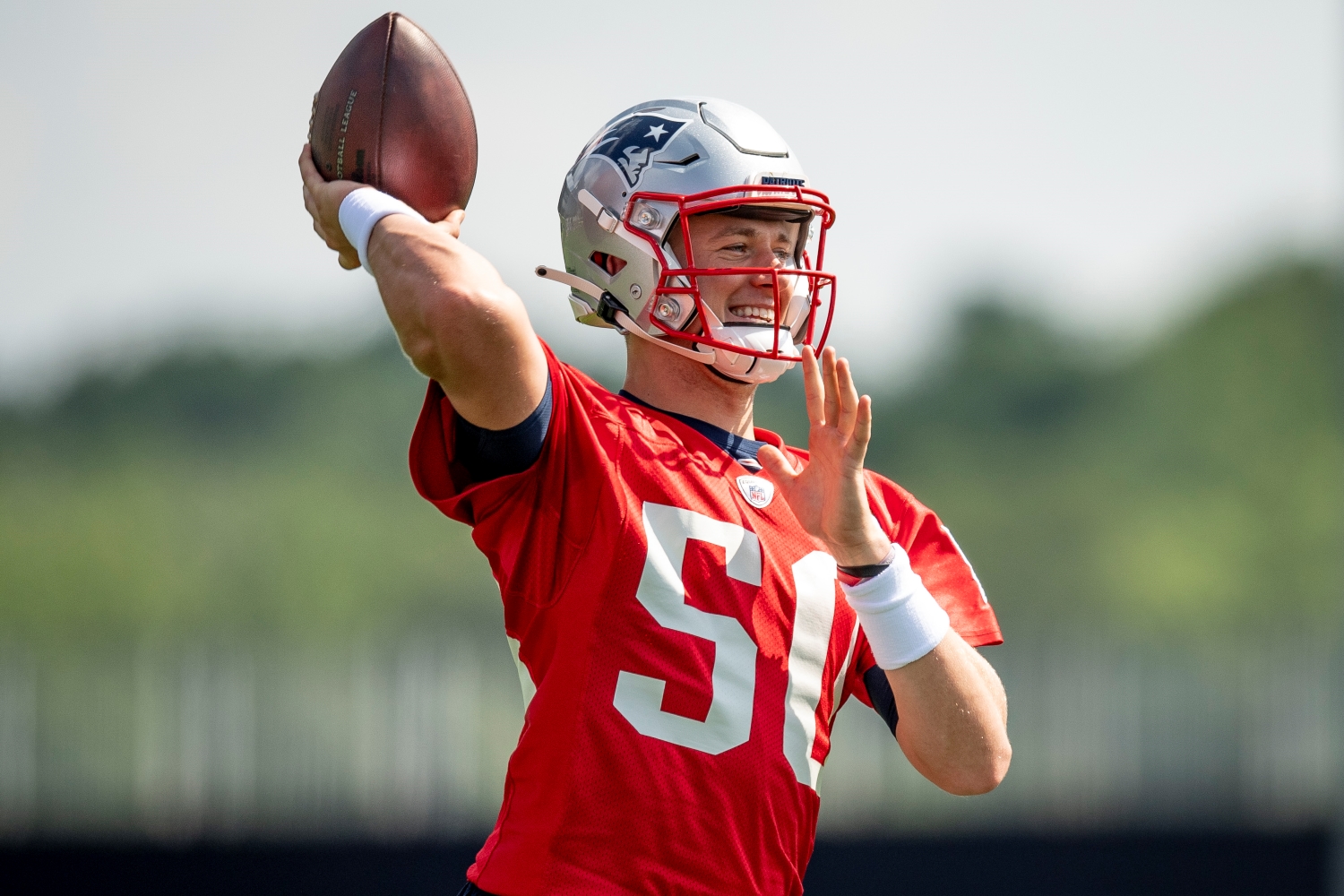 The Patriots undoubtedly got better by signing Smith, Henry, Agholor, and Bourne. Plus, with N'Keal Harry off to a strong start in training camp, the passing game could receive a much-needed boost from the 2019 first-round pick.
However, if Belichick wants to put his young quarterback in a position to become a bonafide star, he suddenly has the perfect opportunity to make that happen. And while it would likely cost the Patriots an early-round pick to pull off a franchise-altering power move, trading for one of the NFL's most accomplished receivers seems like a classic Belichick move.
Of course, it'll take an honest conversation with Sean Payton and Mickey Loomis to figure out the price to acquire Michael Thomas. But with the New Orleans Saints wideout looking like a top trade candidate, the idea of pairing Thomas with Jones should inspire Belichick to at least pick up the phone.
After all, given his propensity for botching the draft process at the receiver position, it would make sense for him to go after a proven commodity.
Assuming Thomas makes a full recovery from ankle surgery, the 6-foot-3, 212-pound wideout should get back to dominating corners. As someone who relies on his physicality and size to make plays in the short and intermediate passing game, the three-time Pro Bowler would fit perfectly in New England's offense. Jones would benefit from having an actual top-tier receiver, and Agholor and Bourne would have more one-on-one opportunities with defenses dedicating their attention to stopping Thomas.
Belichick shouldn't need much convincing, either. After all, Jones put himself in the first-round conversation by racking up prolific numbers and leading Alabama to a national title while operating a star-studded offense. Thomas doesn't have the same skill set as DeVonta Smith or Jaylen Waddle, but he's certainly proved he can produce at an elite level in the NFL. Acquiring him would give Jones an excellent shot at reaching his full potential.
Michael Thomas can become the latest disgruntled star to get his career back on track in New England
Besides helping his first-year quarterback, trading for Thomas would also allow Belichick the chance to work with another reclamation project.
Coming off an injury-shortened campaign in which he only caught 40 passes for 438 yards, the disgruntled Saints star needs to prove he still belongs in the elite receiver conversation. Thomas clearly hasn't done himself any favors from a PR perspective, so a change of scenery might be the best thing for all parties involved.
If Belichick makes a move for the All-Pro wideout, it will be interesting to see how Thomas adjusts to playing for the Patriots and their demanding head coach. New England has benefitted from taking flyers on big-name players in the past, but for every Corey Dillon and Randy Moss, there's also an Albert Haynesworth and Chad Ochocinco. History shows that not every high-reward gamble pays off, so trading for Thomas could backfire, too.
Ultimately, though, if Bill Belichick has the chance to acquire the All-Pro receiver at a fair price, he shouldn't hesitate to pull the trigger.
Anything that can help Mac Jones become a star should be on the table.
All statistics courtesy of Pro Football Reference. All contract data courtesy of Spotrac.