Bill Belichick May Prove Tom Brady and Patriots Scouts Wrong After All if a Well-Timed Training Camp Trend Continues
If Bill Belichick had gone a different route during the 2019 NFL Draft, perhaps Tom Brady wouldn't have left the New England Patriots. While the legendary quarterback had a few reasons to finally say goodbye to Foxborough, there's no doubt a lack of adequate weapons caused frustration for the seven-time Super Bowl winner.
Of course, it didn't have to be that way.
Unfortunately for Brady and the Patriots, Belichick ignored his scouts and passed over future stars for a receiver who hasn't come close to living up to expectations as a first-round pick: N'Keal Harry. But if a well-timed training camp trend continues, the greatest coach in NFL history may prove his scouts and the GOAT wrong after all.
Tom Brady and the Patriots suffered the consequences of Bill Belichick going rogue on draft day
While Brady and Belichick obviously experienced incredible success together, that sometimes came in spite of Belichick's work as a general manager. After all, he didn't do the best job surrounding his star quarterback with starting-caliber skill players. In particular, Belichick struggled to draft receivers who actually proved capable of getting on the same page as TB12.
Luckily for Brady, the Patriots finally invested a first-round pick on the position in 2019. However, Belichick's groundbreaking decision to use a top-32 selection on a receiver didn't end up benefitting the GOAT. Instead of going with DK Metcalf, A.J. Brown, or Deebo Samuel, Belichick reportedly ignored his own scouts and went with Harry.
Needless to say, selecting the former Arizona State standout hasn't panned out for the Patriots.
With a hamstring injury causing him to miss essentially half of his rookie season, Harry never clicked with Brady. New England's longtime quarterback didn't have the patience to work with the first-year wideout, and the two never got a chance to work together again. While Brady enjoyed a resurgent 2020 season with the Tampa Bay Buccaneers, Harry once again struggled to stay healthy and produce.
To make matters worse, the 2019 first-round pick opened himself up to more criticism by requesting a trade this offseason. Considering he's only caught 45 passes in 21 games, Harry certainly didn't do himself any favors from a PR perspective. Meanwhile, the announcement had to sting for Belichick, who clearly has a vested interest in the 23-year-old's future. After all, if Harry fails to live up to his draft pedigree, Patriots fans will have yet another reason to question Belichick the GM.
Belichick may prove everyone wrong after all if a well-timed training camp trend continues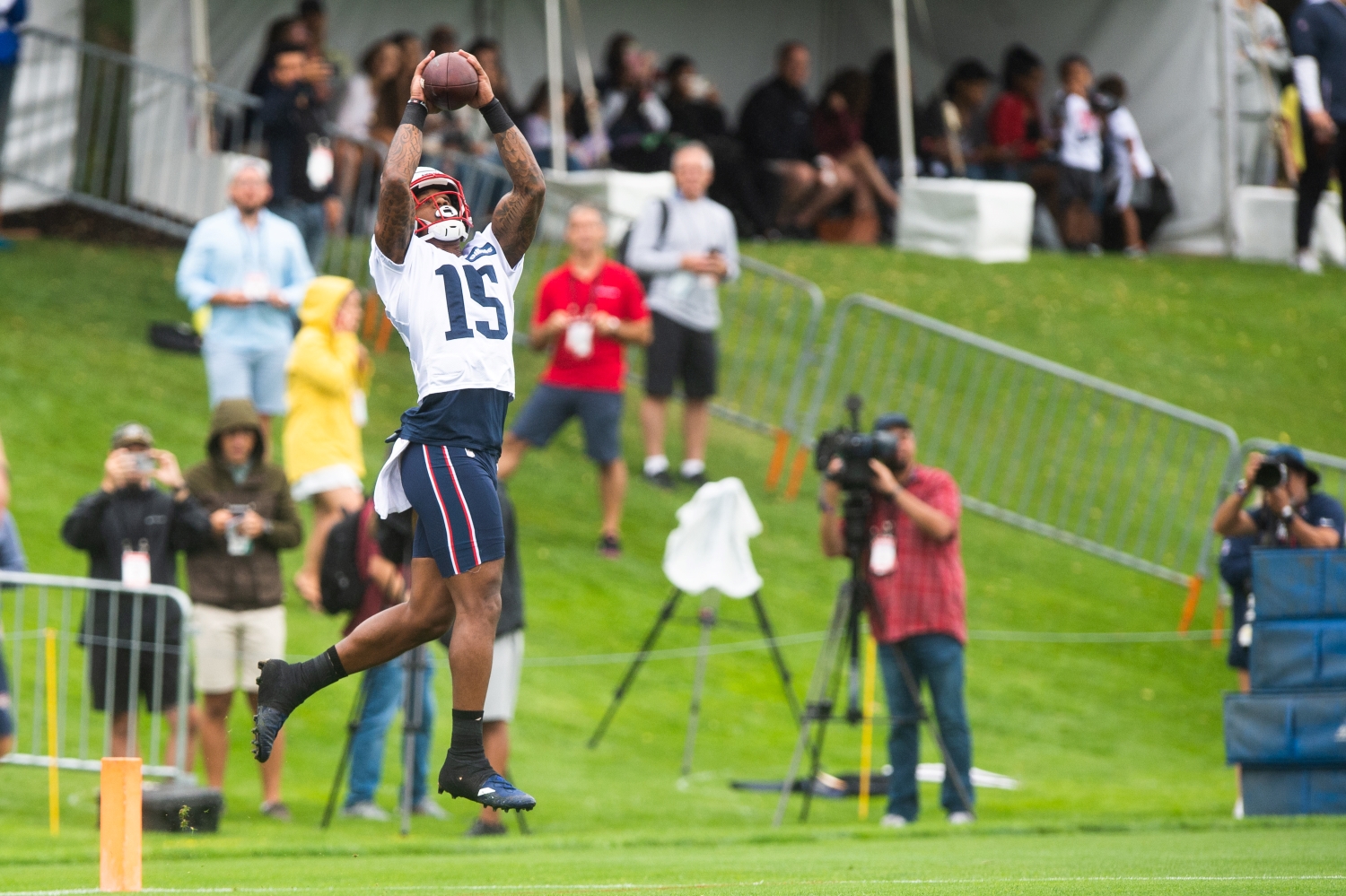 Brady didn't seem like a big believer in Harry. Ironically, Cam Newton has supported the talented wideout ever since he joined the Patriots. However, the person who has the biggest stake in Harry's future is obviously Belichick.
And if a well-timed trend continues, he may prove everyone wrong after all.
Although Harry's future in Foxborough remains a bit of a mystery, the third-year wideout seems destined to take a leap forward in 2021. In fact, it's hard not to get excited about the potential of a Patriots offense that features a healthy, confident version of Harry.
The 6-foot-4, 225-pound receiver has reportedly gotten off to a strong start in training camp. Harry's size and physicality have stood out in one-on-one drills, and he's elicited a few thunderous cheers from Patriots fans for some highlight-reel catches. Of course, he has to prove he can make plays on a consistent basis in preseason games. But there's no doubt Harry has turned heads and raised eyebrows during the early days of camp.
Does that necessarily mean he will catch 80 passes and make the Pro Bowl?
Absolutely not.
Should Belichick and Patriots fans feel optimistic about what lies ahead for Harry?
Without a doubt.
As long as the talented pass-catcher continues to stack success, he should receive more opportunities to showcase his skills. New England desperately needs more production from the receiver position, so don't dismiss the idea of Harry becoming a major contributor. If that occurs, Belichick would suddenly look much smarter for banking on the big-bodied wideout's upside.
Whether that happens remains to be seen, but Harry certainly seems to be on the right track after getting off to a frustratingly slow start to his NFL career.
N'Keal Harry isn't the only recent first-round pick who faces an uncertain future in Foxborough
Unfortunately for Belichick, Harry isn't the Patriots' only recent early-round draft pick who needs to step up over the coming weeks. In fact, two other players who entered the league as first-round selections face uncertain long-term futures in Foxborough.
New England took left tackle Isaiah Wynn with the No. 23 overall pick in the 2018 NFL Draft. A talented pass protector with good athleticism and movement skills, the former Georgia Bulldog has struggled with injuries. Although the Patriots picked up his fifth-year option, Wynn has to show he can stay healthy and protect the quarterback's blind side if he wants to extend his stay even longer.
Meanwhile, the odds of his college teammate calling New England home after the 2021 season seem slim. Like Wynn, Sony Michel has major durability concerns. Plus, after looking like a do-it-all star at Georgia, the 24-year-old running back hasn't come close to delivering on his first-round pedigree. With promising third-year pro Damien Harris poised for an expanded role, Michel's days as a starter could be over.
So, even though N'Keal Harry is trending in the right direction, Bill Belichick isn't close to being out of the woods yet.
All statistics courtesy of Pro Football Reference.