Phil Mickelson Just Became $8 Million Richer Without Lifting a Single Thumb
Phil Mickelson has banked nearly $100 million in PGA Tour earnings throughout his career. He's built his net worth up to a staggering $400 million thanks to his various endorsements and investments off the course.
It's not as if Lefty needs any more financial boosts from the PGA Tour at this point in his life, but he just received one in the amount of $8 million, and he didn't even have to lift a single thumb to get it.
Phil Mickelson has stepped up his Twitter game in light of the Player Impact Program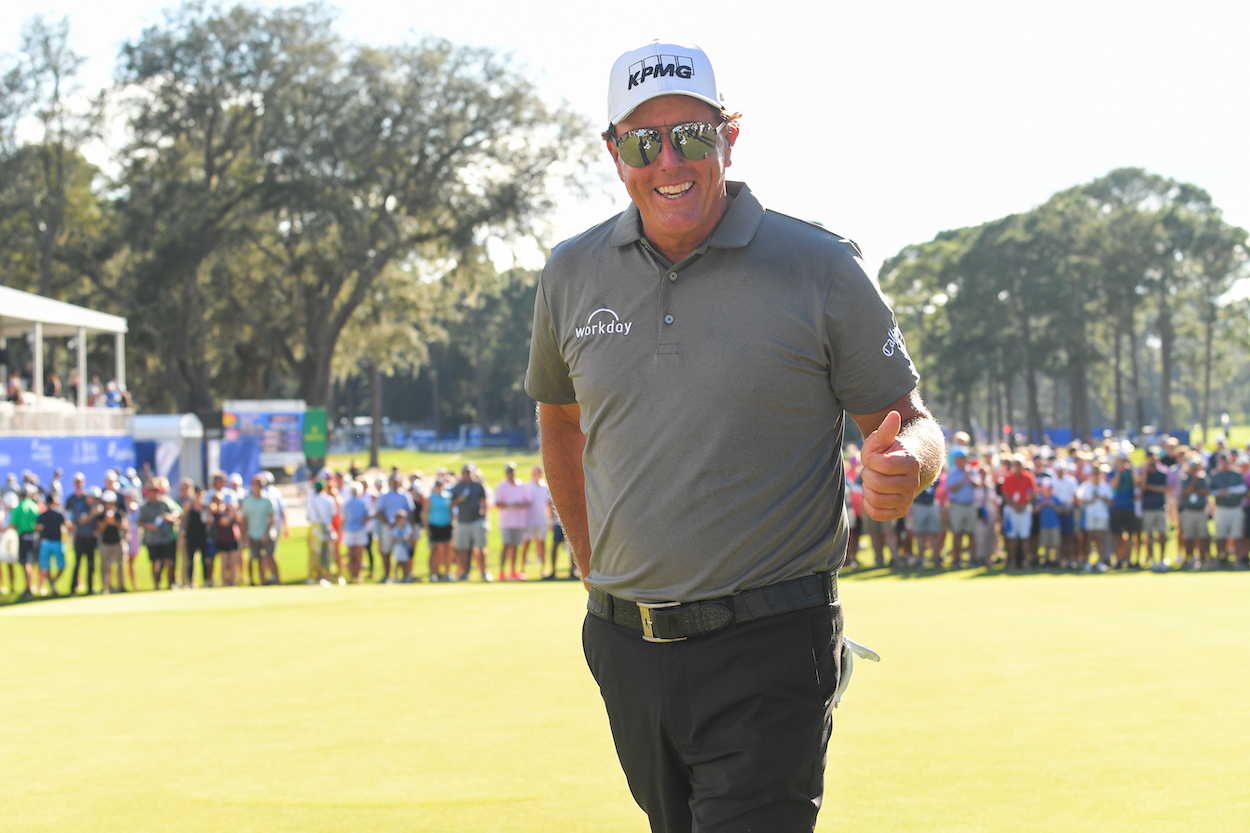 Mickelson has been a member of Twitter since 2018, but he only became the most entertaining follow in golf this year. There's a reason for that.
On January 1, the PGA Tour started the Player Impact Program, which is essentially a popularity contest that rewards players with hefty bonuses for bringing more eyes to the game of golf. At the end of the year, the top 10 players in Impact Score will share a pot of $40 million, with $8 million going to the winner.
So, what is Impact Score, you ask?
A player's Impact Score is calculated from five popularity metrics: Google search frequency, social media reach, Nielsen score (TV time), Meltwater mentions (global media attention), and Q-score (player appeal).
This is why Mickelson has been engaging with his Twitter followers more than ever before. It's why Brooks Koepka and Bryson DeChambeau dragged out their ridiculous middle school slap fight as long as they did.
But the PIP is here to stay, so we'll have to watch PGA Tour stars fight for followers when they aren't fighting for the top spot on the leaderboard every week.
Mickelson beats out Tiger Woods for $8 million bonus
The PGA Tour hasn't officially announced the winner of the Player Impact Program this year, but Mickelson might've just done it for them.
On Wednesday morning, Lefty took to Twitter to thank the "crazies" for helping him win the PIP and the $8 million bonus that comes with it. He also announced in the same tweet that he'll be playing in the Sentry Tournament of Champions at Kapalua, which gets underway on Thursday, January 6.
Mickelson decided to have some subsequent fun in his Twitter comments by roasting those who felt he didn't deserve the bonus and revealing Tiger Woods came in second place in the PIP.
A flawed system?
The idea of the Player Impact Program isn't necessarily a horrible one. Professional golf could always use more eyes on its product, especially in regards to younger viewers. Encouraging players to use their massive social media followings is a wise way to do just that.
But if Mickelson and Woods, the two richest golfers to ever live, are going to top the list and bank a combined $14 million every year, what's even the point?
Woods didn't play in a single PGA Tour event in 2021. Mickelson bounced back and forth between the PGA Tour and the Champions Tour, and without his implausible PGA Championship triumph, we would've said it's time for him to join the Champions Tour full-time.
The PIP is most certainly flawed, but you won't hear Phil complaining.
Like Sportscasting on Facebook. Follow us on Twitter @sportscasting19.