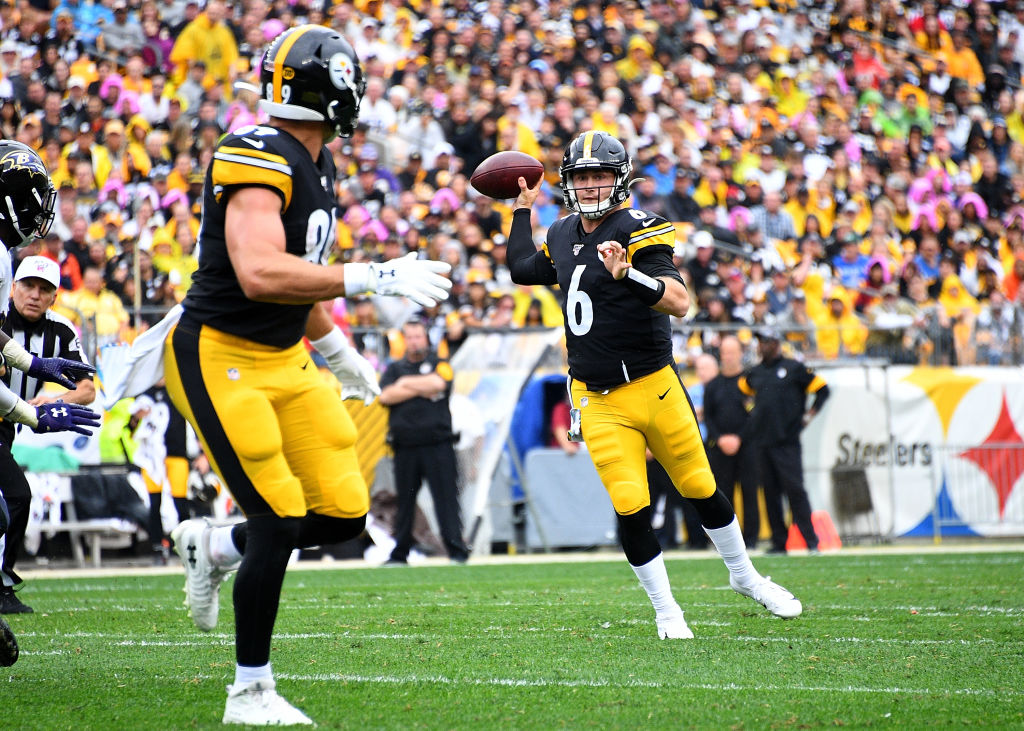 New Pittsburgh Steelers Quarterback Devlin Hodges Can't Call One Specific Play
Devlin Hodges is the Pittsburgh Steelers' new quarterback. But there's one play he isn't allowed to call.
This season, the Pittsburgh Steelers have had horrible luck with quarterbacks. Ben Roethlisberger went down in Week 2 and was replaced by Mason Rudolph; the back-up then suffered a concussion against the Baltimore Ravens.
As on now, it seems like Devlin Hodges will be taking the Steelers' snaps going forward. But, regardless of who is under center, no Pittsburgh quarterback is allowed to call one specific play.
Ben Roethlisberger's elbow injury
During a Week 2 game against the Seattle Seahawks, Roethlisberger exited the game with elbow discomfort. After an MRI, the Steelers decided to shut their QB down; he had elbow surgery and will miss the entire NFL season.
"This is shocking and heartbreaking for me, to miss this much of a season and feel like I am letting down so many people," Roethlisberger said. "I can only trust God's plan, but I am completely determined to battle through this challenge and come back stronger than ever next season."
Mason Rudolph's scary moment
After Roethlisberger's injury, Mason Rudolph took over the starting job. He played capably in relief against the Seahawks and played competently in a road loss to the 49ers. Rudolph earned his first win against the Cincinnati Bengals in Week 4 but, just when it looked like he was turning a corner, injury struck.
On a third down play, Rudolph rolled out of the pocket. He completed a pass downfield but took a high hit from Baltimore Ravens safety Earl Thomas II. The quarterback laid motionless on the ground, as trainers unscrewed his facemask; after a few scary minutes, he was helped off the field.
Rudolph has entered concussion protocol, meaning that Devlin Hodges is the new man under center for the Steelers. While he'll have plenty of responsibilities, there's one play he won't be able to call.
Who is Devlin Hodges?
Hodges played his college football at Samford in the NCAA Division I Football Bowl Subdivision. While he might not have been facing elite talent every week, Hodges still put up strong numbers; during his collegiate career, he threw for 14,584 yards and 111 touchdowns with just 41 interceptions.
He signed with the Steelers as an undrafted free agent and started his season on the practice squad. After Roethlisberger's injury, he was called up to the main squad as the back-up quarterback. When Rudolph went down, he assumed the starting job. Even as the starter, however, he won't be able to call one play.
No quarterback sneaks
After the Steelers got stuffed on a quarterback sneak by the Jacksonville Jaguars during a playoff game, the team told Roethlisberger that he could no longer call his own number in the huddle. While the club's play-caller has changed, the rule still stands albeit for a different reason.
Offensive coordinator Randy Fichtner says the decision is more about safety than anything else, though. "I value our quarterback. There's a lot of stuff going on in those piles," he explained. "Just the truth be known, if we can't hand it to one of our backs and we can't block them, then we don't deserve to win that down."
Given the injuries that Steelers quarterbacks have suffered this season, it's safe to assume the rule will remain in place for Hodges. He might be comfortable scrambling, but the last thing anyone wants to see is another major injury under center.