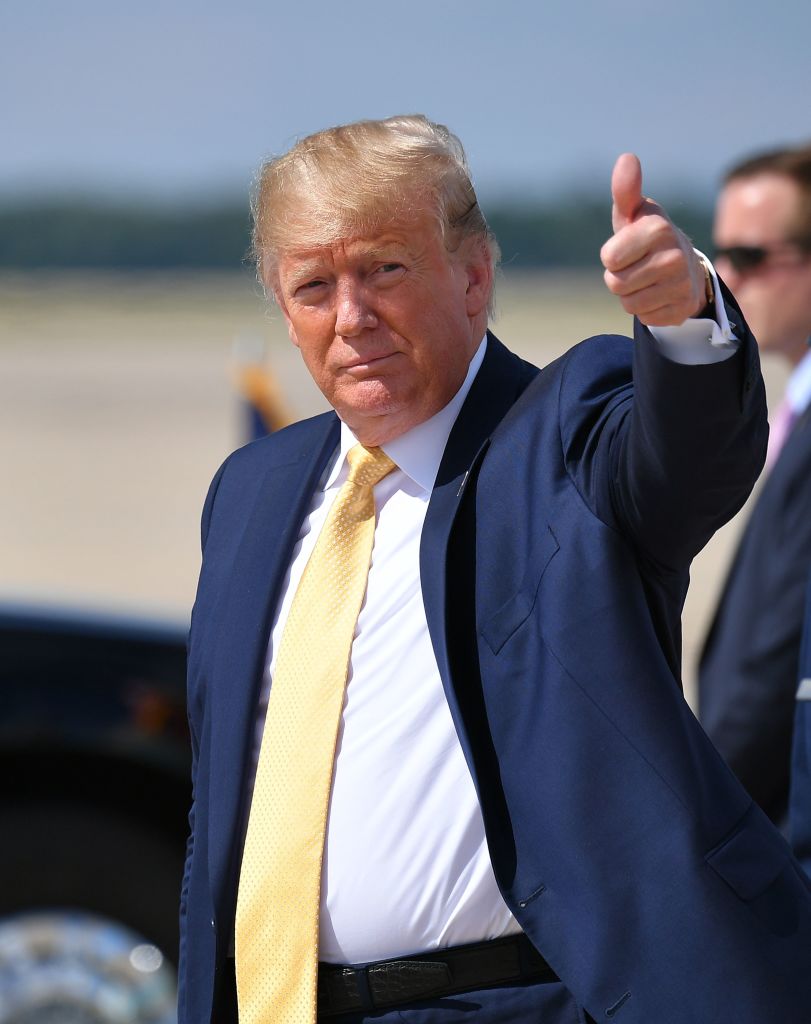 President Trump Just Sent Scary Message to NFL and Players About Kneeling in 2020
President Trump has been an avid football fan for years. That said, he doesn't want the NFL to start at all if the players plan on kneeling during the national anthem.
President Trump has always been passionate about football. He once owned the New Jersey Generals of the USFL. With rumors that many of the power conferences in college football are considering postponing or cancelling the 2020 season, the President has joined the conversation and sided with a group of coaches and players, including Clemson star quarterback Trevor Lawrence, who have conveyed a unified message on their desire to play. 
The President's relationship with the NFL has been a bit more tenuous in recent years. Since Colin Kaepernick first took a knee back in 2016, Trump has been consistent in his messaging. He doesn't like kneeling during the national anthem because he believes it's disrespectful to the military and the flag, despite its intended purpose, which has been stated since day one that it is a protest against systemic racism and police brutality. The President offered his thoughts about the NFL and its upcoming 2020 season in a recent interview and what he hopes will happen if the league plans on allowing its players to kneel.  
President Trump first offers thoughts on players kneeling
At the start of the 2017 NFL season and a year after Colin Kaepernick first took a knee, President Trump was unambiguous on what he thought about football players kneeling during the national anthem and how owners should respond if it continued to happen.
"Get that son of a b*tch off the field right now, he's fired. He's fired!" Trump said at an Alabama rally for a Republican candidate running for U.S. Senate. His comments stoked the fire, and more NFL players kneeled in the games that followed. A few weeks later, Trump escalated his disdain for kneeling through the actions of his Vice President Mike Pence, who attended an Indianapolis Colts game and walked out after multiple players kneeled.
"I left today's Colts game because @POTUS and I will not dignify any event that disrespects our soldiers, our Flag, or our National Anthem," Pence wrote on Twitter, explaining his actions.   
The NFL's change of heart
In 2018, the NFL and commissioner Roger Goodell announced a policy that banned kneeling during the national anthem. Players, however, would be allowed to remain in their locker rooms during the anthem. At the time, the President partially supported the NFL's decision but didn't like the idea of players staying in their locker rooms as a form of protest. 
When George Floyd died in May and after considerable pushback from NFL players on kneeling as a form of protest, the league's position suddenly changed. And Goodell was out front pushing the new message. 
"We, the NFL, condemn racism and the systematic oppression of Black People. We, the NFL, admit we were wrong for not listening to NFL players earlier and encourage all to speak out and peacefully protest. We, the NFL, believe Black Lives Matter."
President Trump hoping NFL doesn't start season if kneeling is planned
With the 2020 NFL season just weeks away, and despite the NFL's position change on kneeling, the President has not wavered. He remains firmly against it. In an interview with Clay Travis on Fox Sports' "Outkick The Coverage," Trump said he hopes the NFL can navigate the pandemic and start on time, with one caveat.   
"(NFL officials) want to open and they want to open badly and they've been working with government. I would say this: If they don't stand for the national anthem, I hope they don't open. … But, other than that I'd love to see them open and we're doing everything possible for getting them open."
The President has remained unbowed in changing his line of thinking when it comes to the national anthem and players kneeling. Initially, that position was supported by a large portion of the nation, including many NFL fans. Times have changed. In this moment of enlightenment, views on systemic racism have radically changed. Now there is a worldwide movement that has tremendous momentum and is bigger than any one player, any one sport, and even a President.