Racing Legend Mario Andretti Owns a Unique Super Bowl 'Record' and Talks Some Football With Sportscasting
Mario Andretti is considered by many to be the greatest driver in motorsports history. He's the only person to be named U.S. Driver of the Year in three separate decades. Andretti's the only driver to win the Indianapolis 500, the Daytona 500, and the Formula One World Championship. He's also the only one to win a race in the NASCAR Sprint Cup Series, Formula One, and an Indianapolis 500. The list of accolades goes on and on.
Just don't think Andretti is consumed by racing 24/7. We caught up with Andretti on Monday and talked nothing but football, as we do each year to gear up for our annual celebrity Super Bowl prediction story. Andretti offered his thoughts on the conference championships and admitted Super Bowl 57 is a tough one to pick.
Mario Andretti owns a unique Super Bowl 'record'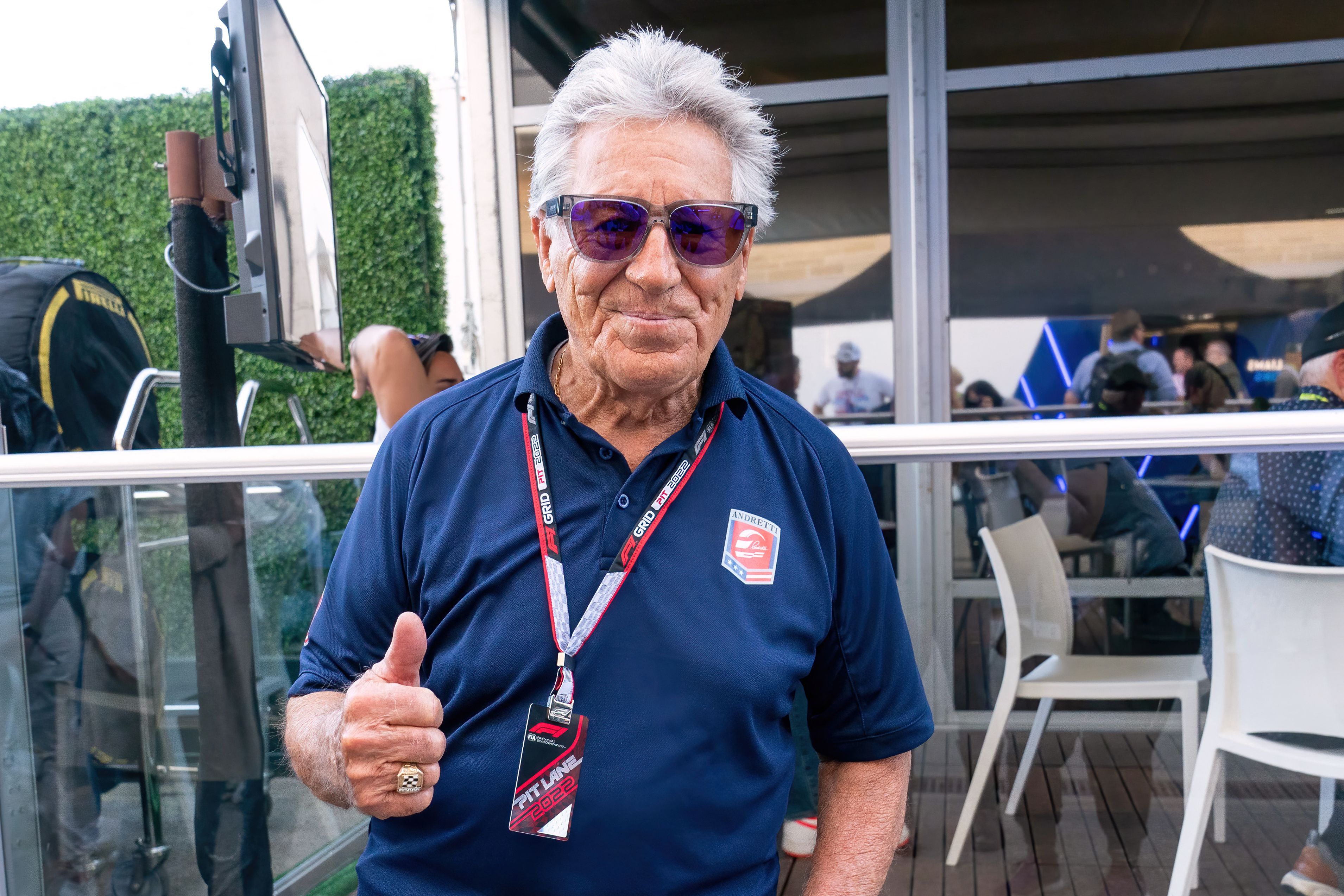 For 13 years, I've reached out to celebrities to get their predictions on the Super Bowl. I simply ask for a predicted score and a reason or two why they believe that team will win. Andretti has been gracious enough to take part every year. He's also the only star to ever predict the score correctly.
That came in February 2012 when the New England Patriots faced the New York Giants in the Super Bowl for the second time in five years. I had a scheduled time to call Andretti when I was working as sports editor of The Herald News in Fall River, Massachusetts. The phone rang, and he picked it up and simply said, "Giants 21, Patriots 17" and then laughed. He gave his reasons as we talked football for 10-15 minutes. Sure enough, the Giants won 21-17.
The following year, I asked Andretti if he felt any added pressure going for the lone repeat in the prediction department. Had Andretti ever felt any type of pressure like this in his illustrious career? Like only Andretti could, he played along with a quick comeback.
"I feel the pressure," he said, "but I thrive under pressure."
It sounds like a simple task — pick the correct score to a football game. For 13 years in this column, only Andretti has been able to pull it off. Andretti's pick this year will be included with plenty of others as the game draws near.
Andretti talks football, feels bad for Bengals LB Joseph Ossai
Andretti said the Super Bowl matchup between the Philadelphia Eagles and Kansas City Chiefs is exciting for him.
"It's two of my favorite teams in the sense that I love (Chiefs quarterback Patrick) Mahomes — he's my favorite quarterback," Andretti told Sportscasting. "The Eagles are basically my home team."
He admitted he didn't get a whole lot out of the Eagles' performance Sunday as they faced a 49ers team with two injured quarterbacks when Brock Pudy suffered a UCL injury and Josh Johnson left with a concussion.
"I was looking forward to watching Brock Purdy," he said. "He's impressed everyone, especially with his demeanor. That was a tough situation."
Andretti also said he felt bad for Bengals linebacker Joseph Ossai, who has gotten plenty of blame for his late hit on Mahomes that put the Chiefs in field-goal range in the final seconds. Harrison Butker capitalized with a field goal that gave the Chiefs a 23-20 win.
"By rule, that's the right call," Andretti said. "That's what ultimately determined the game, putting them in field-goal range. Instinct is to go after him, and it's tough to stop when he's a foot or foot-and-a-half out of bounds. I felt so bad for Ossai when I saw him crying on the sideline."
Andretti knows it's not one player who costs his team a game but realizes it's tough to get that through to the player.
"No matter how much you try to console them, they feel responsible," he said. "It's like the Dallas kicker (Brett) Maher. He came back around, but he missed four extra points. Poor kid."