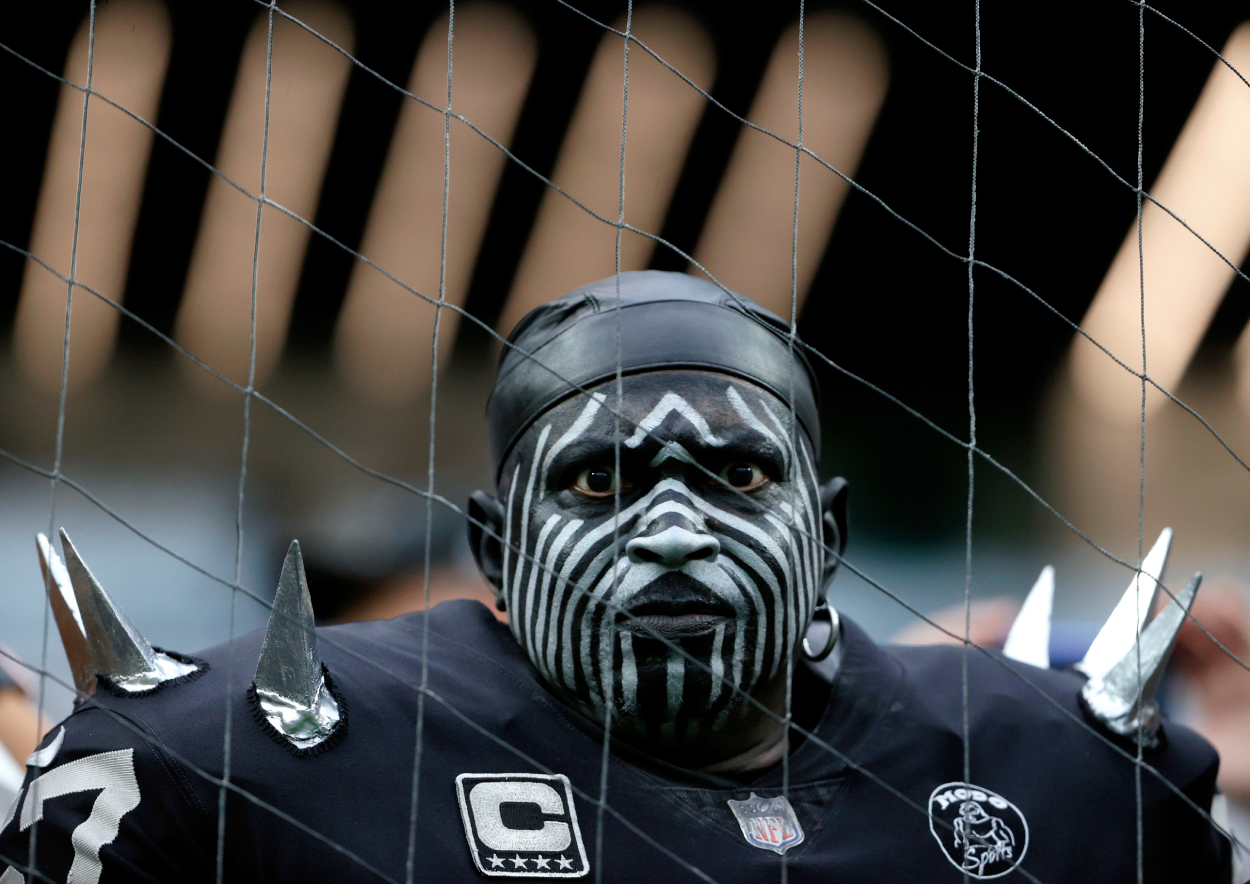 Raiders 'Ambassador' Wayne Mabry, aka 'The Violator,' Hopes to Pick Up Where John Madden Left Off
Don't be intimidated by the look of the "The Violator." Wayne Mabry is a family man who volunteers his time for various charities.
When Wayne Mabry was 12, he focused on the sword. He remembers watching a Kansas City Chiefs vs. Oakland Raiders game and being glued to the silver helmet. It was then he knew he'd be a Raiders fan for life. For the last 30 years, Mabry has become "The Violator" — one of the NFL's most recognized fans — on game days. Now that they are the Las Vegas Raiders, it's become a bit challenging.
Mabry reached one goal of moving out to California to support his team. Now he has another — to pick up where legendary Raiders coach John Madden left off.
For Wayne Mabry, it's all about the Raiders on Sunday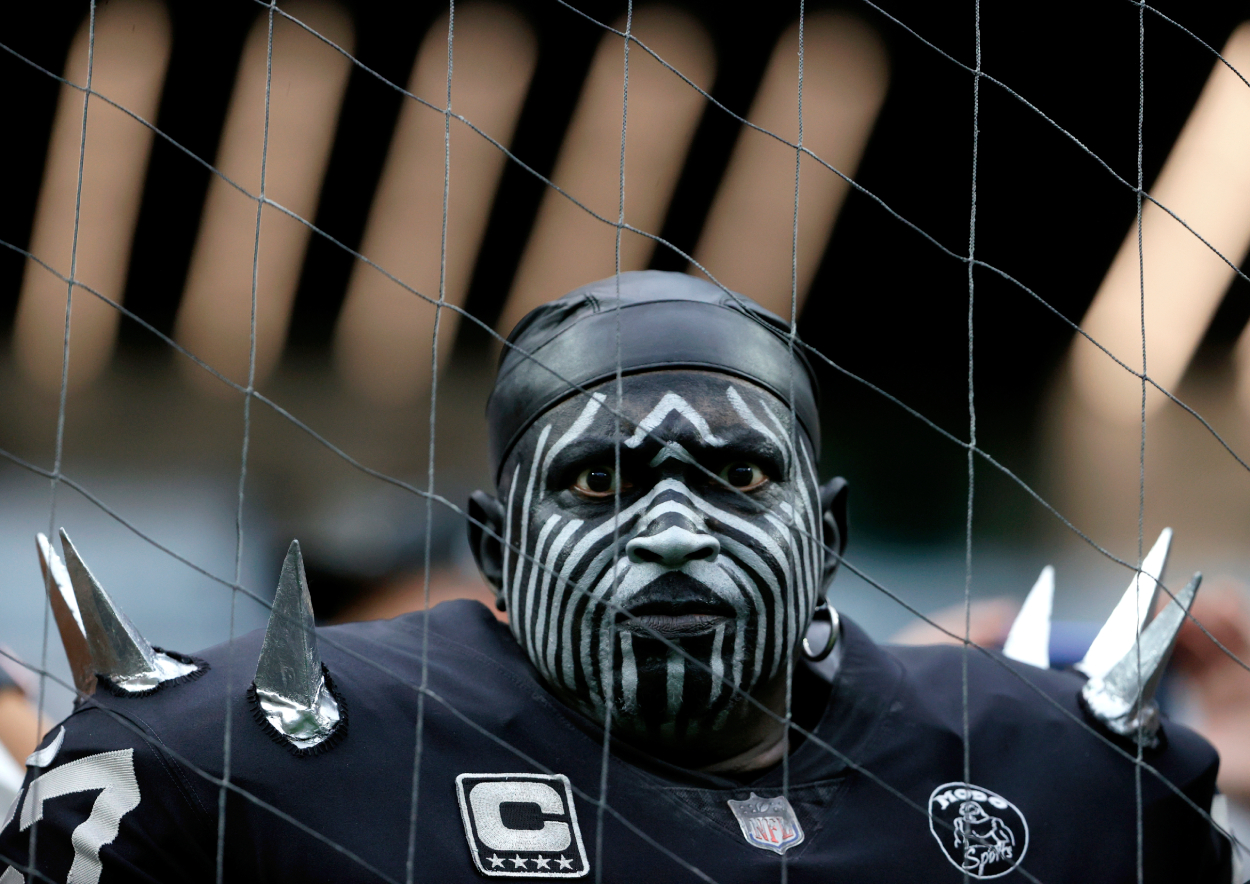 In September 1991, The Violator was born. Actually, he told Sportscasting, it may have begun the year before.
"It started the season before," he said during a Friday phone interview. "I used to stand behind the team bench. I thought you should always be on your feet. I mean, it's football. There were some people, some celebrities, who inquired about why I was always standing, and I told them it would be nicer if you all did it. This is football."
Mabry said he had a vision back then. On game days, he wanted to be part pirate and part football player, and that's what the NFL has seen at Raiders games for the last 30 years.
For Mabry to become The Violator, it's a "two-hour transformation." When the face is painted and the Raider gear is put on, he said he feels like David Banner, the fictional character played by Bill Bixby on "The Incredible Hulk."
"That was my favorite show," said the 65-year-old Mabry. "That's the way I feel."
Mabry said he's all-in during those home games, and he's focused on nothing but the Raiders.
"Violator only has a few hours to come out and do his thing," he said.
The Raiders moving to Las Vegas has been a challenge for Wayne Mabry
The Raiders moved from Oakland to Las Vegas in 2020. For Mabry, it became a challenge. It wasn't the travel that was a problem. In fact, that part was much easier.
"I live in Riverside (California) and it took me about six-and-a-half hours to drive to Oakland," he said. "I did that every home game. Now it takes me about three hours to drive to Vegas."
While travel has been much easier, getting into the games has been a challenge.
"I don't have season tickets," he said.
When the Raiders moved to Vegas, they gave former season ticket holders the opportunity to purchase their seats at the new stadium. The problem was that the team was issuing personal seat licenses, a one-time hefty fee (per seat) for the rights to own those season tickets. Being a retired carpenter, owning those PSLs wasn't an option.
He has still found a way to make it to every home game, but it hasn't always been easy. He said he can't remember the last time he missed a home game.
"The only time that would happen is if there was a family issue that required my immediate attention," he said. "For me it's God, family, then football."
Mabry said he wants to pick up where John Madden left off
Mabry, a Pro Football Hall of Fame fan, said it was after that Raiders vs. Chiefs game he watched when he was 12 when he "made an oath" to move from Mississippi to California. He did it. Now he has another goal.
Mabry doesn't have the finances to see the Raiders when they are on the road. He's been to his share of road games but can't afford to take in every one like he does with the home games. It may be a little reach, but he's got something else to strive for now.
"Still, one of my dreams is to hit the road and take it where John Madden left off," he said "I'd love to head to the road games in my custom RV." Madden, of course, is the late Oakland Raiders coach and beloved TV commentator who used to travel to all the games in his "Madden Cruiser."
Mabry prefers not to be called a super fan. He refers to himself as an ambassador.
"I prefer that term," he said. "I'm here to help you."
Mabry had a book published last year called "The Walk: Footsepts of My Journey" and has his own line of clothing at modo-sports.com. He's also a cigar aficionado and volunteers his time for various charities.
Don't be intimidated by the Sunday attire. Mabry is a family man who spends his Sundays passionately rooting for his Raiders.